Guess, what inspired me to cook this vermicelli pulao for lunch today instead of usual rice based vegetable pulao? It's green peas. These little green cuties in a neat single row covered with a protective thin shell are available in loads in the market in this season.  Feel-good, tender, natural sweet green peas are easy to cook and healthy to eat edible seeds. I love them to be part of rava upma, pulao, stir fry and every thing that comes to my mind right now.  Green pea => you are absolutely delicious.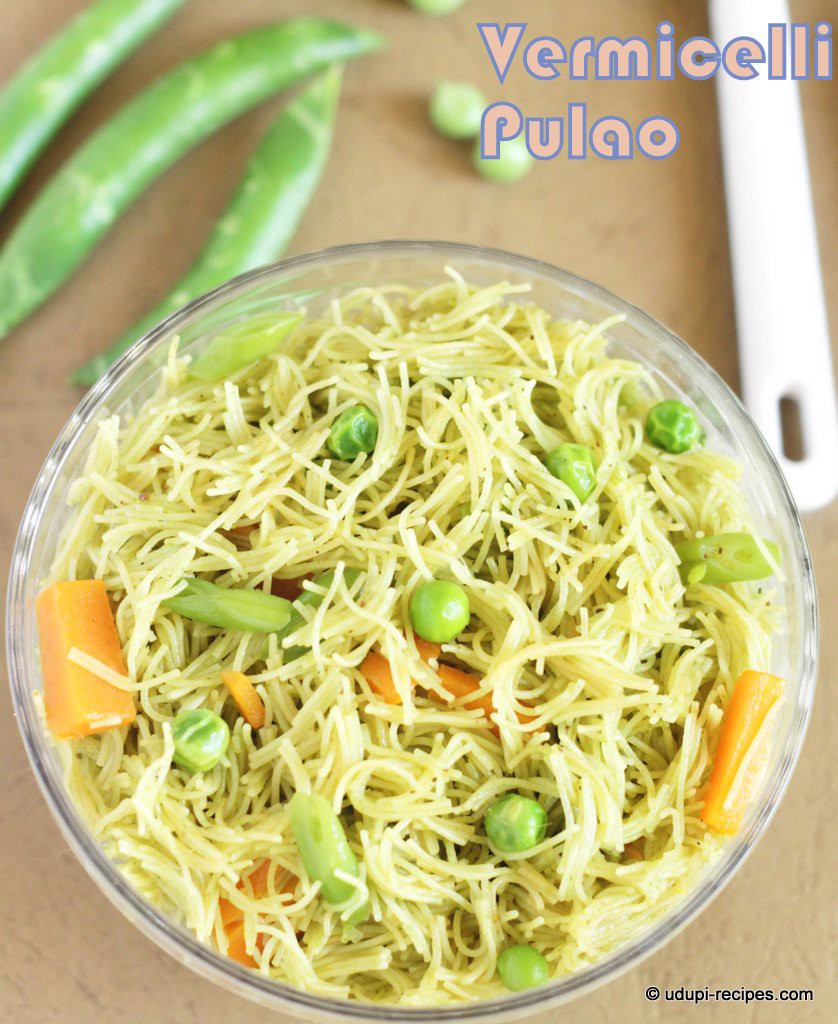 Vermicelli pulao starts with roasting process which I consider is the most prominent step and it can make the pulao either sticky or fluffy.  Former happens if you do halfway roasting. In medium flame as you proceed roasting along with required oil, the semiya becomes crisp, drenched in oil and deepen in color.  That is when semiya pulao would turn fluffy, silky with each stick being separated.
The primary spice booster in this pulao is green chilly, that is pureed with mint, coriander leaves and herbs.  I have added a handful of both the greens to make the vermicelli super pretty with comforting green color.
The good stuff like carrot, beans and tiny, fresh green peas are cooked in water that is of equal quantity as vermicelli ( 1 : 1 ratio) which take just few minutes.  I like the veggies to be crunchy while being moderately cooked. Combine with green mint puree and finally include the vermicelli.  As you simmer and continue cooking for a while the water would have evaporated with cooked semiya.  You are done.
It's the weekend, go and treat yourself with this green beauty vermicelli pulao.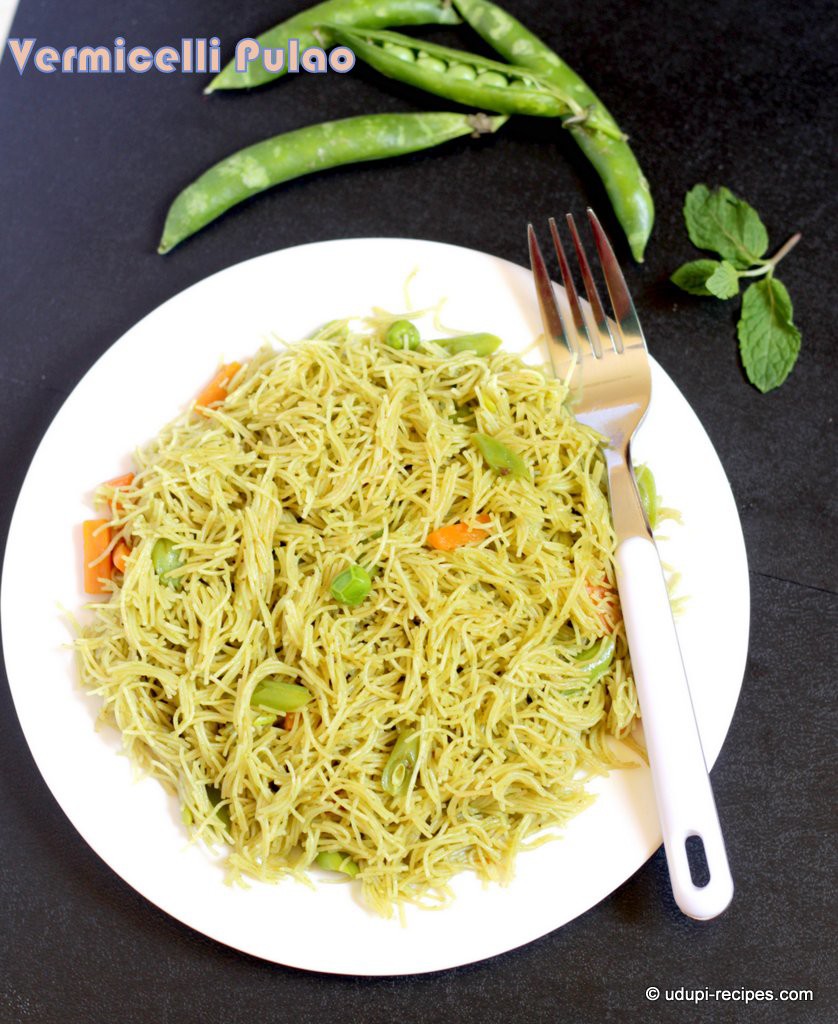 Vermicelli Pulao | Semiya Pulao Recipe
Ingredients
Vermicelli- 1 cup
Fresh peas- Handful
Carrot- 1 no.
Beans- 7 or 8 no.
Salt- 1 tsp
Turmeric powder- 1/4 tsp
Cooking oil- 7 tsp

To grind

Mint leaves (Pudina) - Handful
Coriander leaves- Handful
Green chillies- 1 no.
Cinnamon- 2" piece
Cloves- 3 nos.
Ginger- 1" piece
Garlic- 3 pods
Instructions
Preparation

Chop carrot and beans in to 1/2 inch length thin pieces. Separate the peas from shell and keep everything ready. If you are using dried peas then soak them overnight before use.

Method

In a wide pan / wok add cooking oil and vermicelli. Roast them in medium flame till they turn crisp and change color slightly. Ensure the vermicelli is not burnt in the process. Once done transfer the roasted vermicelli on to a plate.
Grind the mint leaves, coriander leaves, green chilly, cinnamon, ginger, garlic and cloves together in to fine paste. You can add little water for ease of grinding.
Meanwhile heat the wok again along with 1 cup of water and add chopped vegetables, peas, salt and turmeric powder. Bring it to boil and let the veggies cook till soft in simmer.
Check the veggies for done-ness and include ground mint puree. As it boils add roasted vermicelli. Let the vermicelli cook in simmer and wait till the water dries up completely from the pulao. Switch off once done.
Colorful and healthy vermicelli pulao is ready. Serve it either with tomato onion raita or as is.

Notes

Be careful while roasting the vermicelli, do not let it unattended. Keep stirring and ensure it is not burnt.
Next important thing to take care is water that is added to vermicelli. Usually vermicelli needs water in 1:1 equal ratio. If you add more then pulao turns sticky.
You can add other vegetables like onion, cauliflower and potato too.
Do not add much water to puree the mint with other spices.
https://udupi-recipes.com/2015/03/vermicelli-pulao-semiya-pulao-recipe.html
All the content in this website are © Copyrighted to – Udupi-Recipes