Hello Summer you are here and I am making the best of best out of SUNNY sun. Sounds so Crazy and Good too.  Every year this summer doubles up my time in kitchen preparing things that lasts longer, need lot of patience and sunlight. If you ever visit my place in this season, you will find me pickling mangoes inside the kitchen or drying the papads, fryums on the terrace. I probably must have been doing this for years, but now as a food blogger it's a creative process that demands variations and adaptations of recipe. It doesn't let me to hang on with same old fryum or pickle any more.
My summer 2015 has started with these addictive, crispy and light sun dried potato chips that are absolutely simple and easy to prepare.  If you are like me, who thinks in all possible ways to keep the kids away from store bought chips then sun dried potato chips can be the best alternative. Home made chips with no added preservatives can possibly be your kids future favourite. So you have potatoes lying in your pantry and scorching SUN is just outside, let's begin.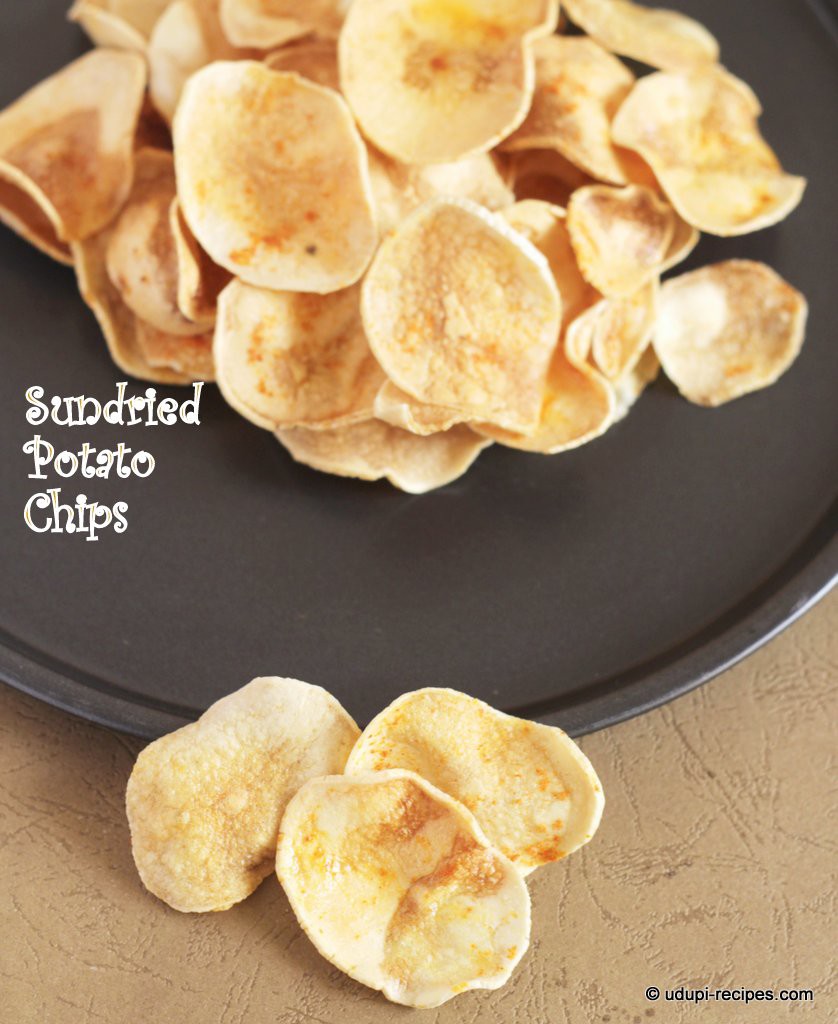 I used potato slicer to  make these awesome, good looking sun dried potato chips. You can use your knife too to do this, but I recommend the slicer as it would give uniform and evenly thick chips. Make sure as you slice potatoes,  the chips are falling down in to water. Otherwise potato chips would get ugly dark color in them.
The chips remain in boiling salt water for few minutes so that they absorb salt in them. From there,  spread the chips on a cotton cloth and dry them under sun at least for  3 days or until dry. Deep frying these potato chips, sprinkling your favourite spice like chat masala or red chilly powder and snacking on at any winter or rainy day would be rocking, out of the world offer.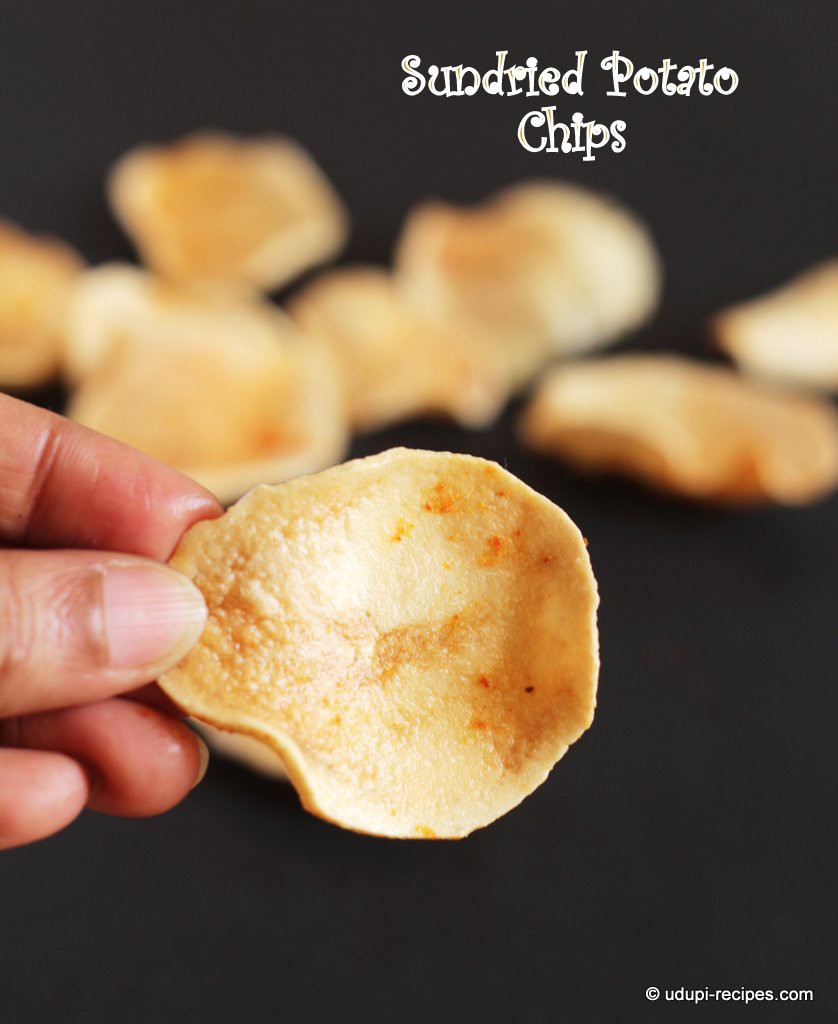 Sun-Dried Potato Chips Recipe
Ingredients
Potatoes- 3 big no.
Salt- 1 to 1.5 tsp
Instructions
Preparation

Rinse the potatoes under running water and peel off it's skin using peeler. Keep them immersed in water to avoid discoloration.

Method

Using potato slicer, slice the potatoes in to medium thin chips. Keep a wide tray with enough water under the potato slicer so that as you slice, the chips would fall in water. This helps the chips not to get discolored.
As you finish slicing the chips, boil enough water in a vessel with salt. When the water comes to rolling boil switch off the flame.
Add all the sliced potato chips in to this boiling water. Let all the chips immerse in boiling water for about 3 to 5 minutes.
After 5 minutes drain the potato chips using a strainer and arrange all the chips on the white cotton cloth covered tray. Sun dry these potato chips till they are dry and moisture free. It may take up to 2 to 3 days. When they are completely dry, stock them in air tight container.
Whenever you feel to snack on chips, heat oil in a pan and deep fry them. Drain on a tissue paper and sprinkle some red chilly powder on them.
Addictive, crispy potato chips are ready to snack on with tea.

Notes

Choose big sized potatoes so that you get big slices of chips.
Do not slice the potatoes in to very thin chips that may result in broken chips.
The sliced chips need to be immersed in hot water for not more than 5 minutes. Extended immersing may cause the chips to be mushy.
Always sun dry the chips on plain, white cloth.
Do not ever sun dry them on the tray directly, it will stick to the tray after drying.
2 days of sun drying is enough if it's sunny and hot. But ensure the chips are completely dry and light.
To enhance the taste, you can sprinkle some chat masala or pepper powder or cumin powder on the chips.
https://udupi-recipes.com/2015/04/sun-dried-potato-chips-recipe.html
All the content in this website are © Copyrighted to – Udupi-Recipes