Spending vacation in India is heavenly feeling but once we come back re-tuning ourselves to this UAE life is so unpleasant.  This time the sickness took over the charge, not letting any one to be one's self.  But life has to move, time has to pass, so it's 15 days since we are back, recalling all the sweet, loving memories spent with my dearest mother and siblings.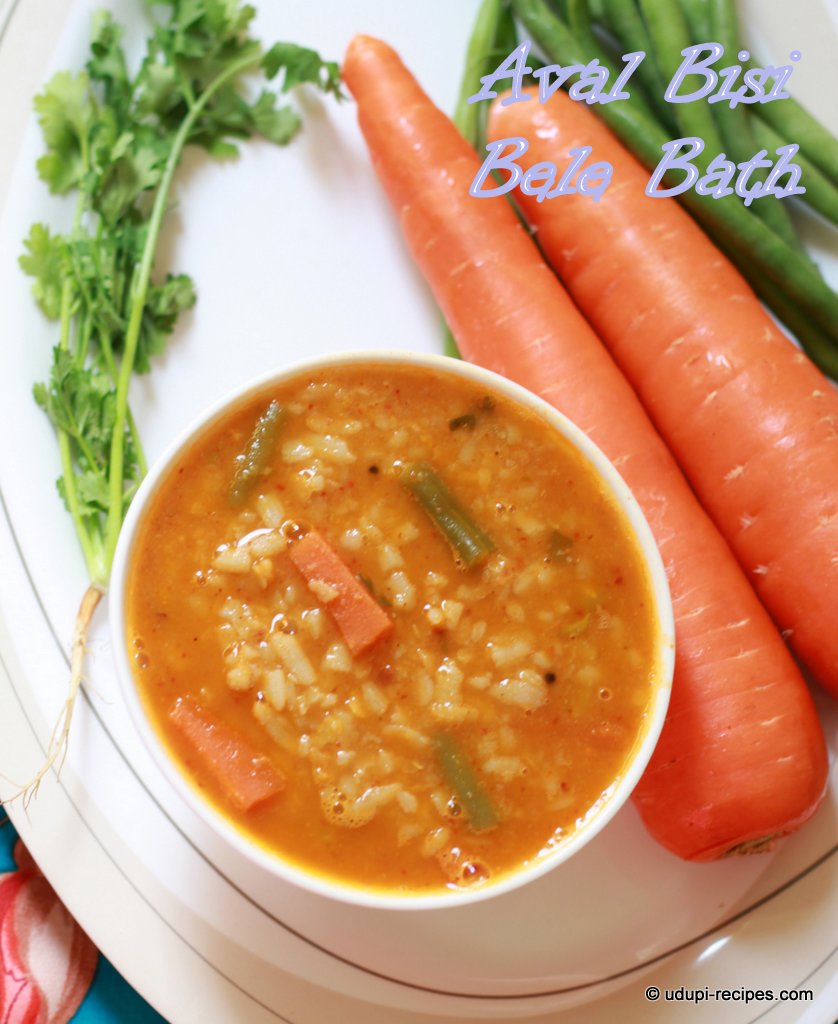 Thick rice flakes or poha is one grocery which I always hesitate to buy. Aval upma is the only breakfast that none of my family members love except me. But this time my trip to grocery shop included poha purposely as I was planning to make aval bisi bele bath instead of simply upma. Classic one pot meal bisi bele bath can be prepared using poha which is a real filling breakfast and swallow-ability is better than poha upma. The fresh home made bisi bele bath powder can make incredibly tasty, protein packed breakfast to start your day.  Crunchy aval bisi bele bath with slight sour+sweet note,  medium spiciness  plus  vegetables will boost your energy and keeps you active through out.
You can serve this breakfast along with boondi, mixture or potato chips. And also if you are not a spice lover, you can accompany it with cucumber raita as well.
Aval Bisi Bele Bath Recipe | Poha Bisi Bele Bath
Ingredients
Thick poha/Thick beaten rice flakes- 1 cup
Toor dal- 1/2 cup
Carrot- 1 no.
Beans- few
Peas- Fistful
Bisi bele bath powder- 6 tsp
Tamarind- Small lemon sized
Jaggery- 2 tsp
Salt- 1 tsp
Instructions
Preparation

Soak tamarind in half cup of water and extract it's thick juice, discarding the residue.
Pressure cook toor dal for 3 whistles. Let it not be mushy.
Soak peas in enough water for about 4 hours.

Method

Wash carrot and beans under running water and cut them in to 1" long pieces.Transfer chopped veggies and peas in to cooking pan and let it cook till soft.
Add tamarind juice and jaggery,let the vegetables absorb the sweet and sour taste. Also add cooked toor dal and bisi bele bath powder. Mix well.
Wash thick poha in enough water and let it soak in water for about 10 minutes. Then squeeze and drain water from aval and keep it ready.
Include this poha or aval in to the gravy prepared in step 2. Add salt and some water too. Cook it again for some more time (5 mins). Then switch off.
Aval bisi bele bath is ready. Serve it along with boondi or potato chips or raita.

Note

Let aval bisi bele bath be of running consistency when you prepare initially. Because poha/aval tends to thicken with time.
The soaking time for thick poha varies based on the quality of poha.
Do not over cook toor dal, let it not be mushy.
You can add ghee seasoning with cashews. I have not added it.
You can replace peas by fresh ones in which case you need not have to soak them.
https://udupi-recipes.com/2014/09/aval-bisi-bele-bath-recipe-poha-bisi-bele-bath.html
All the content in this website are © Copyrighted to – Udupi-Recipes
Meet you all with one more interesting recipe. Till then bye.