Ever since I started this space on web called udupi-recipes, it was my dream to post detailed recipe on patrode which is a unique dish from Udupi-Mangalore region. Colocasia leaves are the main leafy vegetable that is necessary to make this steamed dumpling. A good quality edible colocasia leaves are abundantly available in Udupi-Mangalore region during rainy season. These leaves are not sold in supermarkets or malls in UAE. This vacation I made it a point to bring a stalk of colocasia leaves from home land and I could successfully prepare patrode and take stepwise pictures of it.
Patrode is actually a steamed dumpling made by smearing spicy batter on colocasia leaves. When you have enough time and you are craving for a incredibly delicious snack, then you should definitely try this taste bud awakening  snack.  The tamarind, jaggery and spices used in making this patrode are towards higher end that is to nullify the effect of itchiness present in colocasia leaves. Patrode can be consumed as is pairing it up with butter, or it can be seasoned chopping the dumpling finely or it can be sliced and relished after shallow fry. Today I have explained patrode oggarane with step by step pictures. Hope it will help you in the kitchen.
ZipList Partner Program
I am proud to announce that udupi-recipes.com now offers ZipList – the must have shopping list that makes life easier.  Many of you may already use ZipList on other sites. For those of you who aren't familiar, you can now add the ingredients for any recipe from udupi-recipes to your shopping list with just one click. Or just save recipes that you know you want to make later to the ZipList recipe box. Now you can keep all your favorite recipes from all your favorite sites in one organized place – on the web or on-the-go with the free ZipList mobile app.
PS: If you are new to Ziplist – that's totally fine. You can easily log in with your Facebook account, or if you prefer, you can create your own user name and password as well.
1. To Save the Recipe to the Recipe Box, just click the "Save" button on the recipe in the post
2. After clicking on the 'Save' button a new window will open confirming your save.
3. Now when you go to your recipe box(present in the main navigational menu) you can see the saved recipe with all the ingredients in your personalized recipe box on Ziplist. To add it to your grocery list, just select the ingredients you want to click on 'Add to List'
4. You've added the ingredients you need and you can even add custom ingredients. Once your shopping list is complete, you have the option to print or share.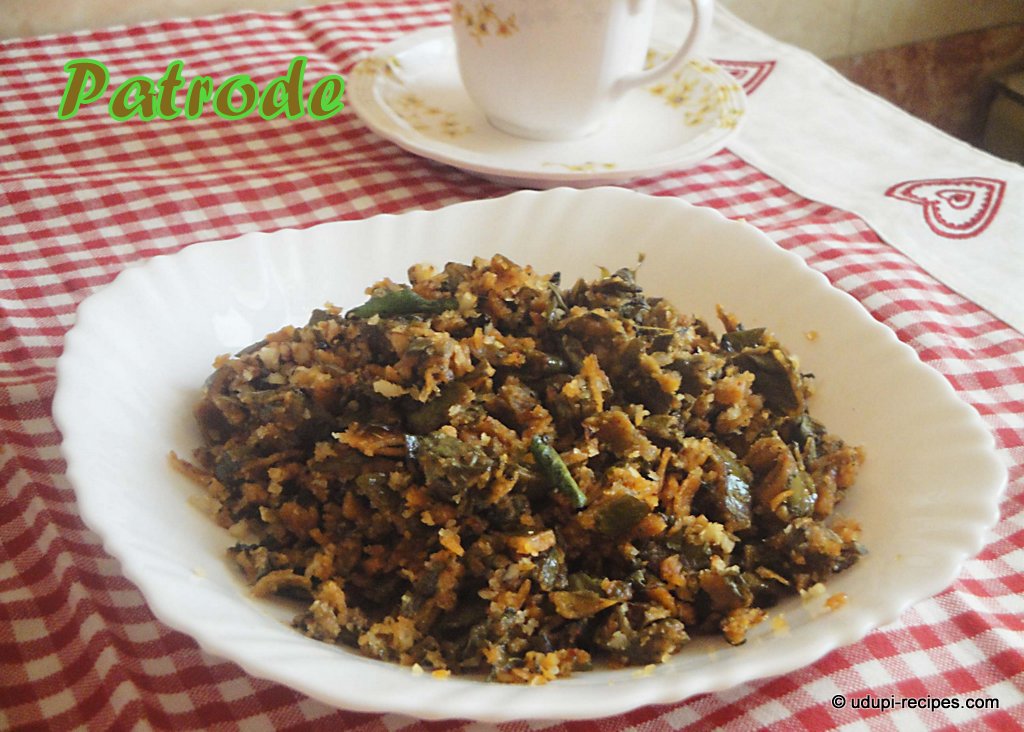 Ingredients
Tender Colocasia leaves - 20 to 25

To grind:

Raw rice- 1.5 cup
Fresh grated coconut- 1 cup
Tamarind - Big lime sized
Jaggery- 3 lemon sized or 15 tsp
Salt- 2 tsp
Coriander seeds- 6 tsp
Cumin seeds- 3 tsp
Fenugreek seeds- 3/4 tsp
Split black gram lentil(urad dal)- 3 tsp
Red chillies(Byadagi)- 6 no.
Ginger- 1/2" piece
Turmeric powder- 1/2 tsp

To season:

Coconut oil- 2 tsp
Mustard seeds- 1 tsp
Fresh grated coconut- 1/2 cup
Jaggery- 5 tsp
Instructions
Preparation

wash and soak rice in enough water for about 2 hours.

Method

In a seasoning pan add split black gram lentil(urad dal) and roast them till they turn slightly brown. Transfer them to a container and add fenugreek seeds, get them roasted as well. When they turn slightly brown, switch off the flame.
Now in a mixer grinder add fresh grated coconut, tamarind, jaggery powder, coriander seeds, cumin seeds, red chillies, salt, ginger,turmeric powder, roasted urad dal and fenugreek seeds. Grind them together to fine paste adding little water. Now include drained raw rice in to the same mixer jar and grind to fine paste. Patrode batter is ready now. The consistency and texture of the batter should be similar to uppu huli dosa batter.
Now take colocasia leaves and wash them thoroughly under running water. Wipe them pat dry using clean kitchen towel. Also using sharp knife remove the thick veins from the back of colocasia leaves and keep them ready.
Now pick the largest leaf and place it upside down meaning the side that you have removed veins is on top now. Smear a thin layer of patrode batter on it and place one more leaf on top of it. Continue smearing the batter and placing leaf till you have layers of 5 to 6 leaves. Now fold both the edges lengthwise applying a thin coat of batter on it, then start rolling these stalk of leaves from bottom towards top.
With 20 to 25 colocasia leaves you will end up having 5 such rolls. Place them in a steamer or Idli stand and steam them for about 10 to 15 minutes in low flame. You can pierce a knife to check it's doneness. Let the rolls cool before proceeding to the next step.
Basic patrode is ready now. Finely chop these steamed patrode rolls which you can season it with grated coconut and jaggery. For this heat a wok adding coconut oil, mustard seeds, grated coconut and jaggery. Mix well. Add finely chopped steamed colocasia rolls and stir for about 5 minutes.
Most delicious and unique tasting patrode oggarane is ready. Serve it as snack or breakfast, wins either way.

Note

All colocasia leaves are not good for making patrode, some may cause itchiness of tongue and throat.
Very tender leaves specific for making patrode are available in most households of Udupi-Mangalore region.
Tamarind and jaggery has to be added in generous quantity. Even the spices needed are more than usual for colocasia leaves.
Make sure the steamed colocasia dumplings are cooked well, it may cause itchiness otherwise.
For ease of grinding you can soak tamarind for few minutes before grinding.
https://udupi-recipes.com/2014/09/patrode-oggarane-recipe.html
All the content in this website are © Copyrighted to – Udupi-Recipes
Meet you all with one more interesting recipe. Till then bye.