I try to make best use of these tiny green leaves in every possible dish that I cook.  Not only to beautify the dish with curry leaves seasoning but also to infuse the aromatic treasure in to it.  That is because : I ♥ curry leaves.
I had heard people saying it's very difficult to plant and grow curry leaves which will not survive just like any other plant. Having this weird thing in my mind, I planted curry leaves in every corner of my parent's house when they built new "Sweet Home" in a village near Udupi.  To my astonishment all the plants have grown to big tree with many branches and I feel we have curry leaves grove now.
I pack a huge batch of these aromatic leaves in my return journey to UAE and reserve them in refrigerator which stays fresh for as many as 20 days. Using the same batch of curry leaves which I brought from my home land,  I made this curry leaves chutney. It  has minimum spices and needs minimum time but delights your taste buds for sure. The aromatic leaves when blend with fresh coconut, roasted lentil, red chilly and salt infuse a unique taste. A pinch of asafoetida adds on flavor to this neither too thick nor too thin curry leaves chutney and takes the dish to the next level.
My mother makes amazingly tasty curry leaves chutney which is one of her signature recipes as well. I pair it with rice, idli and dosa, it goes very very well with them all.
Refer other chutney recipes here.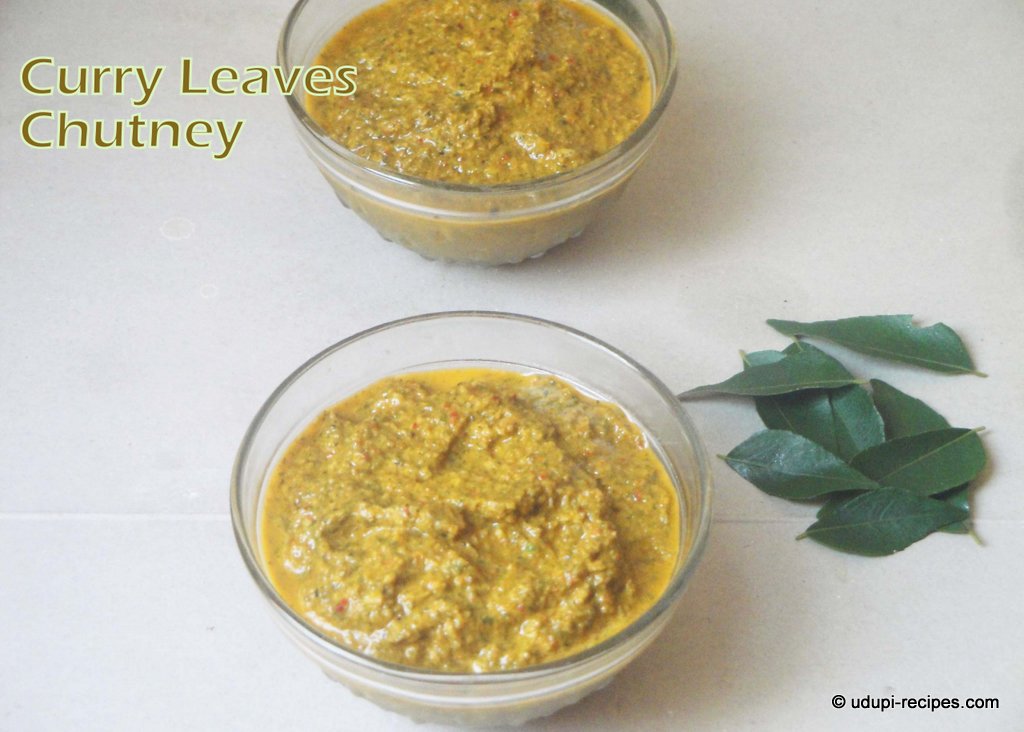 Curry Leaves Chutney Recipe | Side dish with Idli, Dosa, Rice
Ingredients
Curry leaves- 10 to 15 strands or half cup tightly packed
Split black gram lentil(urad dal)- 2 tsp
Fresh grated coconut- 2 fistful
Red chillies(Byadagi)- 2 no.s
Tamarind- Small marble sized
Salt- 1 tsp
Asafoetida(hing)- Chickpea sized
Coconut oil- 3 tsp
Instructions
Preparation

Wash curry leaves under running water and keep it aside till use.

Method

Heat a wok adding oil, split black gram lentil and red chillies. Fry them together till the lentils turn slightly brown.
Now include curry leaves and roast them till they turn little crisp.
Now add fresh grated coconut and all the roasted ingredients from above step in to a mixer jar. Add tamarind, salt and asafoetida too. Blend them together in to semi coarse paste adding little water. The consistency should not be too thick nor too thin, so add water accordingly.
Curry leaves chutney is ready. Serve it as side dish with rice, Idli or Dosa. Perfect pair with each one.

Note

Choose fresh curry leaves for perfect taste.
This chutney is of medium spice, add additional chilly as per your preferences.
https://udupi-recipes.com/2014/09/curry-leaves-chutney-recipe-side-dish-idli-dosa-rice.html
All the content in this website are © Copyrighted to – Udupi-Recipes
Meet you all with one more interesting recipe. Till then bye.