In my childhood I frequently used to have  banana rasayana along with chapati. Every Saturday my mom used to prepare this combo for lunch. But now I am not a big fan of this easy dessert, so occasionally it makes it's presence in my kitchen. Though we can have banana rasayana as is, it is a good accompaniment with akki shavige, neer dosa and chapati. Other day I had prepared neer dose for breakfast and instead of regular coconut chutney I prepared this banana recipe. So lets see how banana rasayana is prepared in Udupi.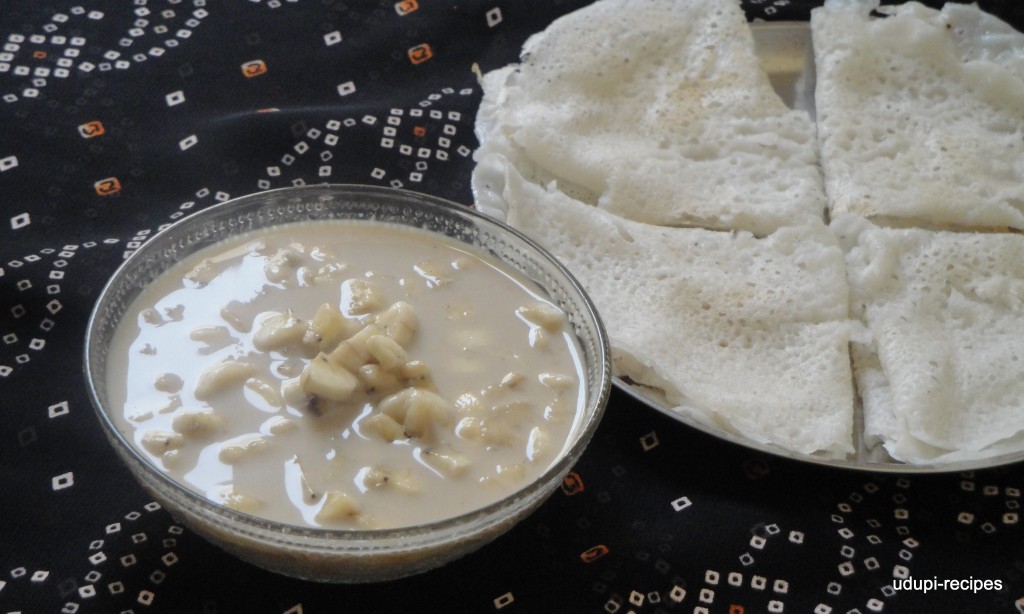 Banana Recipes-Banana Rasayana Recipe
Ingredients
Ripe bananas- 5 to 6 (elakki banana preferred)
Grated coconut- 1 cup
Powdered jaggery- 1/2 cup
Cardamom- 2 pods
Instructions
Preparation

Chop banana in to small pieces and keep it aside.

Method

Grind the fresh grated coconut adding half cup of water. Once it is ground finely, pour it on to a strainer and squeeze it to get one cup of coconut extracted milk.
Add jaggery to the coconut milk and stir it until jaggery gets dissolved in coconut milk.
Now add chopped bananas and powdered cardamom, mix well.
Banana rasayana is ready to be served with neer dosa/akki shavige or chapati. It's a super combination....enjoy it.

Note:

As coconut milk is used and the dish is not cooked, it will perish soon. So serve it immediately after preparation.

Other dessert recipes
https://udupi-recipes.com/2013/07/banana-recipes-banana-rasayana-recipe.html
All the content in this website are © Copyrighted to – Udupi-Recipes
 Meet you all with one more interesting Udupi recipe. Till then bye.