Very easy sweet dish prepared using poha/aval/thin flattened rice flakes is "pancha kajjaya". In Udupi/Mangalore region sweet poha is always prepared during poojas as an offering to God. Flattened rice is said to be a favorite delicacy for Lord Krishna. So pancha kajjaya is a mandatory dish made during Shri Krishna Janmashtami. Here "Pancha" refers to 5 ingredients and "Kajjaya" refers to sweet. A Sweet dish prepared using 5 ingredients is named as "Pancha Kajjaya". Many variations can be made in this dish like adding
honey, banana, sugarcane etc,

substituting sugar for jaggery, using puffed paddy in place of flattened rice and so on. I will post all variations in this space. Now a very simple, basic but divine taste sweet poha recipe is here for you.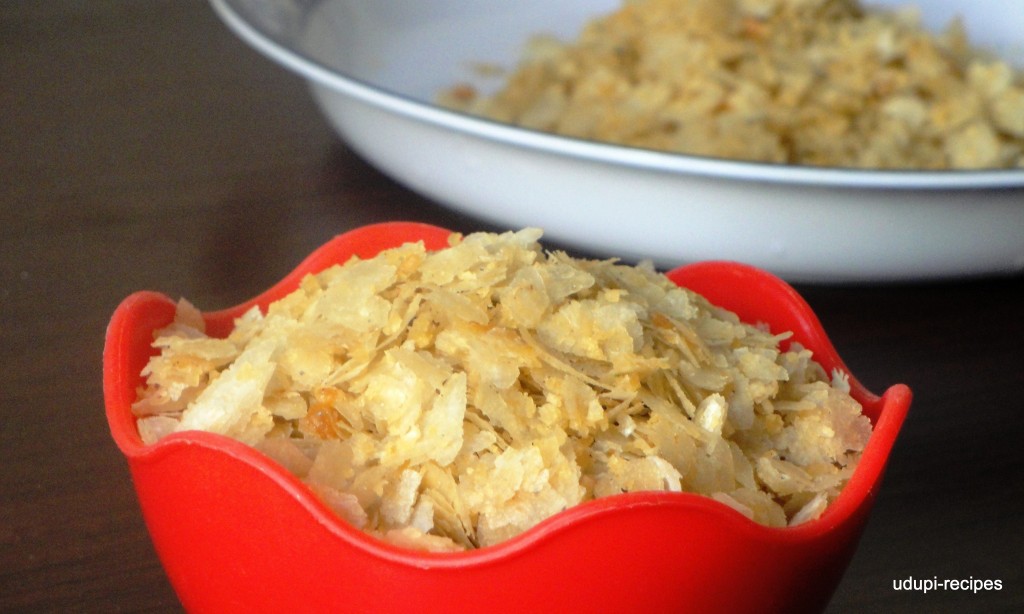 Aval Recipes-Sweet Poha/Sweet Aval/Pancha Kajjaya Recipe
Ingredients
Thin flattened rice flakes- 2 cups
Powdered jaggery- 1/2 cup
Fresh grated coconut- 1 cup
Cardamoms - 2 to 3 pods
Ghee- 1 tea spoon
Instructions
Preparation

Finely powder the cardamom seeds and keep it aside.

Method

In a large bowl add grated coconut, powdered jaggery, cardamom powder and ghee. Mix it well with your hands.
Now add poha/flattened rice flakes and mix thoroughly. Let the flattened rice flakes get blended with jaggery and coconut.
Sweet poha/Sweet aval/Pancha Kajjaya is ready. Offer it to Almighty and seek blessings.

Note:

Coconut should be fresh so that it's moisture makes flattened rice soft. Otherwise the rice flakes will be difficult to chew.
Adjust jaggery as per your taste buds. I have made it with medium sweetness.
Use your hands for mixing, spoon or ladle cannot mix poha properly.

Other rice flakes/Aval recipes
https://udupi-recipes.com/2013/07/aval-recipes-sweet-pohasweet-avalpancha-kajjaya-recipe.html
All the content in this website are © Copyrighted to – Udupi-Recipes
Meet you all with one more interesting Udupi recipe. Till then bye.