After a month's vacation in India I am back in UAE. Sorry I could not blog during my vacation due to hectic schedule there.  Breadfruit is a homegrown vegetable at my mother's place. She prepared breadfruit dosa once which was awesome in taste and I thought of blogging it first. The batter  for this dosa is same as uppu huli dosa which I have already posted, we need to dip thin slices of breadfruit in the batter and arrange them in dosa form on the griddle that's it. Let's see the breadfruit dosa recipe now.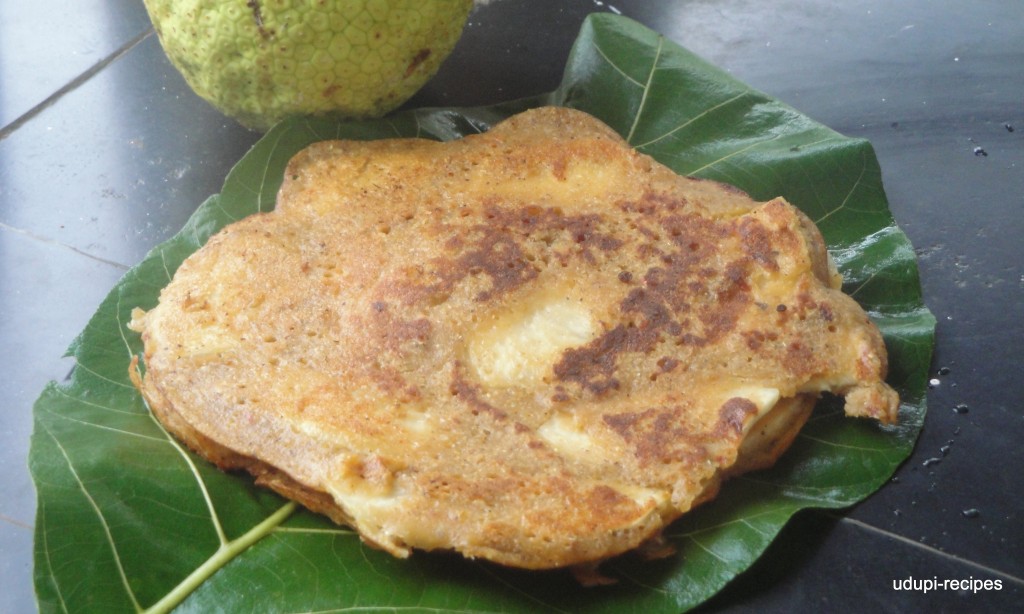 Breadfruit recipes-Breadfruit dosa recipe
Ingredients
Dosa rice- 2 cups
Fenugreek seeds- 1 tsp
Urad dal/Split black gram- 1 tsp (optional)
Coconut - 1/2
Coriander seeds- 6 tsp
Cumin seeds- 3 tsp
Red chilly (Byadagi)- 7 nos
Tamarind- Lemon size
Powdered Jaggery- 6 tsp
Salt- 2.5 tsp or to taste
Breadfruit- 1 medium sized
Instructions
Preparation

Wash and Soak dosa rice, fenugreek seeds and urad dal for 6 to 8 hours or overnight. Drain it and keep aside.
Soak tamarind in hot water for 15 mins.
Make thin slices of breadfruit and keep it aside.

Method

Grate the half coconut completely. Grind coconut, coriander seeds, cumin seeds, red chilly, jaggery, tamarind and salt coarsely by adding water in steps.
Add soaked rice, fenugreek seeds and urad dal mixture to the above coconut masala and grind to fine paste. Add water in steps while grinding. The consistency of the batter should be just like normal dosa batter. Transfer the batter to a bowl.
Heat a dosa skillet and spread a tea spoon of oil using coconut coir. Dip thin slices of breadfruit in the batter. Arrange the coated breadfruit slices on the skillet in circular dosa fashion as shown in the picture below. Cover the skillet with lid and cook in low flame for 2 mins, then turn the dosa and let it cook for a min.
Repeat the process with rest of the breadfruit slices and batter.
Breadfruit dosa is ready to be served with butter or honey. It can also be consumed as is without any side dish.

Note:

Make breadfruit slices as thin as possible. While arranging the batter coated slices you can start from the center and continue outwards too. The slices should touch each other and finally you can fill the gaps with batter.
https://udupi-recipes.com/2013/09/breadfruit-recipes-breadfruit-dosa-recipe.html
All the content in this website are © Copyrighted to – Udupi-Recipes