Jackfruit, a seasonal fruit is being used in diverse culinary dishes of Udupi. Numerous jackfruit recipes like halwa, dumpling, appam, dosa, payasa/pudding, vada, chips etc are popular during the season. Jackfruit adds it's own flavor to each dish that is prepared using it. Jackfruit dumpling needs leaves of teak tree for steaming purpose. The batter needs to be steamed in teak leaves which adds nice color and aroma to the jackfruit dumpling. The dark maroon color of the dish itself attracts anyone to consume it….:). In local tulu language of Udupi this dish is well known as "Pelakayi Gidde". Here goes the recipe for jackfruit dumpling/halasina hannina gatti.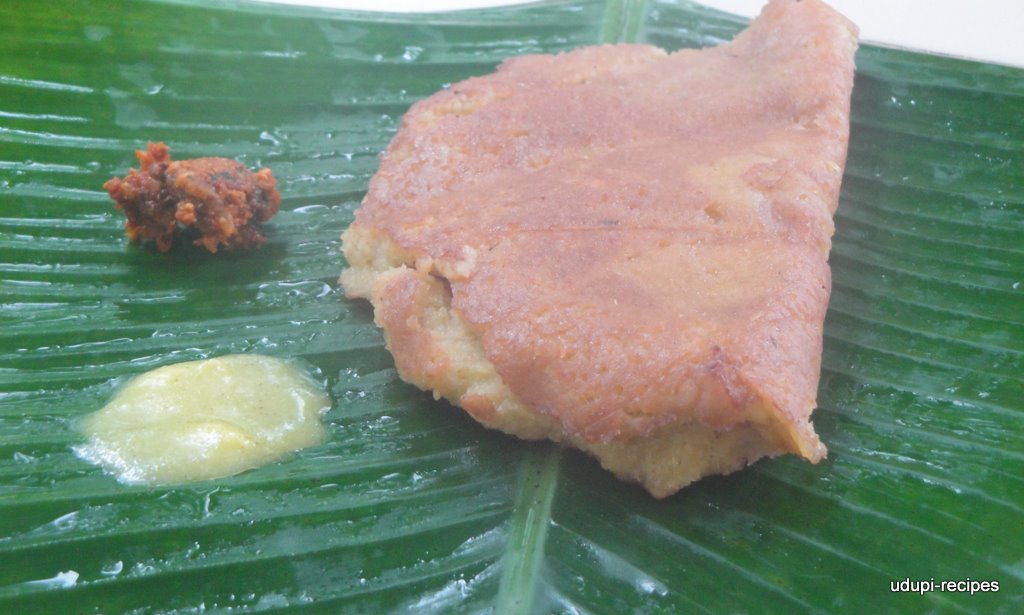 Jackfruit Recipes- Jackfruit dumpling/Jackfruit gatti/Halasina hannina gatti
Ingredients
Dosa rice- 1 cup
Deseeded jackfruit pods-2 to 3 cups
Powdered jaggery- 1/2 to 3/4 cup
Grated coconut- 1 cup
Salt- 1/2 tea spoon
Teak leaves- Few
Instructions
Preparation

Wash and soak rice for 2 to 3 hours.

Method

Grind jackfruit pods, rice, salt and grated coconut together semi coarsely. It means the batter should not be too fine and not too coarse. Do not add water while grinding, the moisture present in the jackfruit is enough for grinding.
Heat a thick bottom pan adding jaggery and little (1/4 cup) water. Bring it to boil in medium flame. When the jaggery melts completely, keep stirring and splash few drops of jaggery syrup into a bowl of water. If the jaggery syrup does not dissolve and you can make hard ball out of it then jaggery syrup is ready. Switch off the flame.
Add the ground batter of step 1 to this jaggery syrup and mix well. Jackfruit dumpling batter is ready.
Wash and dry teak leaves. Add a ladle full of batter on to the leaf and fold it from upside to down as shown in the figure below.
Repeat the process with rest of the batter and arrange all folded teak leaves containing dumpling for steaming purpose. You can steam on idly stand as well.
Steam for at least 15 minutes and you would notice the teak leaf has changed it's color. If you pierce the dumpling with a knife, you will find batter has not sticked on to the knife. Now it is time to switch off the flame.
Jackfruit dumpling/halasina hannina gatti/pelakayi gidde is ready to serve. Ghee is the best combo for the dumpling. Pickle can also served along with ghee just for hot taste in between. Trust me it tastes heaven. Enjoy.............

Note:

Each variety of jackfruit has it's own characteristics. Some may make the batter watery, so while preparing the batter add the jackfruit pods little by little. Do not add all jackfruit pods at once.
Use jaggery depending on the sweetness of jackfruit. Use less jaggery if jackfruit is more sweet or viceversa.
https://udupi-recipes.com/2013/09/jackfruit-dumpling-halasina-hannina-gatti.html
All the content in this website are © Copyrighted to – Udupi-Recipes
 Meet you all with one more interesting Udupi recipe. Till then bye.