Sweet potato, a root veggie tucked in dosa ! Which seems kind of innovative. But it isn't. The thin slices of sweet potato dipped in savory, flavorful spicy batter and cooked on dosa griddle is very satisfying and filling breakfast forever. For me, sweet potato dosa is a veggie-friendly, scrumptious way of making breakfast in this winter season.
In Udupi-Mangalore  region, we are sort of addictive to making such vegetable or greens based dosa. The savory dosa batter with perfect blend of spices, jaggery and tamarind is the base for all these. When the batter is ready, you can use your favorite veggies like ridge gourd, brinjal, cabbage, bread fruit and many more. If these veggies don't fall in your taste department, then greens like fenugreek leaves, drumstick leaves or any of your favorite ones can get in. So single dosa batter can be served in multiple ways with multi taste. So what else you all wonderful women looking for? Doesn't it sounds amazing?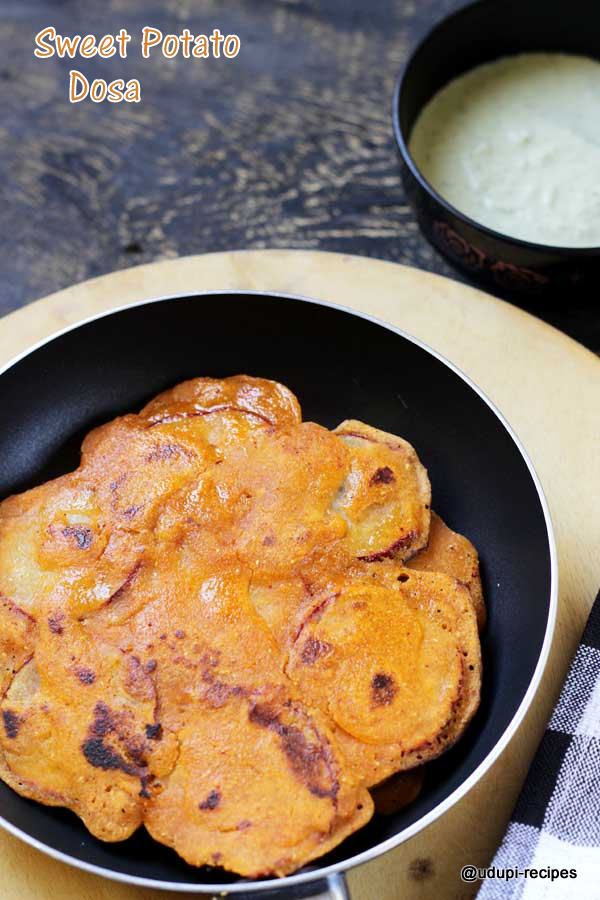 We are already in winter season now which is meant fresh produce from garden isn't it? So let's put them in to good use through ridge gourd dosa, sweet potato dosa and fenugreek leaves dosa. Which all seems to be clean eating friendly recipes. In this new year 2019, lets take oath to take care of our health through  good, clean eating habits. WISH YOU HAPPY NEW YEAR my dear foodie friends..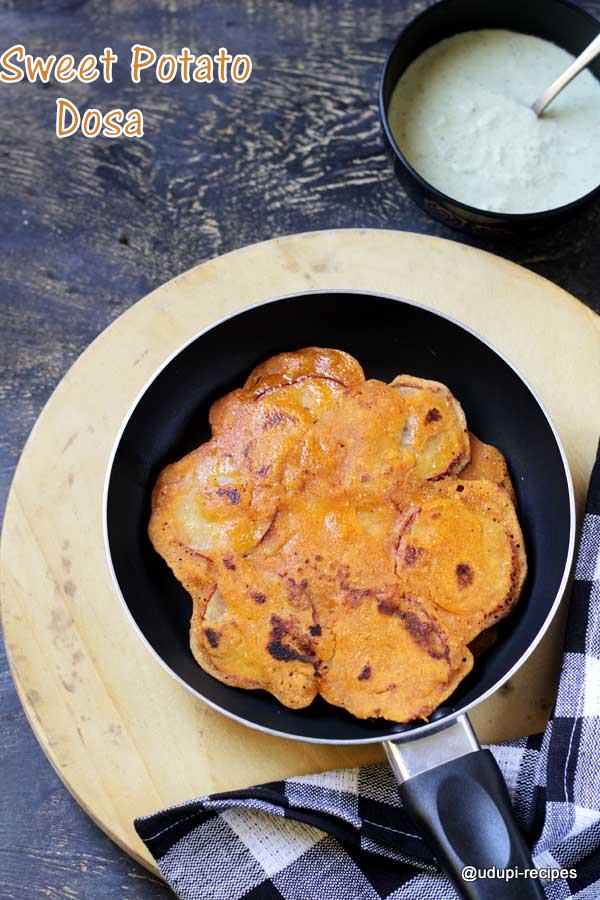 Sweet Potato Dosa | Udupi special breakfast
Ingredients
Sweet potato- 1 medium sized.
Uncooked rice- 1 cup
Fresh grated coconut- 1/2 cup
Tamarind- Lemon sized
Coriander seeds- 3 tsp
Cumin seeds- 1 tsp
Jaggery powder - 2.5 tsp
Red chillies- 2 nos.
Salt- 1.5 tsp
Cooking oil- As required
Instructions
Preparation

Rinse rice using enough water and soak it for at least 2 hours. After soaking, rinse once again and drain all the water.

Method

In a mixer jar, add coconut, tamarind and coriander seeds.
Next include cumin seeds, jaggery, red chillies and salt too.
Grind everything together in to fine puree adding water as required. Next include drained rice to the mixer.
Grind once everything together again to fine batter. The consistency should be like normal dosa batter. Transfer it to a wide bowl.
Wash sweet potato under running water scraping all the dirt on its skin. Make thin slices of sweet potato using a chips grater or kinfe. Keep the slices immersed in water till use.
Next heat a dosa griddle smearing some oil over. Dip few slices of sweet potato in dosa batter such that the batter coats well on both sides and place a slice at the ceter of griddle. Arrange similar batter coated slices in circular fashion surrounding the center one. Pour some batter along he edge to get the shape of dosa.
Drizzle some oil on it and cook covered for few minutes. Then carefully turn over and cook the other side. Once done, remove from the griddle and continue the process with rest of the batter.
Amazingly delicious sweet potato dosa is ready to serve with honey or coconut chutney.

Notes

Initially grind the spices with coconut in to fine puree, then include soaked rice.
You can taste the batter and adjust the spices as you grind.
The sweet potato should be sliced as thin as possible for ease of cooking.
Cook this dosa in medium flame to help veggie turn soft.
https://udupi-recipes.com/2019/01/sweet-potato-dosa-udupi-special.html
All the content in this website are © Copyrighted to – Udupi-Recipes