In this month of January 2019, lets actually make our festive day delicious and filling.  When all the meals happen to be delicious with simple yet scrumptious food, then it really feels like festive. Isn't it? So here I come with a bowl full of foxtail millet sweet pongal. It's a traditional ritual to make a simple sweet pongal or khara pongal on that BIG day of Sankranti. Which usually happen to be rice based and in a true sense it's incredible in taste. But being a food blogger, I take a liberty to make the same pongal recipe using variety of other cereals too. And this time it's millets turn to appear here as scrumptious pongal.
When Makara Sankranti is still a week away, it feels so heavenly to eat a dessert like this foxtail millet sweet pongal which has amazing flavors of camphor and cardamom with ample cashews and raisins. It's the fragrant ghee which makes this sweet pongal from average to OMG how good it is! kind. So be generous in using ghee in the pongal recipe as the texture and deliciousness highly depends on it.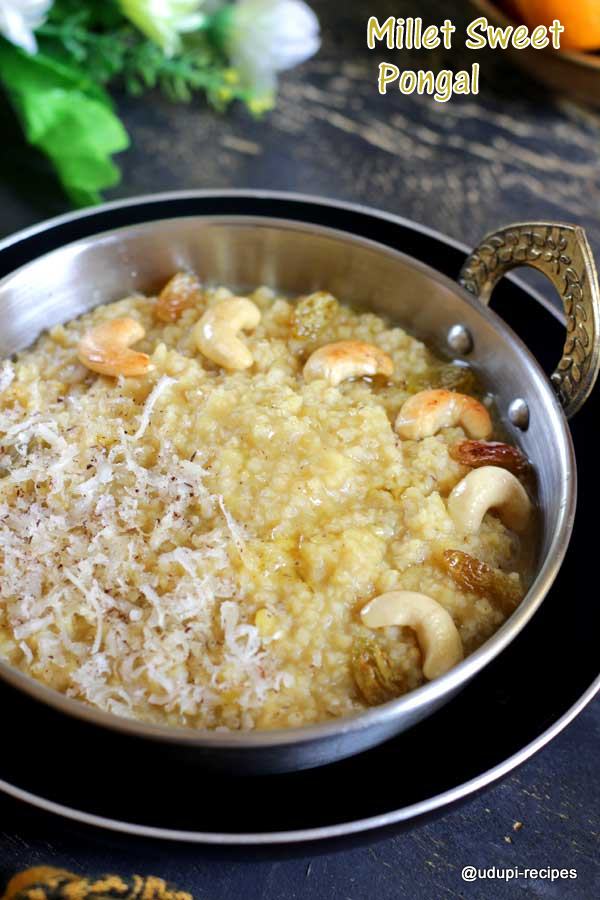 Though the recipe is straight forward like any other sweet pongal, I would recommend you to ensure that millets are cooked to the perfection. Because millets are bit harder than rice and need to cook for little longer. If it remains uncooked or less cooked then sweet pongal doesn't look the way it should. I loved biting cashews, raisins and of course copra as I ate the foxtail millet sweet pongal. They just take the dish to next level.
This festival with fresh crops straight from the field feel so incredible. New year and it's the first festival to begin with. So let's enjoy to it's fullest with good food and good mood.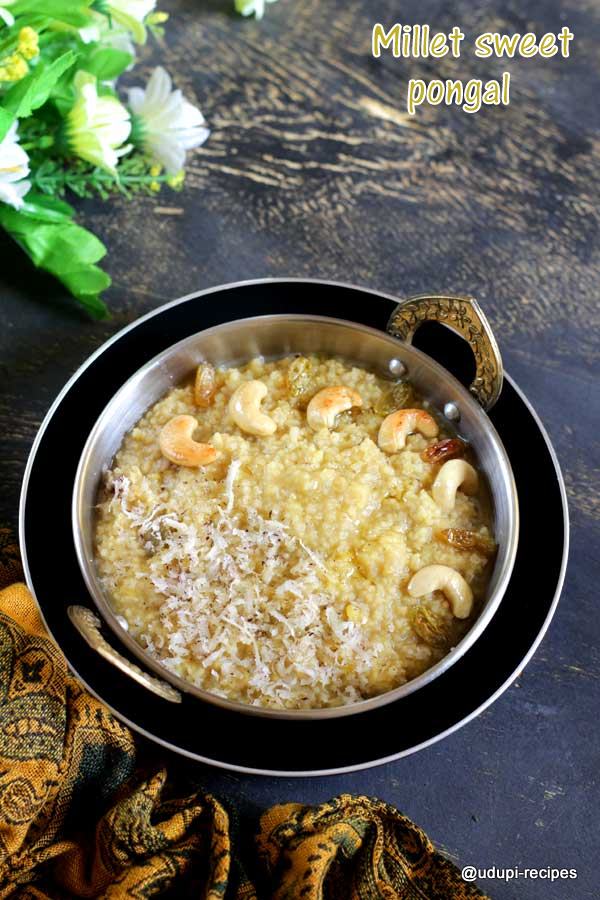 Foxtail Millet Sweet Pongal | Festive Special
Ingredients
Foxtail millet- 1/4 cup
Split green gram lentils- 1/8 cup
Jaggery powder- 1/4 cup
Cashews + raisins = Handful
Cardamom powder- 1/4 tsp
Edible camphor- A pinch
Grated copra- 2 tbsp
Ghee- 1/8 cup
Instructions
Method

In a pan add millets and lentils together. In a medium flame, roast both of them with constant stirring.
When the lentils warm up and waft out aroma, transfer them to a bowl. Rinse the same with enough water.
Next, add 1/2 cup of water and pressure cook it till soft. I cooked for 3 whistles and in simmer for 5 minutes.
Next in a pan add a tbsp of ghee and roast the cashews plus raisins. When the cashews turn little brown, transfer them.
Next to the same pan, add jaggery powder and 1/4 cup of water. Cook it in medium flame.
When the jaggery dissolves and starts boiling, include the cooked millets and lentils.
If needed, adjust consistency by adding some water. Then include cardamom powder, cmphor powder, copra and roasted cashews and raisins.
Mix everything together. Finally add rest of the ghee and continue cooking for few more minutes and switch off.
Delicious foxtail millet sweet pongal is ready to serve as dessert.

Notes

Pressure cook the millets till soft because later it doesn't cook in jaggery syrup.
Add enough water so that it cooks to the perfection.
Adjust jaggery according your taste buds.
Do not skip adding camphor as it enhances the aroma.
Generous ghee makes the sweet pongal a delectable dessert.
Pongal thickens with time, so adjust consistency adding water initially.
https://udupi-recipes.com/2019/01/foxtail-millet-sweet-pongal-recipe.html
All the content in this website are © Copyrighted to – Udupi-Recipes