Harvest festival of India, Makara Sankranti is being celebrated all over India today and we expats residing miles away from our motherland are rejoicing the festivity watching it on the television. It's just sort of overwhelming when I stop and think about how incredible it is to see all the celebrations, happenings up to date  LIVE on the screen and to be a part of it remotely though!!
When it comes to food and feast, it's almost impossible to deprive my hungry self from the wonderful, deliciousness  of the actual festival dishes. So on that big day my  kitchen transforms in to Indian festively looking cookhouse making it smell wonderful and aromatic.  In Udupi, there is no specific dish that is made on the eve of Sankranti, but as a dweller of Bangalore for many years of my life, have turned my cuisine accordingly.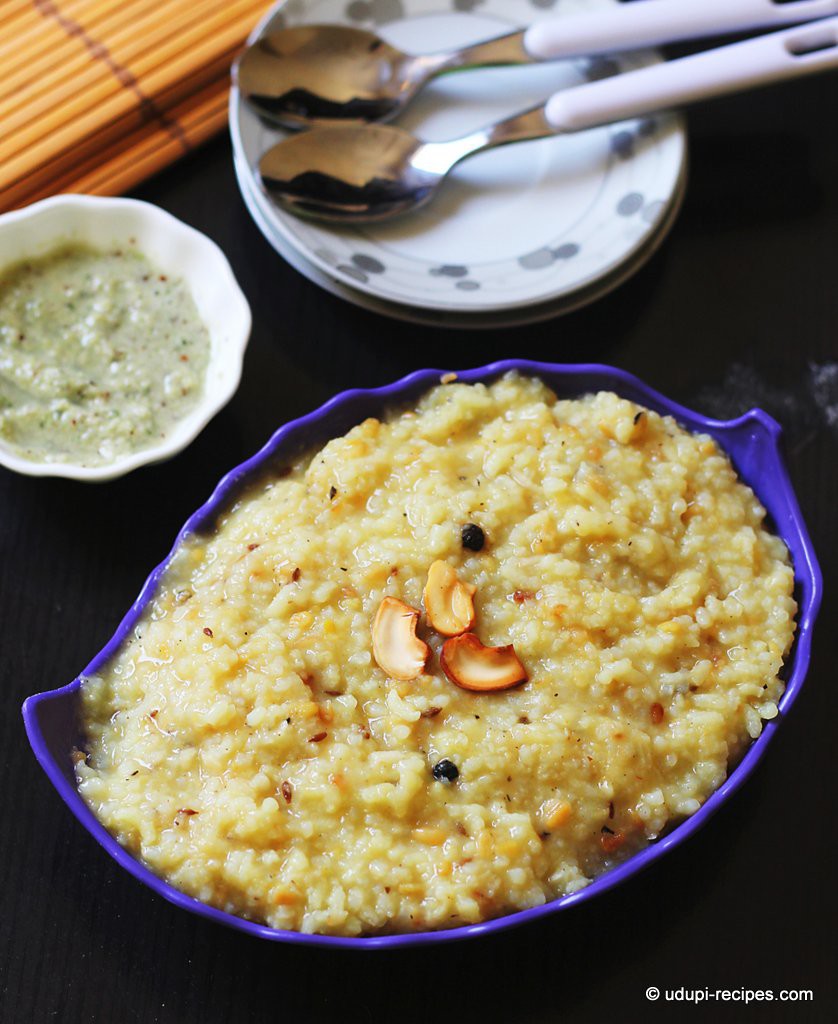 I accommodate sweet pongal and khara pongal in sankranti feast every year since 2007.  Both these dishes share similar ingredients list and procedure but one is sweet version and the other is savory. Drizzling with ghee, divine tasting sweet pongal is one of my favourite and mild, pepper spicy, cumin flavored khara pongal accompany it very well.
So it is very happy happy good food festival time of the year.
Khara pongal can also be a healthy breakfast on busy morning and come very handy as a quick fix. All it needs is pressure cooking rice and lentils and seasoning with flavorful spices like cumin and black pepper.
Check the video:
Khara Pongal Recipe Kannadiga Style
Ingredients
Raw rice- 1/2 cup
Split green gram lentil(moong dal)-1/2 cup
Desiccated coconut (copra)- Fistful
Ghee- 4 tsp
Black pepper- 1/2 tsp
Turmeric powder- 1/4 tsp
Cumin seeds- 1 tsp
Salt- 1 to 1.5 tsp (as per taste)
Cashews- Handful
Instructions
Preparation

Crush the black pepper roughly using mortar and pestle. Keep it aside.

Method

Roast the green gram lentils in a heavy bottom wok in low flame. When the lentils turn their color slightly and become aromatic, switch off the flame.
Rinse the rice using enough water and add it to a cooking vessel. Include roasted lentils, turmeric powder too in to the vessel.
Add around 4 cups of water and pressure cook the mixture for 3 whistles and simmer for 5 minutes. Once the pressure releases completely, open the lid and roughly mash the cooked mixture.
Heat a seasoning pan with ghee and broken cashews, fry them till they become brown. Transfer cashews and subsequently fry cumin, crushed black pepper and desiccated coconut together for few seconds.
Combine all the ghee roasted ingredients and salt with cooked rice+lentils mixture. Stir well and cook for few minutes and switch off the flame.
Very simple, mild and easy khara pongal is ready. Serve it with coconut chutney or sambar of your choice.

Notes

The ratio of water is 4 times the total quantity of rice plus lentils. Meaning, if rice and lentils together measure 1 cup then you have to add 4 cups of water.
You can replace desiccated coconut by normal coconut too.
It is also a practice to add whole black peppers, but I don't like biting the pepper in between, so crushed them.
For extra spiciness you can add chopped ginger and green chillies too along with cumin seeds seasoning.
https://udupi-recipes.com/2015/01/khara-pongal-recipe-kannadiga-style.html
All the content in this website are © Copyrighted to – Udupi-Recipes