Hey ..I am back with one more greens recipe as promised in one of my previous posts I hope you guys have noticed and remember it.  Cooking and eating these greens is a real pleasure of this winter  season which I would never miss out.
Wait…don't move your mouse to close the window, it's not going  to be a boring healthy recipe. I know you..like an actual foodie (like me!!) you are craving for some deep fried food while sipping a mug of hot coffee sitting on a warm couch. Are you resisting the temptation, pushing it away??? The more you resist, the craving hits back like a boomerang.  It's the same case here with me.  So finally I have succumbed myself by making the palak pakoda which are deep fried but with nutrients rich spinach, they are healthy. It's BONUS!!!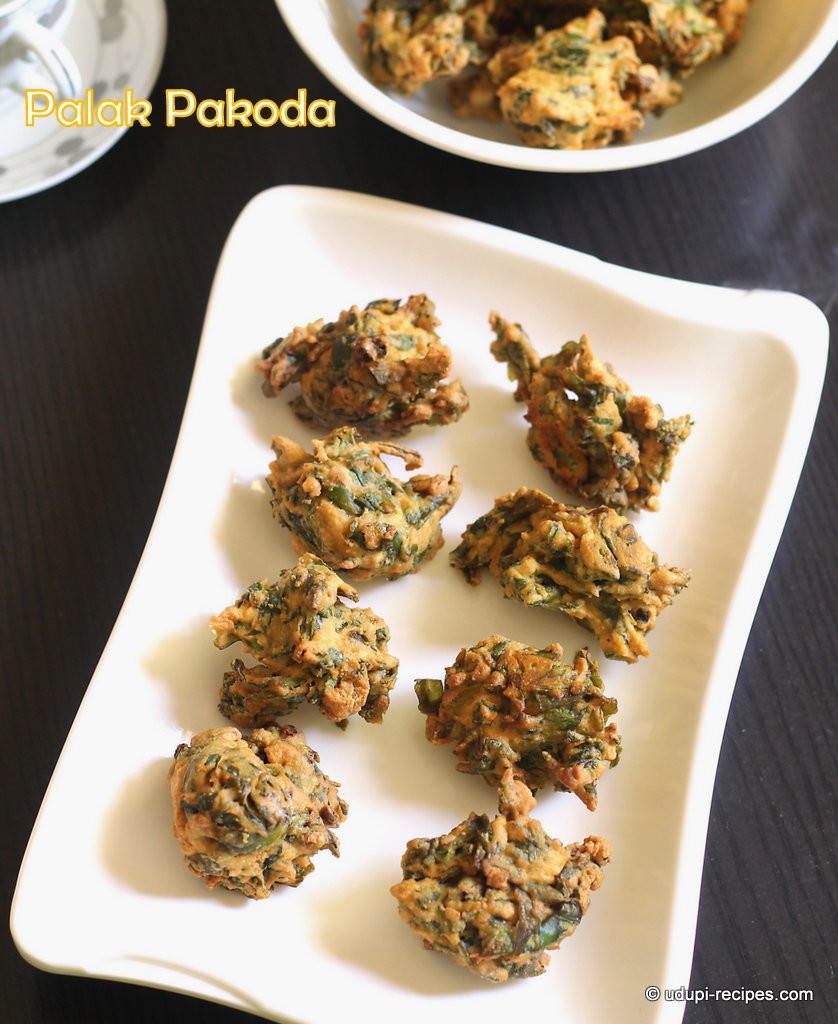 Staring the above picture?? I agree with you… spinach pakoda is not visually appealing,  highly because it has no shape 🙁 .  Pakoda dough randomly dropped  in to hot oil would get no better shape than this.  But the combination of fresh spinach leaves with the flavors of few basic spices and crunchy textures would never stop you eating I bet.
Like palak soup, palak pakoda too has become my absolute winter soul food right now. It has got the zing of crunchy deliciousness and a lick of spicy heat- a 100% addicting food magic.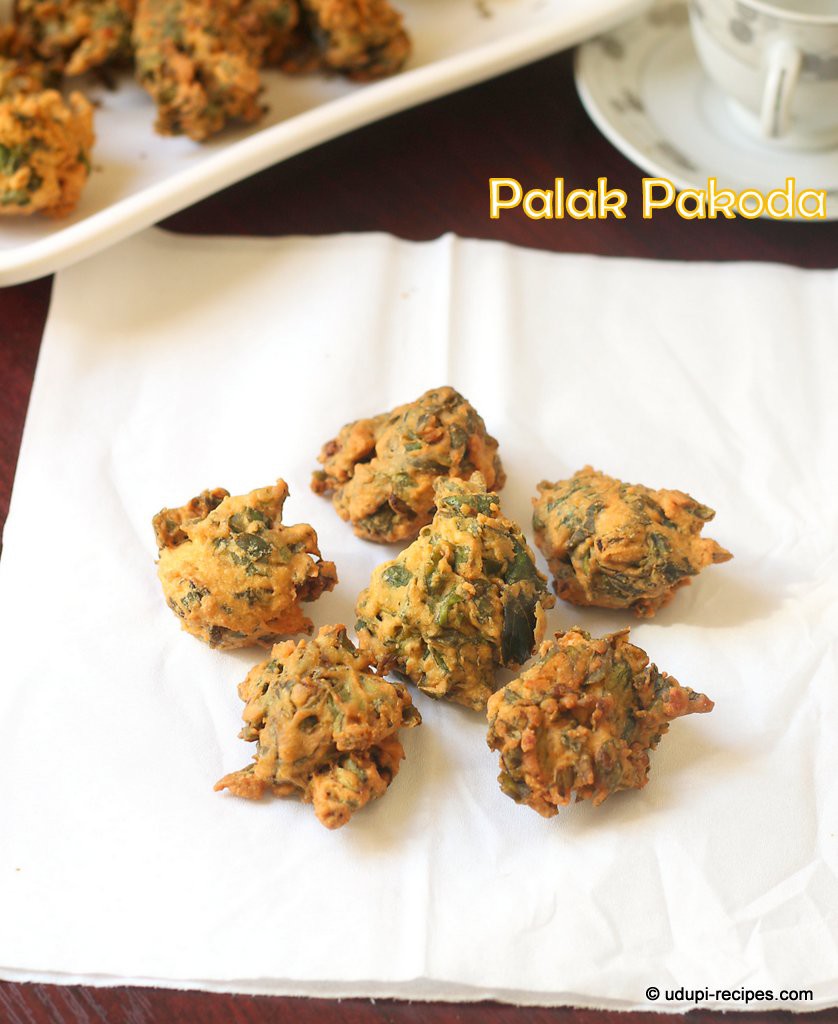 Palak Pakoda | Spinach Pakoda Recipe
Ingredients
Palak / spinach - 1 bunch
Chickpea flour (Besan flour)- 1 cup
Rice flour- 1/2 cup
Green chillies- 3 nos.
Coriander seeds- 1 tsp
Cumin seeds- 1/2 tsp
Carom seeds- 1/4 tsp
Salt- 1 tsp
Cooking oil- Enough to deep fry
Instructions
Preparation

Crush the coriander seeds and cumin together using mortar and pestle. Keep it ready.

Method

As a next step, finely chop palak (spinach) leaves, include tender stems too. Take a wide bowl and add chopped spinach, chopped green chillies, besan flour, rice flour, salt, carom seeds and crushed coriander plus cumin seeds. Combine them together using your fingers. The water oozed out from palak itself is enough to form semi-thick dough. If needed sprinkle some water.
Heat cooking oil in wide wok, once the oil gets heated up you can start dropping pakodas. Check the oil by dropping a pinch of pakoda dough, if it slowly raises to the surface then the oil is at right temperature.
Take a big lump of pakoda dough in the hand and start dropping small lemon sized pakodas in to the hot oil. Fry the palak pakodas till their color turns in to brown. Turn them intermittently for even frying. Once done, using slotted ladle remove them from oil and drain on tissue. Repeat the process with rest of the dough.
Spinach pakoda / Palak pakoda is ready to serve with hot tea.

Notes

Do not add more water while making the pakoda dough. As you combine the flour with palak, it oozes out enough water to form the dough. If you feel the dough to be dry then sprinkle some water.
Rice flour is added to turn the pakodas crispy, if you prefer you can add a pinch of baking soda or hot oil in order to make them more crispier.
These pakodas are medium spicy, you can kick the spice up adding a tea spoon of red chilly powder or one more green chilly.
You are not suppose to shape the pakodas in any form, just drop small lumps in hot oil holding big lump in hand.
https://udupi-recipes.com/2015/01/palak-pakoda-spinach-pakoda-recipe.html
All the content in this website are © Copyrighted to – Udupi-Recipes