I am deriving a great pleasure from these WINTER months of Middle East not only because I can wrap myself within furry blankets and relax on an extended night of sleep but also to cook and share the wintery greens and veggies.  Local vegetable market here in UAE is flooded with fresh greens that are literally piled up like a heap making my heart sing.
For someone who loves cooking and eating local produce, these local vegetable vendors delivering the fresh vegetables and greens plucked with dew drops along with the mud and sand stuck on their skin and roots is more than enough to make my heart skip a beat!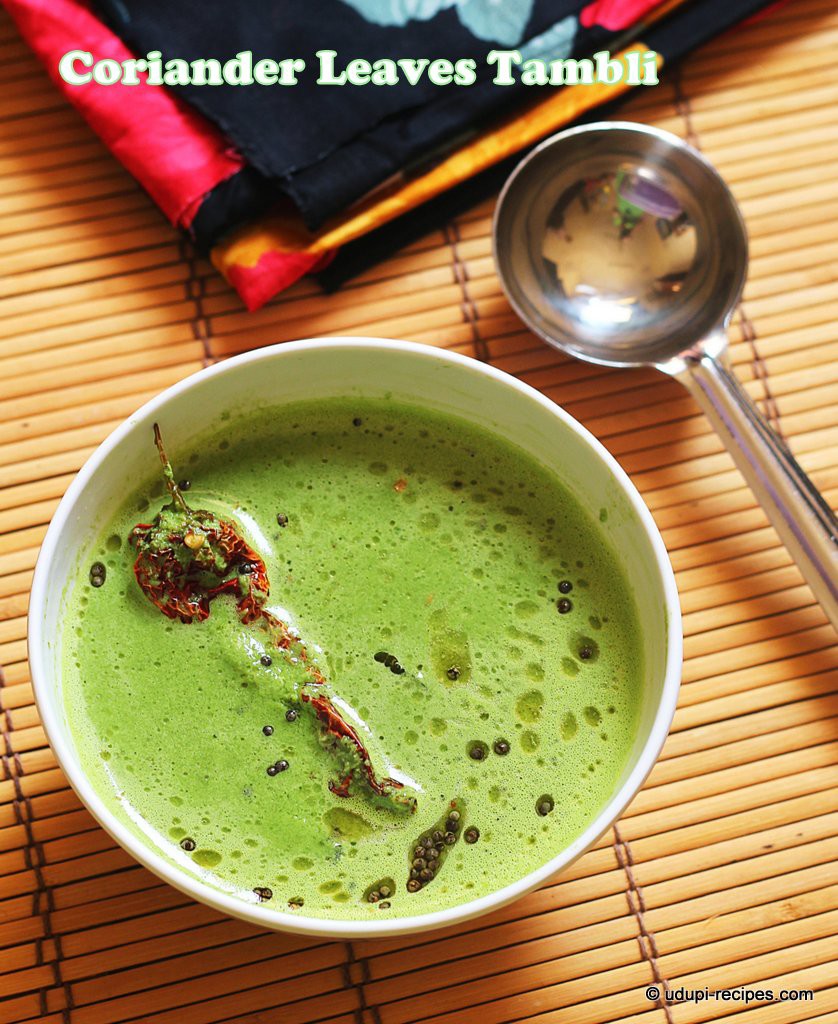 As you would guess rightly my refrigerator in this season is packed with such bunches of greens like you can find all sort that are cook-able and edible. Fenugreek, spinach, coriander and radish greens are my all time picks from the vendor and correspondingly you will find a series of greens based posts on my blog <= which is AWESOME right??
Today it's one such greens the most common readily available coriander leaves + yogurt based rice side dish, coriander leaves tambli recipe. Last month when I posted a diabetic friendly fenugreek seeds tambli, the response was overwhelming and readers demanded more kind of tambli recipes.  So I decided to post this now. Coriander leaves tambli is just a simple, quick side dish and you can prepare it within 10 minutes. The whole process has  just 3 steps roasting +  grinding + seasoning. The goodness of coriander leaves flavored with cumin blended well with coconut and comforting yoghurt is a gift to your taste buds.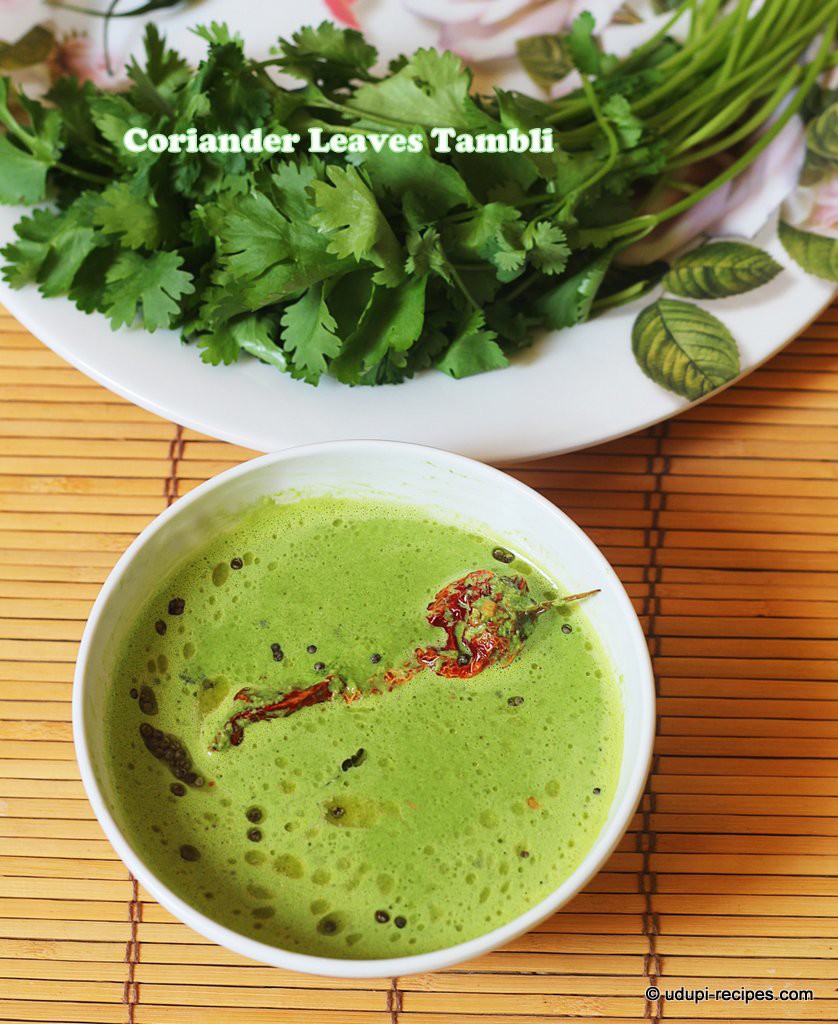 Coriander Leaves Tambli | Kottambari Soppu Tambuli
Ingredients
Coriander leaves- 1 small bunch or 1 cup tightly packed
Grated coconut- Fistful
Buttermilk- 1/2 cup
Salt- 3/4 tsp
Cumin seeds- 1/2 tsp
Green chilly- 1 no.

Seasoning ingredients

Coconut oil- 1 tsp
Mustard seeds- 1/4 tsp
split black gram lentil- 1/4 tsp
Red chilly- 1 no.
Instructions
Method

Rinse and wash the leaves with enough water and chop them. Heat a wok with oil, cumin, green chilly and chopped coriander leaves in it. Saute and roast everything together till the leaves shrink and cumin seeds turn their color a little. Switch it off once done.
Blend all the roasted ingredients and grated coconut together finely, adding buttermilk as required. Transfer the tambli in to a bowl. Add salt, remaining butter milk and some water. Mix well.
Heat a seasoning pan adding coconut oil, mustard seeds, black gram lentil and red chilly. As the mustard seeds pop up, transfer the seasoning to coriander leaves tambli. Comforting and healthy rice side dish is ready.

Notes

Use of fresh buttermilk is recommended. Do not use sour, tangy one.
As we do not cook the tambli, shelf life is limited. So best to cook and devour for a single meal.
https://udupi-recipes.com/2015/01/coriander-leaves-tambli-kottambari-soppu-tambuli.html
All the content in this website are © Copyrighted to – Udupi-Recipes