Truth: All the family members sitting round the circle and devouring food is the key to improve  bonding between each other.
Let me figure out whether it's an achievable scenario…
BREAKFAST: Mornings are usually of hectic schedule for everyone. Children and men set their alarm to get to their destinations in time. If you are a homemaker your day would have started an hour before for breakfast making and packing lunch. And if you are an employee too,  dressing up yourself in professional clothes and packing for self would require an extra hour. So family food time is beyond the bounds of possibility.
LUNCH: Obviously every one would have gulped on their own. And no question of family eating.
When it comes to DINNER, I would suggest everyone to accompany their family at the dining table. It helps to develop bonds and interpersonal relationships with each other.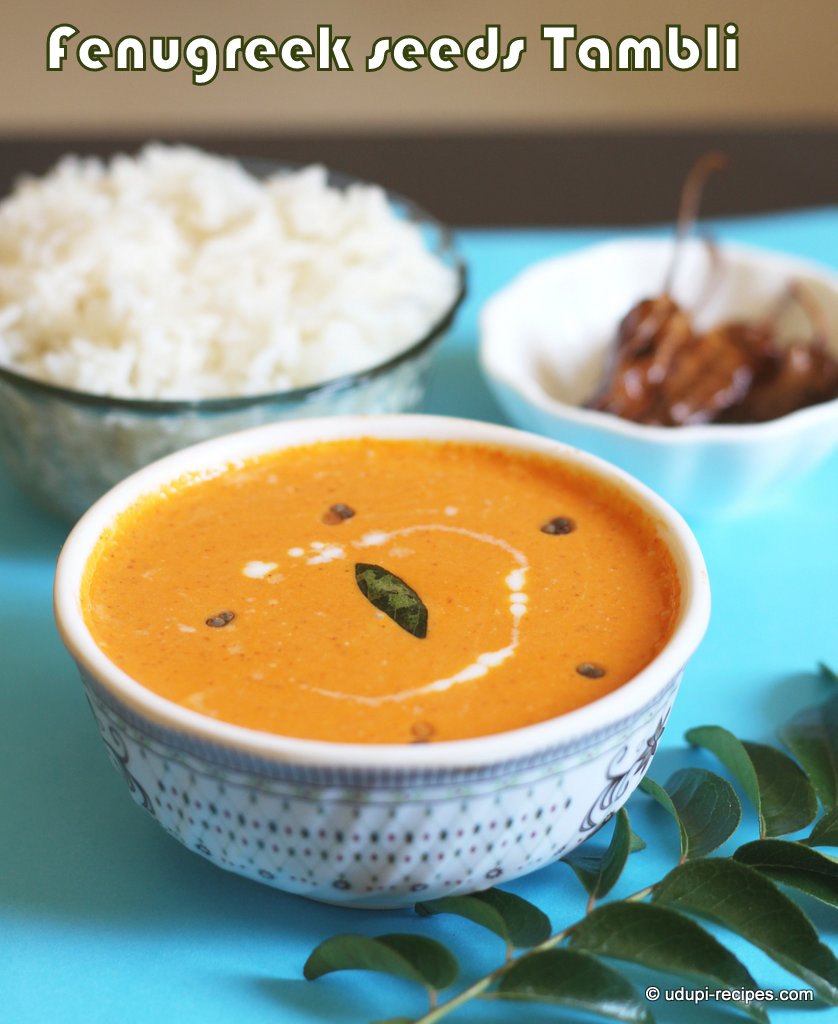 Today I am posting a diabetic recipe which I devoured with my family amidst chit chat and laughter last night. A simple, mild and very healthy fenugreek seeds tambli is a routine comfort food at my house. Fenugreek seeds are said to contain fiber and other chemicals that slow down digestion and the body's absorption of carbohydrates and sugar. The seeds may also help to improve the way the body uses sugar and increase the amount of insulin released.
Fenugreek seeds+red chillies+coconut+buttermilk= Fenugreek seeds tambli, with hot steamed rice eaten at your own table at your own house with your regular people is the best way to relish food.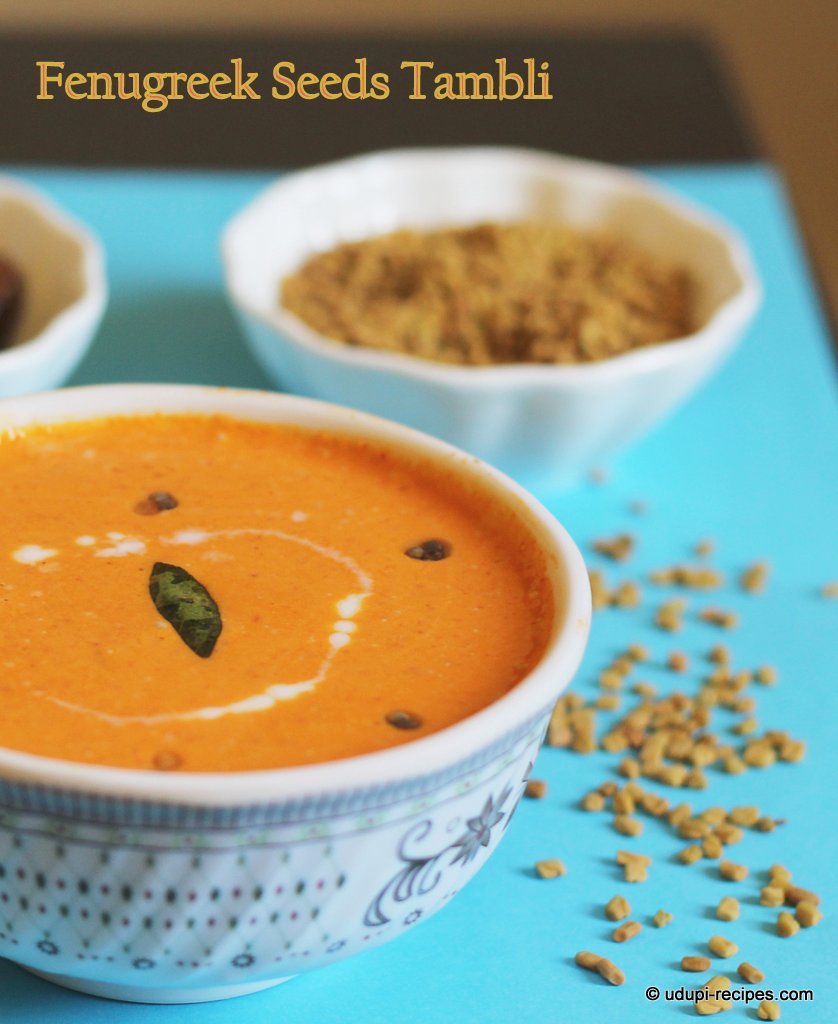 Fenugreek Seeds Tambli | Menthe Tambuli
Ingredients
Fenugreek seeds- 1/2 tsp
Cumin seeds- 1/4 tsp
Red chilli (Byadagi)- 1 no.
Salt- 3/4 tsp
Grated coconut- Fistful
Buttermilk- 1/4 cup
Cooking oil- 1 tsp

Seasoning ingredients

Cooking oil- 1 tsp
Mustard seeds- 1/2 tsp
Split black gram lentil- 1/2 tsp
Curry leaves- Few
Instructions
Method

Heat a seasoning pan adding cooking oil, fenugreek seeds and cumin seeds. Fry these ingredients till fenugreek turns brown. Once done transfer it to a plate. In the same pan add red chillies and fry till they are crisp.
Add all the fried ingredients in to mixer jar along with grated coconut and salt. Grind together all of them in to fine paste adding little water. Transfer this paste to a container. Now include buttermilk and mix well.
Heat seasoning pan with all the "seasoning ingredients" in the order mentioned, as the mustard seeds crackle, transfer the seasoning to fenugreek seeds tambli.
Diabetic recipe fenugreek tambli is ready. Serve it along with hot steamed rice.

Note

Do not add too much water while grinding spices with grated coconut. Because it may turn too running once buttermilk is added.
You can substitute red chilly by black pepper too.
https://udupi-recipes.com/2014/11/fenugreek-seeds-tambli-menthe-tambuli.html
All the content in this website are © Copyrighted to – Udupi-Recipes