I love anything made from rice flakes (Avalakki) or beaten rice. I say this for many things often I know. But this huli avalakki =>tangy rice flakes are SPECIAL in that they are always moist, always have the ingredients on hand and always make the house smell good way. There are hardly any recipes in my life that I make a handful of times. That is the sad truth of life as a FOOD BLOGGER.
Some recipes are so authentic that they are passed from generation to generation and are the treasures of a woman who love cooking. Huli avalakki is not that kind of recipe. I hardly remember eating this crumbly rice flakes in my childhood. So the question is where did I get the recipe from?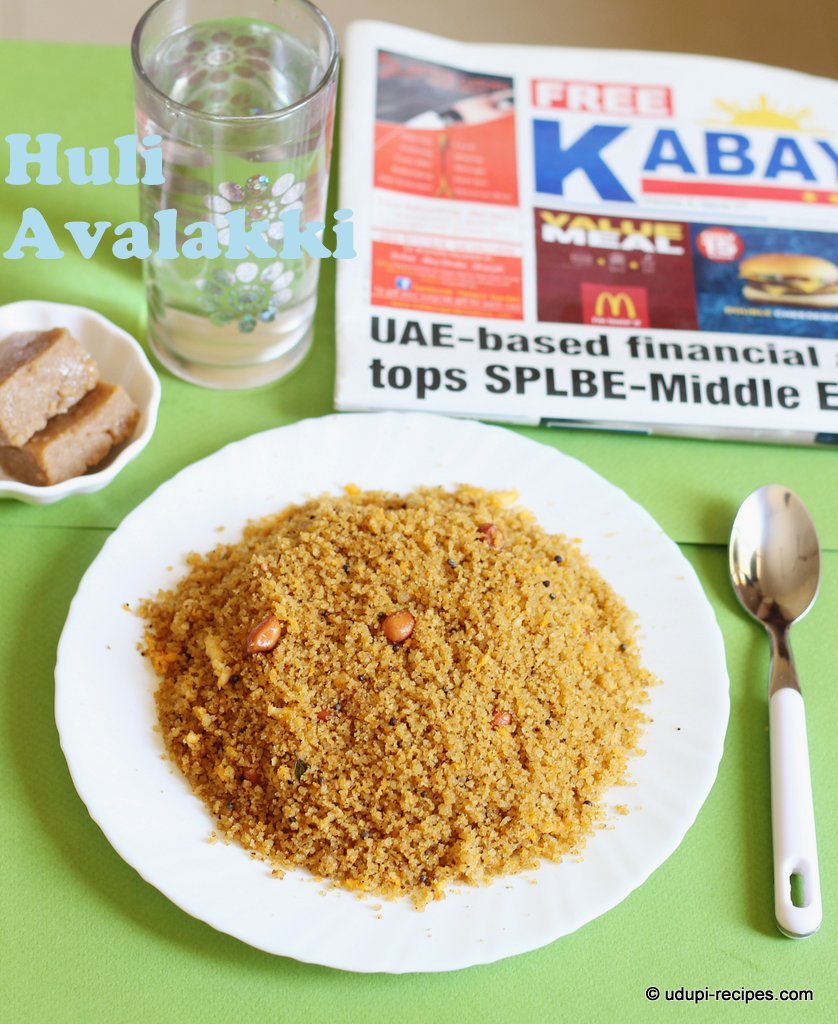 When we stayed in Bangalore 3 years ago, my neighbor lovingly gave this huli avalakki to devour. My daughter instantly fell in love with this and I too couldn't resist myself from asking her the recipe. When I prepared huli avalakki  for the first time, it was sticky. I learnt the importance of WATER quantity in the gojjavalakki recipe and in my next trial I was precise and the tangy rice flakes turned really awesome being moist, crumbly and easily swallow-able.
The rice flakes to water ratio remains 1:0.5 cup, use the same water to soak tamarind and jaggery. When both tamarind water and diluted jaggery is ready, then your huli avalakki is done within minutes. So head on to kitchen to make this and taste the awesomeness.
Huli Avalakki | Gojjavalakki Recipe
Ingredients
Thick rick flakes(poha)- 1 cup
Tamarind- Lemon sized
Powdered jaggery- 4 tsp
Puliyogare powder- 2 tsp
Salt- 1 tsp
Turmeric powder- 1/4 tsp
Fresh grated coconut- Fistful
Water- 1/2 cup

Seasoning ingredients

Cooking oil- 3 tsp
Mustard seeds- 1/2 tsp
Split black gram lentil- 1/2 tsp
Curry leaves- Few
Peanuts- Fistful
Instructions
Preparation

Soak tamarind in 1/4 cup water for 10 minutes. Extract tamarind juice discarding residue and keep it ready. Similarly soak jaggery too in 1/4 cup water for diluting it.

Method

Clean the thick rice flakes by removing husk if any, add it to mixer jar and make coarse powder. You can run the mixer for about 4 seconds at a stretch, even if it contains few whole flakes doesn't matter.
Now in a wide bowl or vessel add powdered poha, tamarind extract and diluted jaggery water. Add all the spices like turmeric powder, salt and puliyogare powder. Mix well with your hand and keep it covered for about 15 minutes.
When you open the lid after 15 minutes, you'll find poha that has absorbed all the water and spices. Give quick mix with your fingers to spice it up evenly. It should be crumbly but moist.
Heat a heavy bottom wok/kadai adding all the seasoning ingredients in the order mentioned, as the mustard seeds pop up and peanuts are roasted, include the spice-mixed poha from above step. Add grated coconut too and saute for a while. Turn off the stove.
Yummy and easy breakfast huli avalakki is ready. You can serve it as evening tea time snack too.

Notes

Poha to water ratio is very important. I have hooked on to

1:0.5

of poha and water. It may slightly vary based on the quality of poha. This water itself is used in soaking tamarind and jaggery.
If you add more water, you will end up with gooey poha. If you add too less water, then the powdered poha turns too crumbly that it will be difficult to swallow.
Always ensure that the powdered poha turns fully moist and crumbly after being immersed in tamarind+jaggery water for 15 minutes.
If you don't have puliyogare powder handy, then you can replace it by rasam powder too.
https://udupi-recipes.com/2014/11/huli-avalakki-gojjavalakki-recipe.html
All the content in this website are © Copyrighted to – Udupi-Recipes