Winter is good time to:
wear cute sweaters
immerse your house in the flavors and smells of your favorite classic comfort food but still kind of healthy stove top recipes. Just like this broad beans stirfry.
When veggies is to be consumed in maximum quantity cutting down the carbohydrates, I personally prefer eating salads and stir fries. I make it a practice to prepare at least one stir fry per day and cut that much amount of RICE. And today it is broad beans stirfry along with rice-rasam for lunch. Broad beans isn't a frequent vegetable at my home.  Life in Bangalore has introduced so many good veggies to me which isn't so common in Udupi. Broad beans is one among them. This veggie is so easy to cook because it basically is soft and tender by nature, turns cooked within minutes.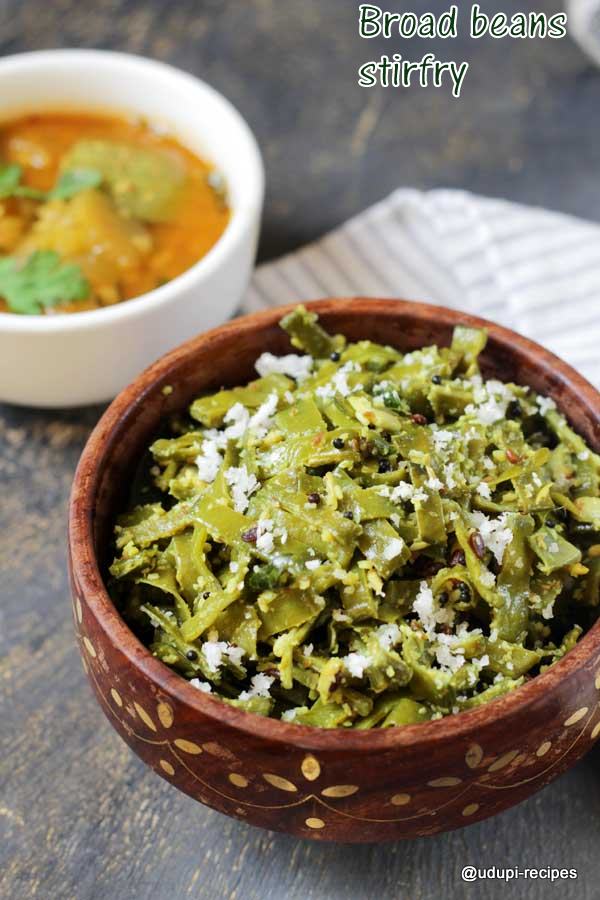 I call winter as vegetable season where every corner of vegetable market has vibrant, colorful veggies. None of them look pale, wilted or old, everything seems to be fresh straight from the field. And my cooking trials begin with every good looking veggie. If something is unknown to me, I try to get inputs from the vendor about how it tastes like, how to cook etc. Food blogging drives me crazy! Seriously, don't you think so?
Broad beans Stirfry | Chapparadavare Palya
Ingredients
Broad beans- 250 gm
Fresh grated coconut- 2 tbsp
Cumin seeds- 1/2 tsp
Green chillies- 2 nos.
Salt- 1 tsp
Turmeric powder- 1 tsp

To temper

Cooking oil- 2 tsp
Mustard seeds- 1/2 tsp
Split black gram lentils- 1/2 tsp
Curry leaves- Few
Instructions
Method

Wash the broad beans under running water. Trim the edges and remove the fibre if any. Chop the broad beans as very thin strips stacking one over the other.
Next heat a pan with all the ingredients under "To temper" list. When the mustard seeds splutter, include chopped beans.
Add turmeric powder, salt and a tbsp of water. Let it cook in simmer with lid covered.
Meanwhile add grated coconut, cumin and green chillies to a mixer. Grind them together coarsely without adding any water.
Broad beans takes less time to cook. Once it turns soft and pale in color, include ground coconut masala. Give a nice mix.
Broad beans stir fry is ready to serve as combo with rice-rasam.

Notes

Sometimes broad beans contains germs, hold it against light to check the same. You can disregard if you find.
Broad beans takes less time to cook, so you can quickly whip this up.
You can replace green chillies by red chillies too.
https://udupi-recipes.com/2018/12/broad-beans-stirfry-chapparadavare-palya.html
All the content in this website are © Copyrighted to – Udupi-Recipes