It's no wonder for you people to know that I show up  here a new dosa recipe every now and then.  I often get bored with rice based dosa  for breakfast and look for other alternatives.  My quest of using alternative cereals for breakfast probably would never end. Millets, wheat, finger millet are all good friends of mine when I think of alternative cereal. I have a big list of breakfast using these cereals in isolated form. Like ragi dosa, ragi neer dosa, wheat dosa, proso millet masala dosa. But right now what's trending at my house is combo of wheat and finger millet and I adorably call it ragi godhi dosa.
This ragi godhi dosa needs no pre-planning like soaking. You just have to rinse both the cereals several times just to ensure that they are clean and wet. After that it's grinding to perfection along with required water. It turns to fine batter with the same consistency as normal dosa batter. Though you can make dosa immediately, I prefer to ferment it for some 2 to 3 hours.  Resting the batter for some hours gives a nice tangy hint to the batter. I loved the softness that renders.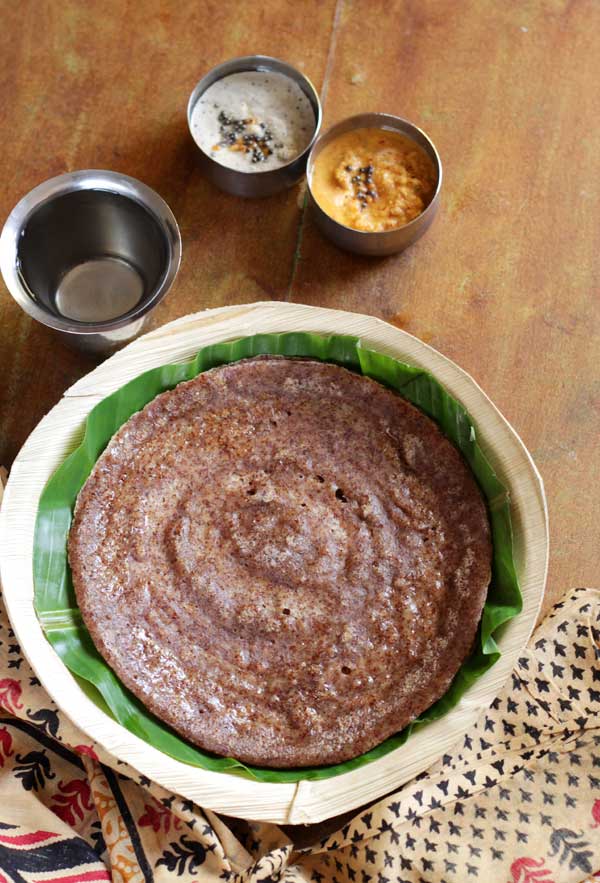 Let me now tell you about the combo with which this dosa tastes delicious.  I love eating it with spicy coconut chutney because finger millet and wheat both are kind of bland. Especially, finger millet involved breakfasts do taste their best when paired with spicy side dishes. If I find few extra minutes in the morning, I go crazy to whip up two varieties of chutney and that makes my breakfast an amazingly yummy  affair. If you are a foodie (of course! you are. Because you are reading this) you too go crazy about side dishes. Isn't that true? I can see that guys!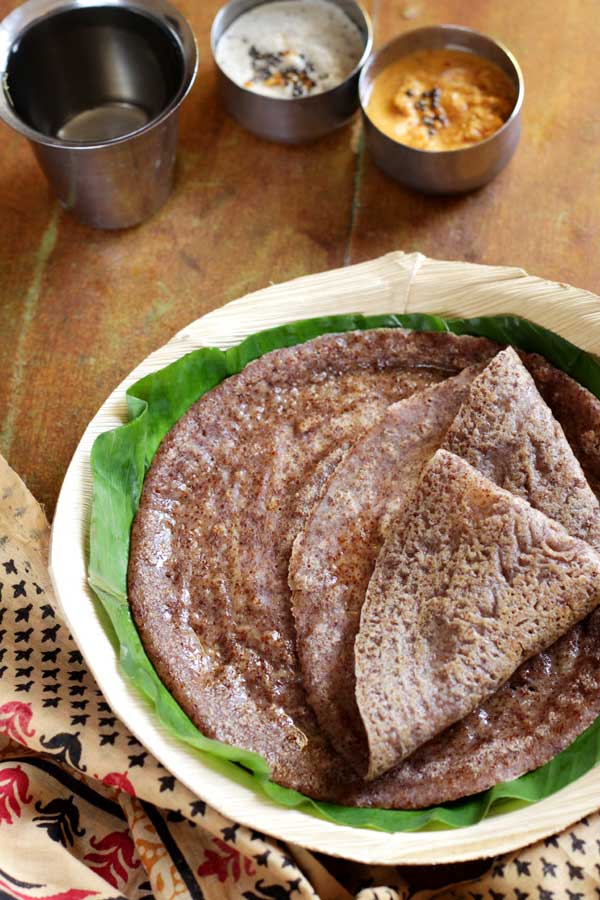 Ragi Godhi Dosa | Whole Wheat Finger Millet Dosa
Ingredients
Whole wheat- 1 cup
Finger millet- 1/2 cup
Salt- 1 tsp
Cooking oil- Enough to cook
Instructions
Method

Take whole wheat grains in a bowl, rinse it well with enough water and transfer it to mixer jar.
Similarly rinse finger millet twice using enough water. Add it to mixer jar along with wheat. Grind them together finely using water as required.
Transfer the batter to a vessel. Add water to bring the batter to right consistency. Let it ferment for 2 to 3 hours. Next add salt and mix well.
Heat a dosa griddle smearing some oil on it's surface. Pour a ladle full of batter at the centre. Spread it evenly as thin as possible in circular fashion using the back of ladle. Drizzle som oil, cook it covered for few minutes. Using a spatula, remove the dosa and cook the other side too for few seconds.
Repeat the process with remaining batter. Very healthy ragi godhi dosa is ready to serve with coconut chutney.

Notes

Soaking wheat and fingermillet is not necessary. You can rinse few times and grind.
You can also use 1/2 cup of coconut to grind along with wheat and fingermillet.
Fermenting the batter for 2 to 3 hours helps it to turn soft and delicious.
Try to spread this dosa as thin as possible to obtain best taste.
https://udupi-recipes.com/2018/09/ragi-godhi-dosa-whole-wheat-finger-millet-dosa.html
All the content in this website are © Copyrighted to – Udupi-Recipes