Swapping rice by proso millet and turning it in to a crispy delicious crepe was my motto. And it deliciously amazed us just like the way normal masala dosa does.  I wanted to use a new variety of millet in my food life i.e proso millet and it happened yesterday as millet masala dosa. So if you are like me who tries to include some new cereals in to everyday meal, proso millet is for you. Because proso millet never lets you think that you are eating a new, healthy cereal. It's so very similar to RICE in taste. And for this millet masala dosa, proso millet is the BEST.
In Kannada, this Proso millet is called as "Baragu" and it is appears like tiny yellow seed. But it has all the fiber and nutrition that our body actually needs. The millet to lentils ratio is just similar to any dosa that uses rice.  And it is overwhelmingly delicious like our regular masala dosa making our hearts sing for joy.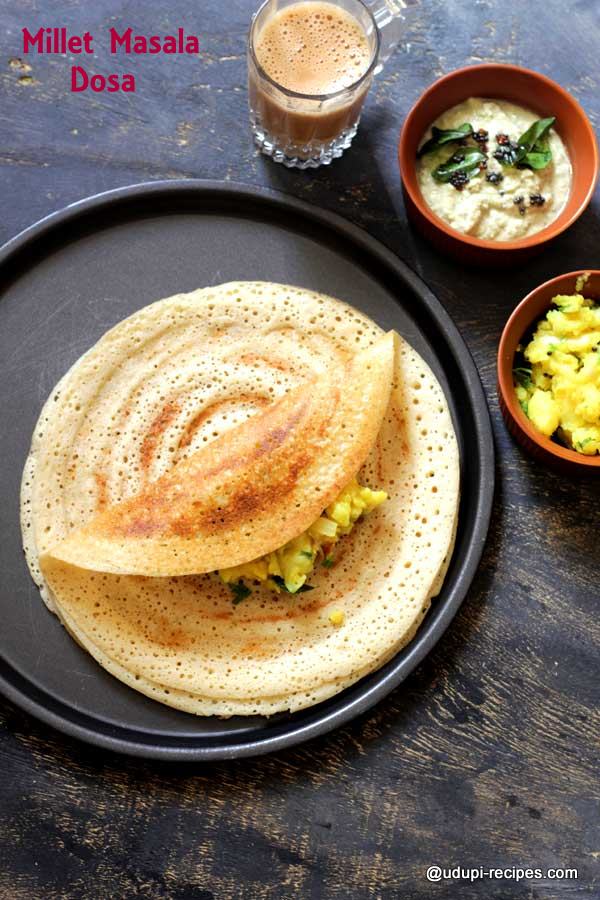 There are some recipes that you make once and forget. There are some other which you make twice, thrice and a week passes by but you never bored of making it. This proso millet masala dosa is of that kind. Because with all that potato masala and coconut chutney, it probably tastes great with the perks of healthiness. So I loved it like a breakfast and dinner too.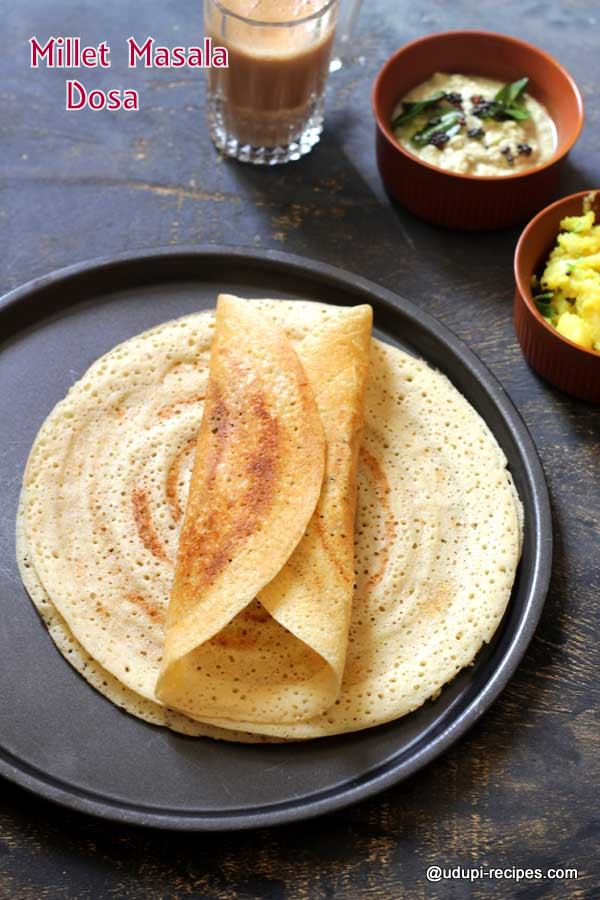 Proso Millet Masala Dosa | Healthy Breakfast
Ingredients
Proso millet- 1 cup
Split black gram lentils- 1/4 cup
Thin rice flakes- 1/4 cup
Fenugreek seeds- 1 tsp

For masala

Potatoes- 3 nos
Onion- 1 no.
Green chillies- 2 nos.
Salt- 1 tsp
Sugar- 1 tsp
Turmeric powder- 1/2 tsp
Coriander leaves- Handful

To temper

Cooking oil- 2 tsp
Mustard seeds- 1 tsp
Split black gram lentils- 1 tsp
Split chickpea lentils- 1 tsp
Curry leaves- Few
Instructions
Method

Rinse and wash the proso millet with enough water and soak it for about 3 hours.
Likewise, rinse and wash lentils using plenty of water. Soak it along with fenugreek seeds.
After soaking for the said hours, the millet and lentils would have turned soft. Just before grinding, soak rice flakes also with enough water.
In a mixer grinder or wet grinder add all the soaked ingredients together and grind to fine batter including enough water. Transfer it in to a wide bowl and let it rest for 7-8 hours for fermentation.
Next to prepare masala, cut potatoes in to half and pressure cook them till soft and mushy. Once done, peel them off and mash well.
Next heat a pan adding oil, mustard seeds, both lentils and curry leaves. Saute till the lentils turn brown. Then add sliced onions and green chillies. Saute till the onions turn translucent. Include potatoes, turmeric powder, salt and some water. Mix and continue cooking for few minutes. Switch off and squeeze lemon.
After fermentation the batter would have increased in volume, add salt, sugar and mix. Next heat a dosa griddle, and pour a ladle full of batter at the center. Spread it thin like masala dosa. Drizzle some oil to cook until crisp. Once done, remove from griddle and repeat the process with remaining batter.
Millet masala dosa is ready. Serve it with potato masala, coconut chutney and sambar.

Notes

Do not skip adding rice flakes because it gives brown color to masala dosa.
Proper fermentation is necessary for nice, crispy dosa. Otherwise it will turn hard.
In warm places 7 to 8 hours of fermenatation is enough. But requires more time in cold regions.
https://udupi-recipes.com/2018/03/proso-millet-masala-dosa.html
All the content in this website are © Copyrighted to – Udupi-Recipes