Fresh and pretty. Fruity and cool. Naturally sweet and healthy. When I see a bowlful of gorgeous colored fruits in a creamy puree, I get the feeling that most beautiful things are still alive! Which can absolutely refresh and rejuvenate me in this summer. Fruit salad without any custard powder has been in my mind since a while. But today when I looked at overly numbered fruits lying undisturbed in fruit basket, the plan came to reality. And the magical fruit salad tasted way more delicious on this day of summer where temperature is as high as 36 °C. The kids vacationing after the exam were excited to eat this salad like a dessert while lazying around and watching TV.
Basically whenever I ate fruit salad before, I felt the custard powder overpowering all the flavors. Which is what I wanted to get rid off. In this recipe I  have tried to replace the same with banana. And it works fabulous. The dates and banana pureed along with milk makes the thick base for the fruits to combine with. On top of that, it doesn't even need any artificial sweeteners like sugar but the fruit salad still tastes sweet. Dates, banana and honey  make it sweet naturally. Cheers for that.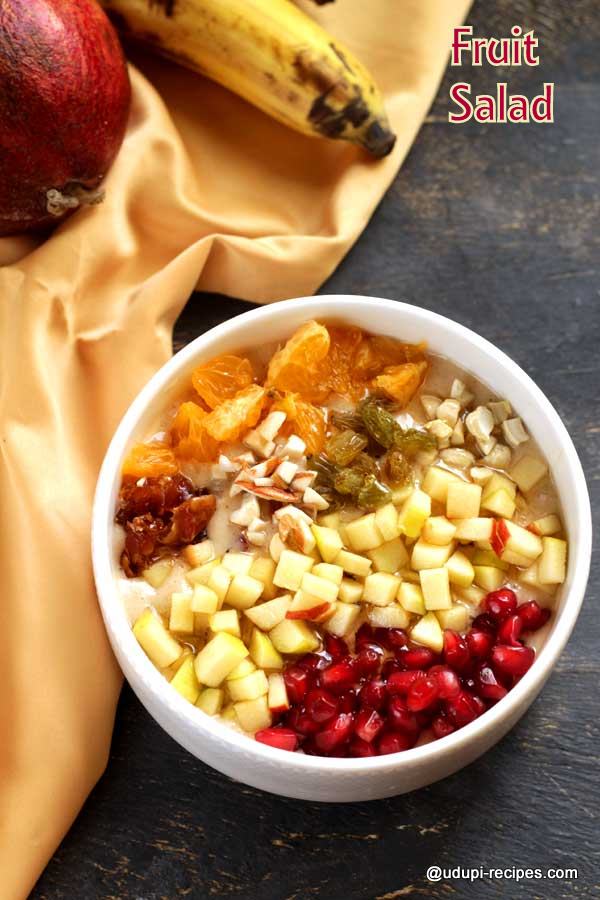 Finally the nuts like almond, cashew and bites of dates give the crunch that is desired in any dessert. When I eat dessert like this fruit salad, everything soft doesn't make me excited but some crunch does. So the addition of nuts here. There is no hard and fast rule on the fruits and nuts choice. You can use whatever fruits your pantry has. But it's better to avoid watermelon, guava and papaya kind of stuff. Mango, pomegranate, apple, grapes are few fruits that I feel to be preferred ones for any fruit salad.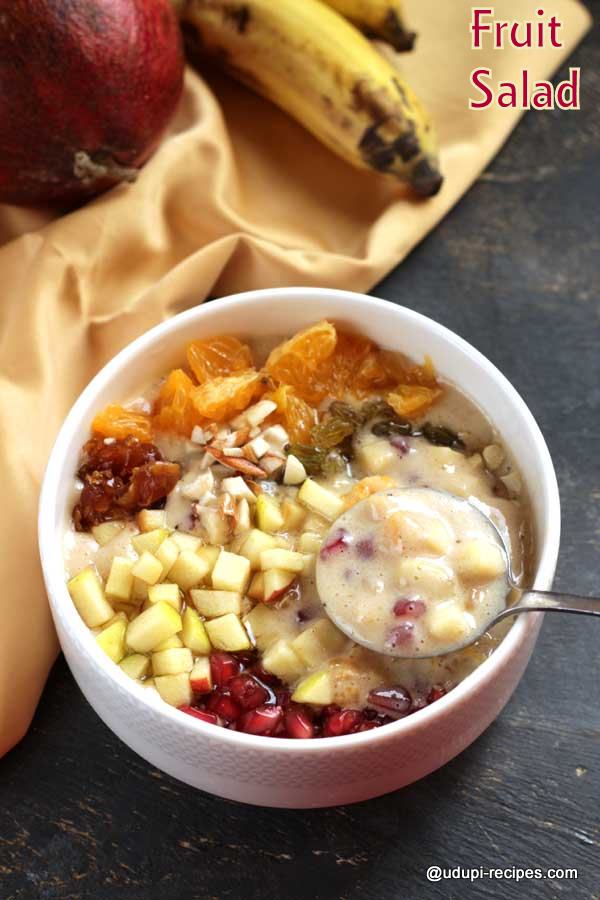 Fruit Salad without Custard Powder
Ingredients
Apples- 2 nos.
Orange- 1 nos.
Banana- 3 nos.
Pomegranate(big)- 1 no.
Milk- 3/4 cup
Dates- 5 + 5 nos.
Almonds- 6 nos.
Cashews- 5 nos.
Raisins- Handful
Honey- 3 tsp
Instructions
Preparation

Wash and chop the apples in to fine cubes. Peel off the pomegranate and separate the seeds from skin. Likewise peel off the orange and separate the sections discarding their seeds. Chop the nuts like almonds, cashews, raisins and dates as well. Keep them ready.
Take the deseeded dates in a mixer and grind to fine puree along with some milk. Add peeled bananas as well and grind again to creamy sauce like consistency. Add milk as needed to get the consistency.
Transfer the banana plus dates sauce in to a wide bowl. Include all the chopped fruits and nuts to this. Add honey and combine well.
Naturally sweet fruit salad is ready. Serve it chilled as summer dessert.

Notes

You can use any fruits of your choice, I have used apple, pomegranate, banana and orange here.
Dates and honey are used as sweeteners in this recipe. If you prefer more sweetness, you can add some sugar too.
I have ground banana and dates along with milk to thick puree consistency. You can add some more milk to make it thin if you like.
There is no hard and fast rule on quantity of nuts, you can adjust as per your taste.
https://udupi-recipes.com/2018/03/fruit-salad-without-custard-powder.html
All the content in this website are © Copyrighted to – Udupi-Recipes