I was going through the possibilities of some simple, crunchy snack for the kids who are at home right now. Because school children in UAE get a short vacation between their academic years which happens to be at the beginning of SUMMER. And during these holidays kids stay indoors asking for edibles often.  Which is kind of challenging for mothers like me! I often look for snacks that are crunchy, bit healthy, and gives the feeling of munch always. Such a quest resulted in just perfect popcorn on stovetop.  While watching TV and playing together, this popcorn was there with them. Kids actually surprised to see the corn popping on stovetop tasting like the way they should. Meaning they never even imagined that popcorn can me home made.
My little son had to wait for a movie or MALL trip in order to munch his favorite popcorn. And today to his surprise, without his demand I gave a plate full of perfect popcorn. He was actually on cloud 9 with happiness. When children are happy with edibles of their choice, I get overwhelmed as a mother. The contentment, satisfaction surrounds me for that day.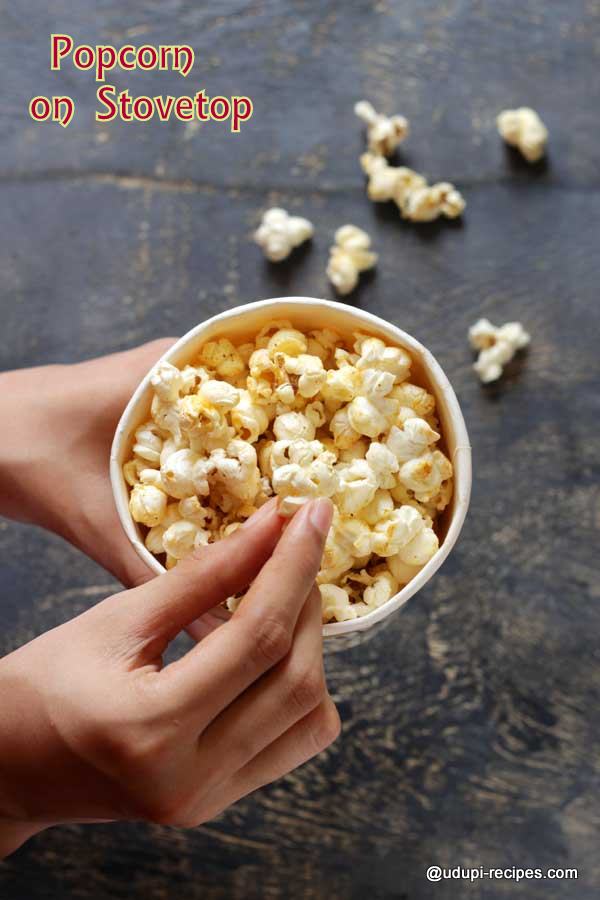 This perfect popcorn on stovetop is very addictive. You can make some tweaks also to the recipe. Like instead of coconut oil you can use butter. You can even skip red chilly powder to keep only the salty popcorn. So in your next trip to grocery, buy a packet of good quality corn kernels and entice your children with perfect popcorn.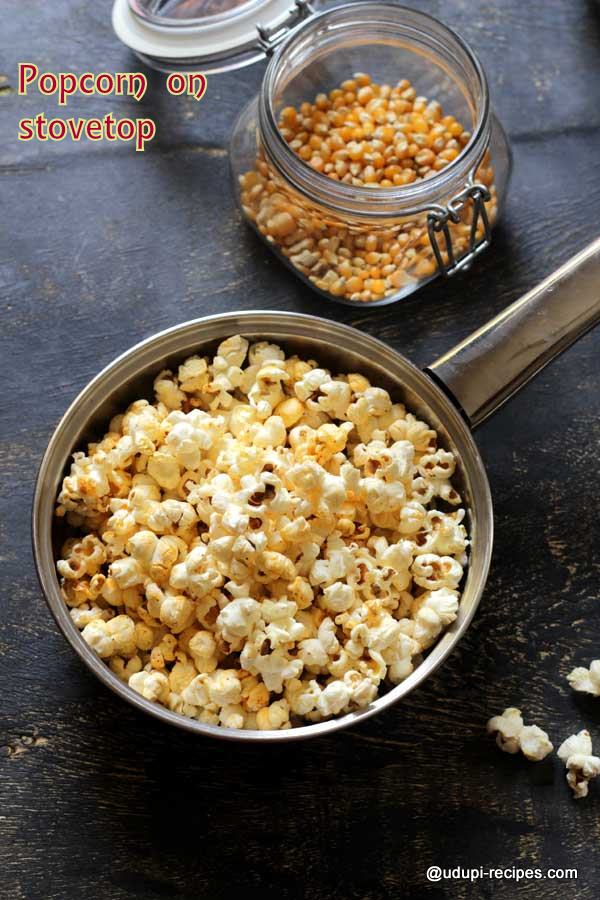 Perfect Popcorn On Stovetop
Ingredients
Popcorn kernels- 1/4 cup
Coconut oil- 2 tbsp + 1 tbsp
Salt- 1/2 tsp or to taste
Red Chilly powder- 1/2 tsp
Instructions
Method

Heat coconut oil in a heavy bottomed, flat pan. When it gets heated add salt and popcorn kernels.
Shake the pan so that kernel spreads evenly. Close the lid immediately, it will start to pop.
In between slightly open the lid and make the steam to escape. When the popping interval reduces, switch off the flame.
Transfer it to another bowl and add some more oil, red chilly powder. Swich off the flame and include the popcorn, give a nice mix.
Perfect popcorn on stovetop is ready to munch. Kids will enjoy it.

Notes

Choose heavy bottom pan that is flat. It helps corn kernels to pop evenly. You can even use small pressure cooker pan.
Adding red chilly powder is optional.
You can even add some butter instead of coconut oil.
Keep the lid closed till all kernels pop, otherwise it will spread in kitchen.
Medium flame is preferred till you finish making popcorn. Do not reduce or increase in between.
https://udupi-recipes.com/2018/04/perfect-popcorn-on-stovetop.html
All the content in this website are © Copyrighted to – Udupi-Recipes