Here comes a true summer recipe in the form of rice side dish. Yes it is tambli/tambuli.  This is a rice-combo that keeps our body cool in the hot summer season. Do you have 10 minutes of time? Cool. You can make this because it isn't fancy at all instead it's a simple, straight forward one.  A minimalist recipe and healthy option with none of the ingredients overpowering. And today, in order to post a summer specific tambli, I had to think out of the box. I found a bunch of drumstick flowers in the tree which belongs  to my close neighbor. My eyes just happened to see those cute little flowers on the way back from school pick up point. As my kids boarded school bus, these golden white flowers  in the tree fascinated me to cook a summer coolant drumstick flower tambli. Because these flowers contribute much to our health.
So, when you think flowers and cooking, it seems quite weird. But tambli is one such simple curry that can be prepared using leaves (Remember palak tambli?), flowers and even some spices too. If a particular leaf or flower is extremely good for your health and has medicinal values, then tambli is the best choice. Because you can't eat a flower just like that since it boosts your health. Instead transforming it in to edible form seems practical isn't it?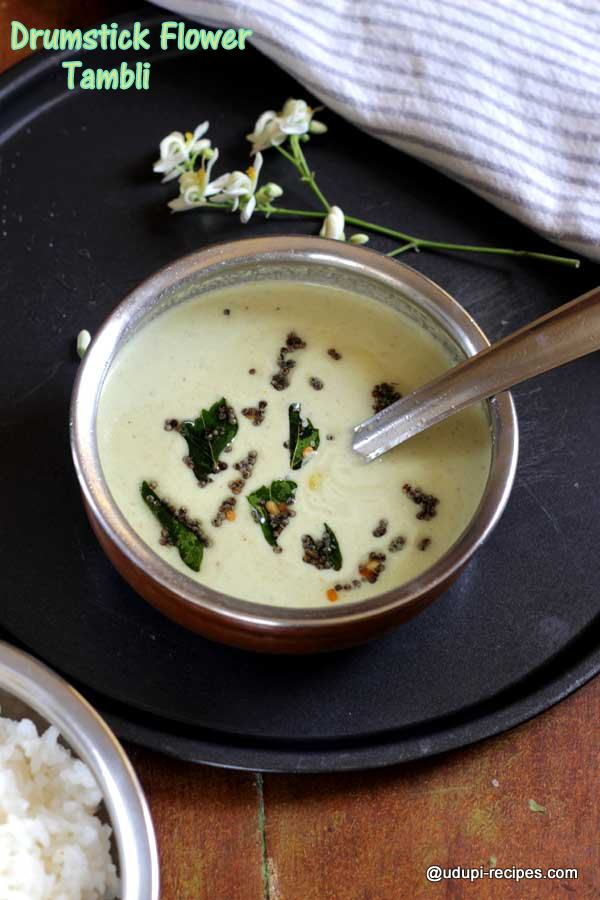 Drumstick flower tambli has the flavor mix of cumin, black pepper and tang of buttermilk with a hint of sweetness from coconut. The taste and delicious is truly worth the effort. You bet.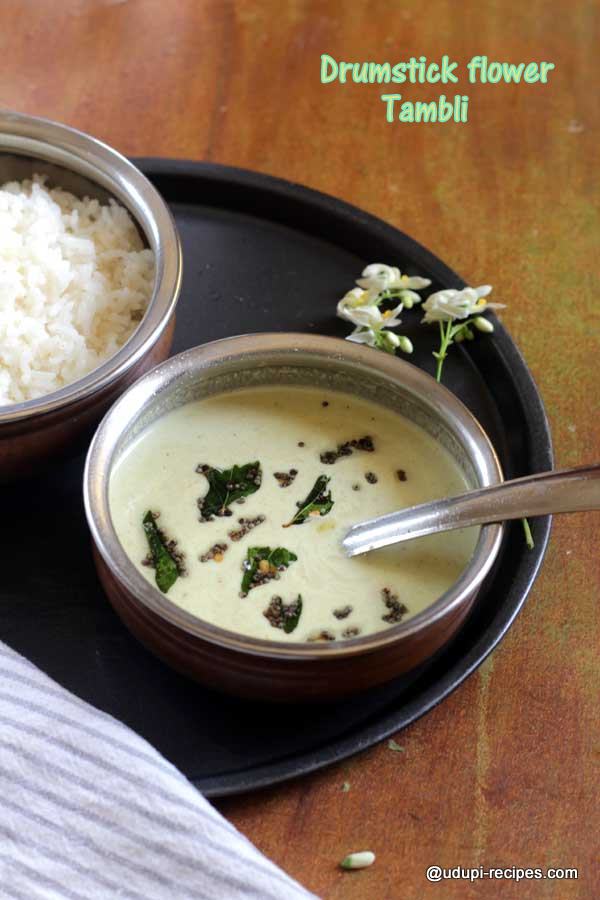 Drumstick Flower Tambli | Nugge Hoovina Tambuli
Ingredients
Drumstick flowers- 1/2 cup
Fresh grated coconut- 1/4 cup
Blackpepper seeds- 3/4 tsp
Cumin seeds- 1/2 tsp
Salt- 1/2 tsp
Cooking oil-1 tsp
Buttermilk- 1/2 cup

To temper

Ghee- 1 tsp
Mustard seeds- 1/2 tsp
Black gram lentils- 1/2 tsp
Curry leaves- Few
Instructions
Method

Wash and clean the drumstick flowers. Discard the thick stem and separate the flowers. Keep aside. Next heat a pan adding oil, blackpepper and cumin seeds.
Saute till the cumin splutter, then include the drumstick flowers. Continue sauteing till the flowers wilt. Let it cool down. Transfer these roasted ingredients in to mixer, add coconut and salt too.
Grind them together to fine paste adding water as needed. In a bowl mix it with buttermilk and adjust consistency.
Heat a tempering pan adding ghee, mustard seeds, split black gram lentils and curry leaves. As mustard splutter, pour it over tambli.

Notes

Wash and clean the drumstick leaves thoroughly before using.
You can use green chillies replacing blackpepper.
Fresh buttermilk with a hint of tang is good for tambli.
https://udupi-recipes.com/2018/04/drumstick-flower-tambli-nugge-hoovina-tambuli.html
All the content in this website are © Copyrighted to – Udupi-Recipes