If you are looking for a protein rich, filling and delicious breakfast, then you have just landed up right. It's truly a Karnataka special recipe that has mainly protein rich lentils. I never knew that the dumpling made out of lentils alone would taste this great. Because I had never got a chance to taste it when I reside there. It's now in UAE I could actually taste this lentils dumpling "nuchchinunde" in a food fest. Seriously guys, an Indian food fest with all the good food from Karnataka had happened here last week. Scrumptious, drool-worthy food from most corners of Karnataka had been embraced by we expats. It was truly a foodie mood that drove us crazy to taste everything from every stall set up there.
More than the dumpling, it's the yogurt dip that tickled my taste bud. Nuchchinunde was served with a thick, creamy, light dip which enriched the deliciousness all together. When I had my first bite, I was like the dip is quite interesting. I proceeded to next bite to find out what ingredients would have been in to it? The flavor of fenugreek seeds was significant to me. Finally I couldn't resist myself from asking the lady at the counter about Nuchchinude – yogurt dip recipe. The lady was pretty good who briefly explained the complete, begin-to-end process of making this deliciousness. And my food loving mind imprinted the same. So today here are these golden lentil dumplings with a best of best side dish.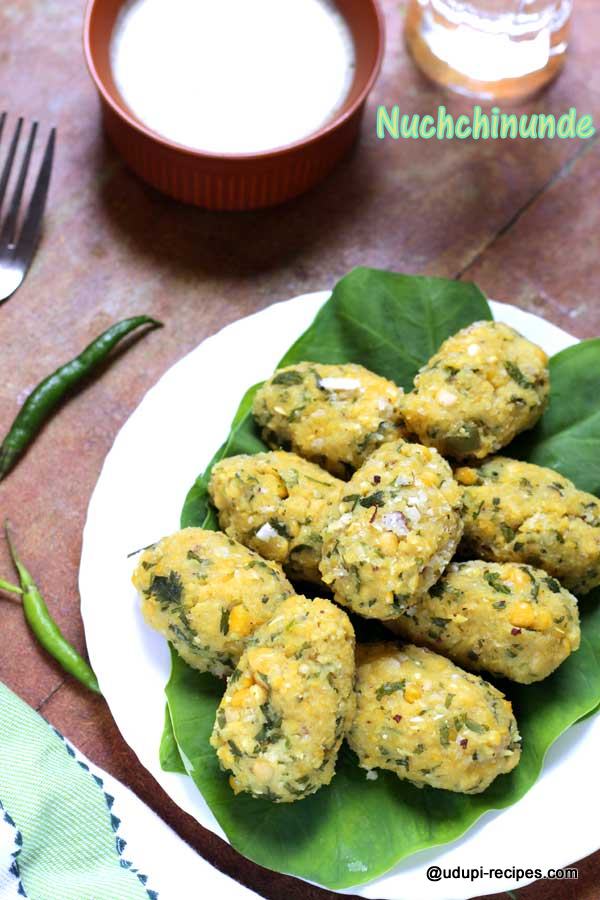 When birds chirp and sun shine tomorrow morning, you make this protein rich breakfast and see how many accolades you get from your dear ones. Though you can serve them with normal coconut chutney, try making yogurt dip too. Because it really makes much difference in taste department. Loved it.
Nuchchinunde | Lentils Dumpling Recipe
Ingredients
Pigeon pea lentils(toor dal)- 3/4 cup
Green chillies- 2 nos.
Ginger- 3" piece
Fresh grated coconut- 1/4 cup
Coriander leaves- 1/2 cup
Curry leaves- Handful
Salt- 1 tsp
Asafoetida- 1/8 tsp

For yogurt dip

Yogurt- 1/4 cup
Mustard seeds- 1/2 tsp
Fenugreek seeds- 1/2 tsp
Green chilly- 1 no.
Salt- 1/2 tsp
Coriander leaves- Handful
Asafoetida- 1/8 tsp
Instructions
Preparation

Chop the coriander and curry leaves very finely. Keep aside till use.
Soak the lentils with enough water for about 4 to 6 hours or overnight. After soaking, the lentils would have turned really soft.

Method

Next, drain water from lentils and add to the mixer. Along with green chillies and ginger everything together to coarse paste. Transfer this to a bowl. Add salt, coriander leaves, curry leaves, coconut and asafoetida.
Mix the contents of bowl thoroughly and shape like oval. Arrange these dumplings in a steamer and cook for about 10 minutes or till done. Once cooked, wonderful breakfast nuchchinunde is ready.
Next, to prepare yogurt dip dry roast mustard and fenugreek seeds in a pan. When they turn little brown, add green chilly, coriander leaves and coconut too. Continue roasting till they turn crisp.
Let the roasted ingredients cool down. Take them in mixer and powder it finely.
Next in a smal bowl add yogurt, whisk it with some water. Include salt and the roasted powder from above step. Mix well.
Serve the protein rich nuchchinunde with this yogurt dip and relish.

Notes

Normally nuchchinunde is prepared using only toor dal but you can even mix little chickpeas and green gram lentils too.
You can add some greens like dill leaves or fenugreek leaves to make it more healthy.
Yogurt dip is best to pair these dumplings and it tastes too yummy. But you can even serve with coconut chutney.
https://udupi-recipes.com/2018/04/nuchchinunde-lentils-dumpling-recipe.html
All the content in this website are © Copyrighted to – Udupi-Recipes