Malabar spinach is making it's appearance when the weather is sunny and hot. Because it's the time to keep ourselves cool and fresh. The most common name for this variety of spinach is "BASALE" in Kannada language which is bit thick to touch than regular spinach. The taste and aroma of Malabar spinach is quite different but it tastes magically delicious as a curry. When paired with steamed rice the fiber rich tender stem of this spinach tastes juicy and soft. The most popular way of eating Malabar spinach is in the form of rice side dish. Let me call it as Malabar spinach curry that has all the flavors of most spices from your kitchen.
Though Malabar spinach can make a curry as stand alone veggie, I love to throw in some onions. The mix and match of Malabar spinach with onion makes a wonderful, aromatic curry which I am a big fan of. But I leave the choice up to you about onions. You can include or exclude as your tasted buds desire.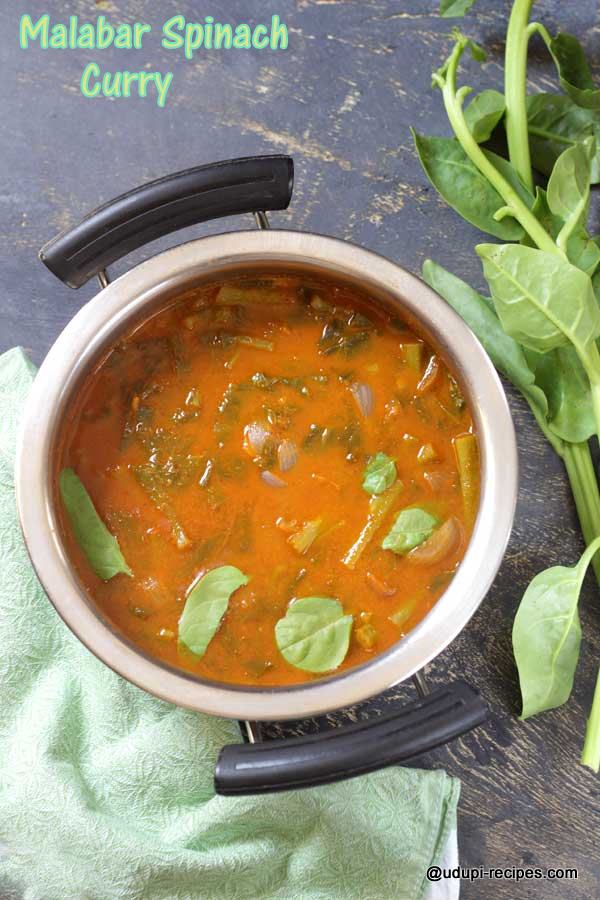 Malabar spinach curry has coconut, some spices and little amount of lentils as well. The coconut and lentils give the curry a good consistency where spices give the actual deliciousness. You love the taste of this curry, if you truly appreciate the goodness of greens. Try for yourself to know better.
Malabar Spinach Curry | Basale Soppina Huli
Ingredients
Malabar spinach - 1 big bunch
Pigeon pea lentils (toor dal)- 5 tsp
Onion- 1 no.
Tamarind- Lemon sized
Jaggery- Lemon sized
Salt- 2 tsp or to taste
Turmeric powder- 1/2 tsp

To grind

Split chickpea lentils- 1 tsp
Split black gram lentils- 1 tsp
Coriander seeds- 3 tsp
Cumin seeds- 1 tsp
Fenugreek seeds- 1/2 tsp
Red chillies- 3 to 4 no.
Fresh grated coconut- 1/3 cup
Curry leaves- Few
Cooking oil- 3 tsp

Seasoning ingredients

Cooking oil- 1 tsp
Mustard seeds- 1/2 tsp
Split black gram lentils- 1/2 tsp
Red chilly - 1 no.
Curry leaves- Few
Instructions
Preparation

Wash the malabar spinach leaves under running water, separate the leaves and stem. Chop the leaves in to chunks and cut tender stems in to 1" long pieces.
Peel off the onion and slice it lengthwise.

Method

Soak tamarind in half cup of warm water for 15 minutes and extract thick juice from discarding the residue. In a cooking vessel add chopped leaves, stem, onion, turmeric powder and some water. When it is cooking include tamarind water too.
Let the veggies cook till soft. Rinse the pigeon pea lentils and pressure cook it adding required water until mushy. Assemble the spices for masala.
Next, in a pan add oil, red chillies, chickpea lentils and black gram lentils. Saute for a minute and then include coriander, cumin, fenugreek seeds and curry leaves. Saute till they get roasted well. Switch off once done.
In a mixer add coconut and the roasted spices from above step, grind it to coarse paste adding water as needed. Add this spice paste to cooked greens.
Next mash the pressure cooked pigeon pea lentils and add it to curry. Combine everything well.
Add required salt, adjust consistency by adding water and bring the curry to boil. Switch off once done.
Heat a seasoning pan with all the seasoning ingredients, as the mustard sizzle transfer it to curry. Malabar spinach curry is ready to serve with hot steamed rice.

Notes

Malabar spinach combined with onion tastes good. So I have included onion. You can skip it if you wish.
Include the stem only if they are tender, fibrous ones don'e taste good.
While roasting the spices, ensure they aren't burnt. It may ruin the taste of curry.
https://udupi-recipes.com/2018/04/malabar-spinach-curry-basale-soppina-huli.html
All the content in this website are © Copyrighted to – Udupi-Recipes