A hot summer day and cooking lunch is a daunting task indeed. This isn't new, every year April-May-June months make me iterate the words " Daunting task" because of the sweat and hot SUN. Extra merciful SUN just burns above us making cooking a real unpleasant chore. Such days insist me to prepare a cool, healthy drink that can energize us from within. And which is why dry fruits milkshake today. All super foods in one glass of beverage is so very charming and it's a need of this afternoon actually.
Sitting on a couch, in a air conditioned living room and sipping a tall glass full of dry fruits milkshake was so rejuvenating that I didn't realize and I took a nap there. For instant boost of energy this milkshake works like magic. For kids who aren't nuts lovers, those who try to escape from eating nuts can relish this summer drink with no guilt.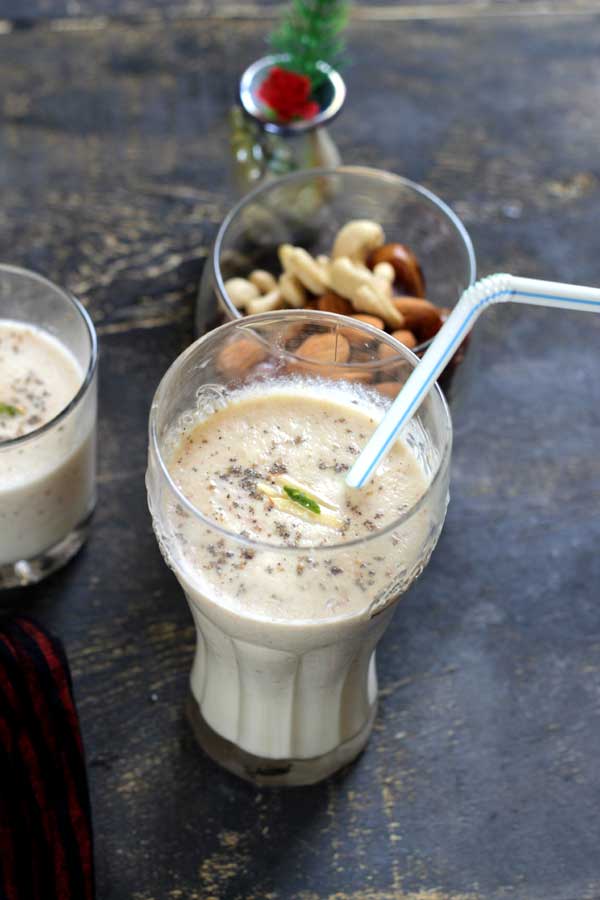 The recipe isn't a big deal but if you can pre-soak the nuts, it's pretty good. Soaking makes the dry fruits to blend well with milk. Otherwise you may end up some bits of nuts  in your mouth while drinking. I love that too. So sometimes I use the nuts with n0-soaking as well.
If you are someone who never finds time to eat regular breakfast, then dry fruits milkshake is for you. You can have it on-the-go and get same tummy-full feeling like your breakfast. So what say, wish you happy mornings with a glass of milkshake!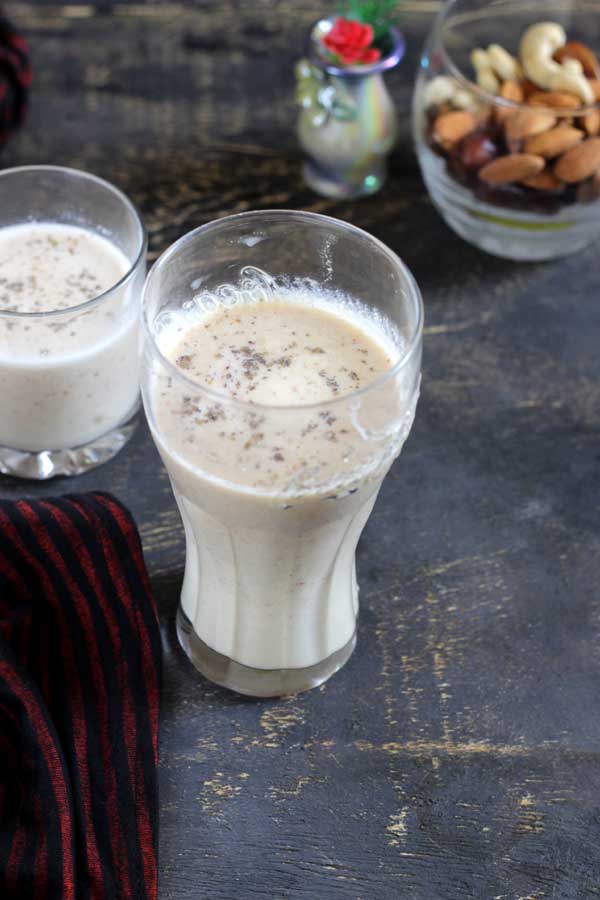 Dry fruits Milkshake | Nuts Milkshake Recipe
Ingredients
Almonds- 8 nos.
Cashews- 5 nos.
Pistachio- 6 nos.
Dates- 5 nos.
Boiled and cooled milk- 2 cups
Cardamom powder- 1/4 tsp
Instructions
Method

Soak all the nuts in little water for about an hour. Take them in a blender/mixer along with the water used to soak them in.
Grind the nuts to fine puree adding some milk. Transfer it in to a wide glass and combine with remaining milk.
Serve this healthy dryfruits milkshake chilled. It's creamy delicious.

Notes

There is no hard and fast rule on quantity of nuts. You can use according to your preference.
I haven't used any artifical sweetener. If you want, you can add some sugar.
You can even use raisins and figs to make the milkshake more nutritious.
https://udupi-recipes.com/2018/04/dry-fruits-milkshake-nuts-milkshake-recipe.html
All the content in this website are © Copyrighted to – Udupi-Recipes