This greenish yellow rasam appe huli that is more or less watery is scrumptious. The beauty of summer season is consuming food that has mango in it. It's kind of compulsion to use mango in food in raw form or ripe form during this season. Because we love mangoes, we eat it in it's very basic form and continue eating it in various food forms. Every year I evolve with some new  mango delicacies which is what this food blog is offering me, the quest to search new recipes every day.
Appe huli is a staple summer food of people in the "Malenadu" region of Karnataka.  They relish this rasam as soup, which indeed tickles the taste palates with balanced spice flavors. It's very simple, minimalist and no time recipe but the impact of the same in a meal is remarkable. The platter seems very delectable and full with appe huli on plate. And it is justified at my home as I made it for lunch 3 days in a row.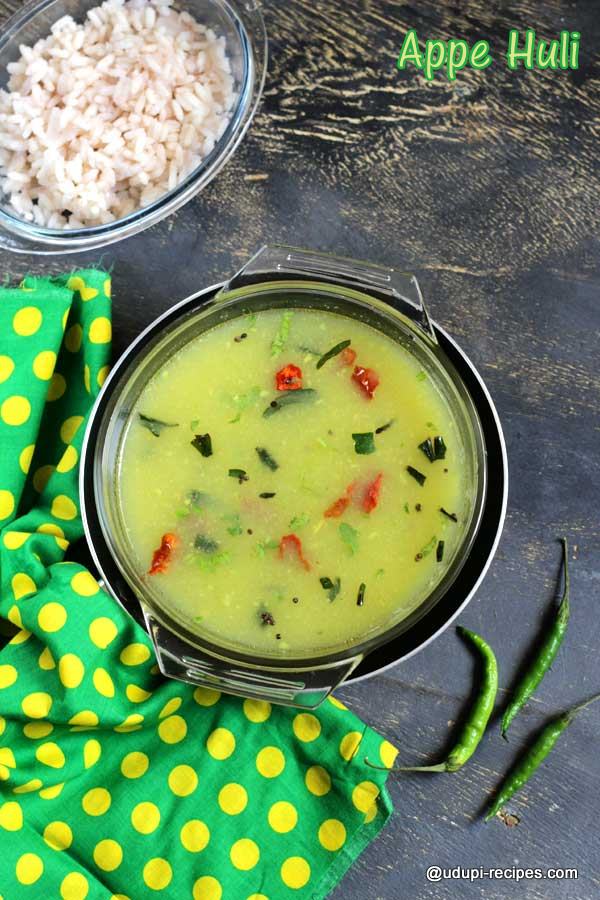 Practically it's no time recipe because peeling off the tender, tangy mango and grinding with basic spices is needed to be done. Pouring enough water to bring it to the rasam consistency and tempering with all the good herbs makes a delicious appe huli. You can even check raw mango rasam which is similar but tastes differently.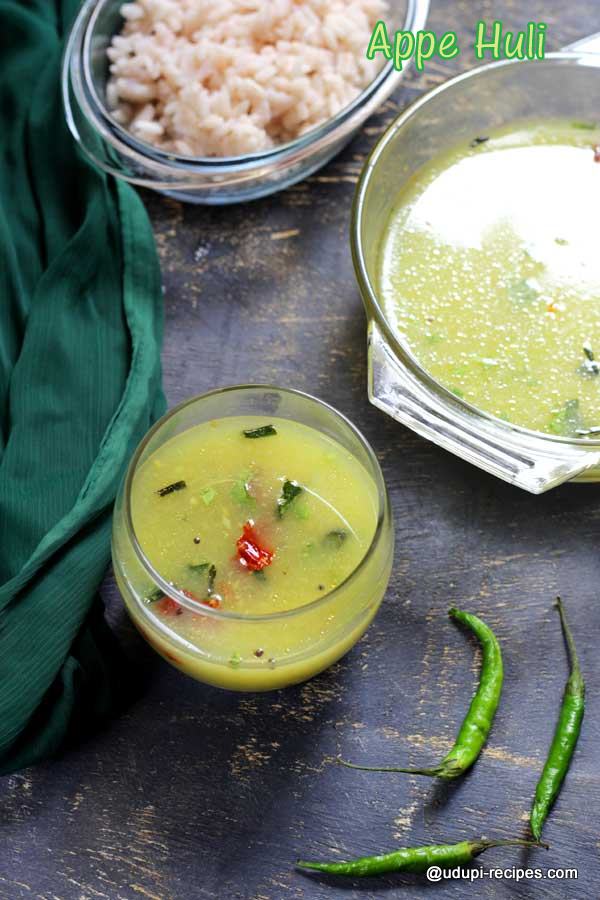 Appe Huli | Maavinakayi Saaru
Ingredients
Raw mango - 2 nos.
Green chillies- 1 or 2 nos.
Jaggery- 2 tsp
Salt- 2.5 tsp
Asafoetida- 1/4 tsp

To temper

Coconut oil- 2 tsp
Mustard seeds- 1 tsp
Curry leaves- Few
Broken red chillies- Few
Instructions
Method

Wash the mangoes under running water and peel the skin off. Chop them in to medium chunks. Grind the mango cubes along with jaggery, salt, asafoetida and green chillies.
Transfer the fine puree obtained after grinding in to a wide bowl. Add water to make it thinner like rasam. Heat a tempering pan adding all the ingredients under "To temper" list, when the mustard seeds sizzle pour it over appe huli.
Adjust the salt and sweetness now. Sour, sweet and spice balanced yummy appe huli is ready to serve with rice.

Notes

This appe huli tastes great when the tang of mango is approprately balanced with salt and sweetness.
For sweetness I have used jaggery, you can use sugar too.
In this method mango is ground in raw form to prepare appe huli. There is another method in which is cooked mango pulp is used.
https://udupi-recipes.com/2018/04/appe-huli-maavinakayi-saaru.html
All the content in this website are © Copyrighted to – Udupi-Recipes