Hello Summer! When you are still there, when this juicy fruit is still showing it's pretty face in the Super Market, I thought mango recipes can still come in front of this blog. Also it's been a long time since my last RASAM recipe has made it's appearance here, so it's Mango + Rasam that is => Mango rasam recipe.
Let me list out the things about mango rasam that fascinate me the most.
a) Short ingredients list : which is perfect for all good people in the world who have better things to do during the month of June than lose themselves in grocery store.  Actually all you need is raw mangoes that are turning ripe and taste sour with the hint of sweetness. Rest of the ingredients like bit of jaggery, salt and green chillies must already be there in your pantry I bet.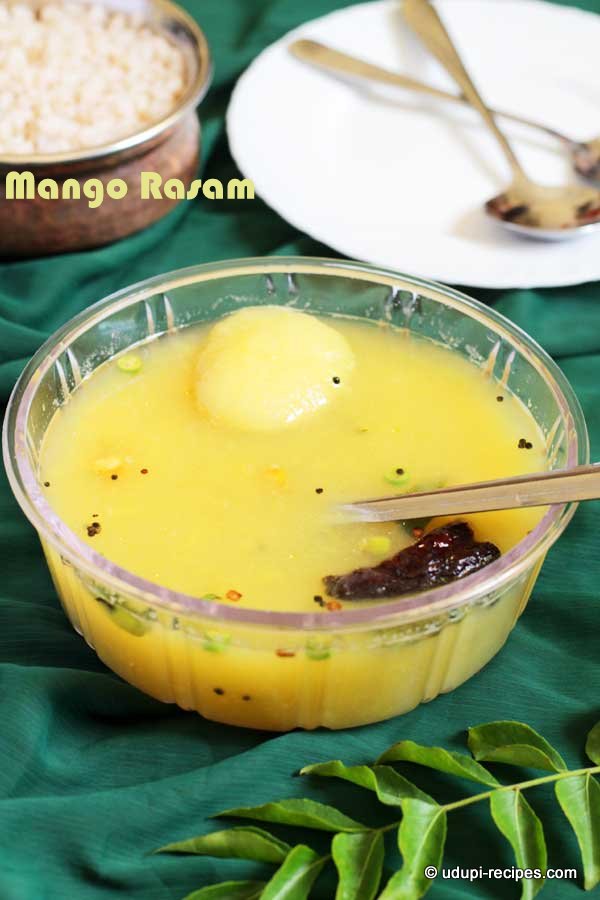 b) Golden yellow color : Seems weird for most of you, but as a food blogger when I plan making recipes for this space it's the photogenic color of the dish that fascinates me. Though I cannot make you guys taste my recipes but I always attempt to inspire you to cook those food magic at your kitchen through eye catching and captivating food pictures.  Is there any better photo friendly color in the world than this beautiful golden yellow?? No…at least for now. Mango rasam => you are photogenic.
c) Taste : A perfect harmony of sourness plus sweetness plus spiciness of mango rasam can awaken your taste buds which is obviously awesome on top of that it can taste even better as leftover. The best part is my kids enjoyed relishing this rasam like a soup and especially my little son demanded this mango soup every now and then until I declared it as over.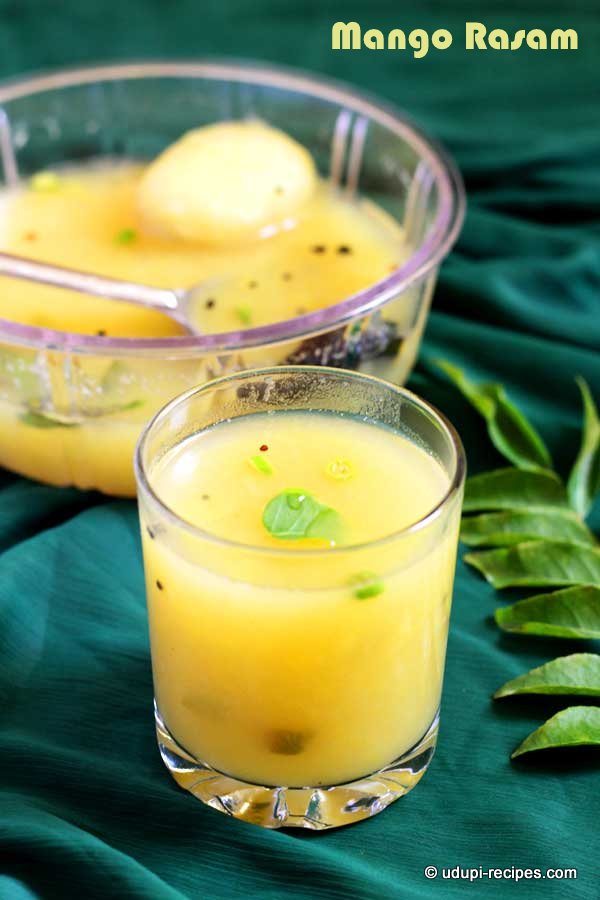 Raw Mango Rasam | Raw Mango Soup Recipe
Ingredients
Wild Raw mangoes- 3 to 4
Salt- 1 tsp
Jaggery- 4 tsp
Green chillies- 3 to 4

Seasoning ingredients

Cooking oil- 1 tsp
Mustard seeds- 1/2 tsp
Broken red chillies- 2 nos.
Curry leaves- Few
Instructions
Preparation

Chop the green chillies finely and set aside.

Method

Wash the mangoes thoroughly with enough water. Cut the tip and make few lengthwise rough slits on the mangoes using knife. These not so deep slits on the mango help to peel off the mangoes once cooked.
Take the mangoes in a cooking pan and pour around 2 cups of water, then let them cook in medium flame. It may take around 10 minutes and you will notice peels coming off the mangoes that is when you switch off the flame.
When the cooked mangoes cool down, peel off the skin and squeeze the pulp from the fruit. Put it back on flame adding 1 to 1.5 cups of water. Include other ingredients like salt, jaggery and chopped green chillies. Let the rasam boil for a minute and switch off the flame.
Heat a seasoning pan adding oil, mustard seeds, broken red chillies and curry leaves. As the mustard splutter transfer the seasoning to mango rasam.
Taste-bud awakening golden yellow mango rasam is ready. You can serve with cooked rice or to slurp like soup.

Notes

Fibrous and sour wild mangoes with the hint of sweetness is perfect for making this rasam.
Choose the raw mangoes that are on the way to ripen for making the rasam.
Jaggery and green chillies must be adjusted as per the sourness of mangoes.
You can relish it like a soup too if you add more water while boiling the rasam.
Leftover can last for more than a day.
https://udupi-recipes.com/2015/06/raw-mango-rasam-raw-mango-soup-recipe.html
All the content in this website are © Copyrighted to – Udupi-Recipes