First time in this blog an edible root vegetable that has pungent, spicy taste that is known as white radish is making it's appearance in the form of radish curry. Basically I am not a RADISH person from my child hood meaning my mother never even cooked any dish out of it. I never got any chance to taste it either while sharing my tiffin box with my friends. But during my life in Bangalore, my sister in law inspired me to cook this vegetable like a usual curry that we would prepare with any other vegetable. Since then radish is part of my cooking life. Now we all love it so much that every trip to vegetable market includes this veggie.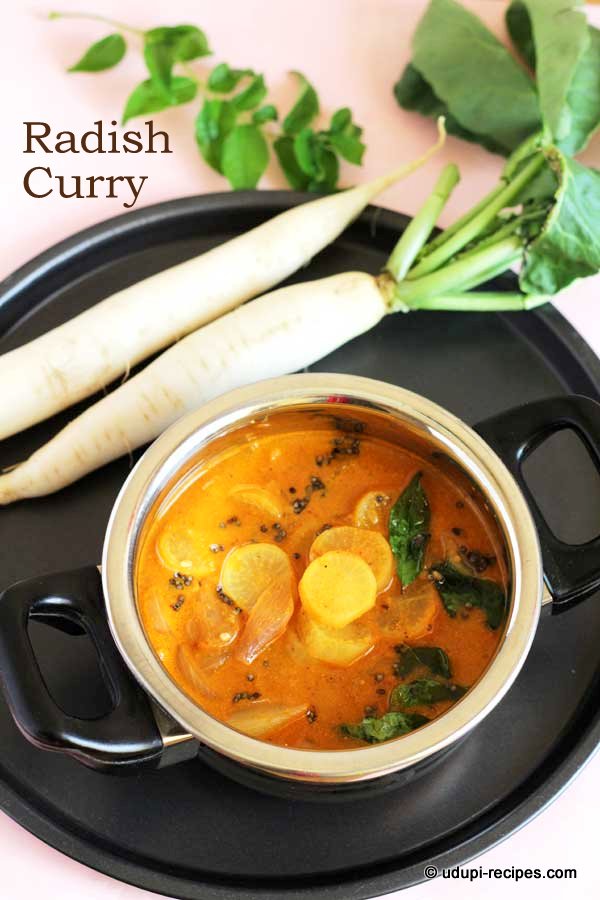 Radish has some pungent taste and strong odor which is why many hate this humble, white root. But I have found a way to suppress the odor to some extent using onion with it. YES..If you cook radish slices with onion then strong flavors will come down considerably.
The deliciousness of radish curry is through the coconut based spice mix that I make from scratch which includes the primary spices like coriander, cumin plus fenugreek along with lentils. Few red chillies for spicy-ness and color, handful of curry leaves for an awesome flavor.
I also have my own rules on chopping radish for curry which should always be slicing in circular form and never even cubing in dice form. These slices cook really soft and look awesome in pictures. Radish curry with well cooked radish slice absorbing all spice flavors and salt would get emptied within no time. So lets welcome appetizing curry now.
Ingredients
Radish- 2 to 3 or 2 cup slices
Onion- 1 big no.
Tamarind- Small lemon sized
Jaggery- Small lemon sized
Salt- 1 to 1.5 tsp
Turmeric powder- 1/2 tsp
Curry leaves- 1 stig

Ingredients to grind

Coriander seeds- 2 tsp
Split black gram lentil- 3/4 tsp
Split chickpea lentil- 3/4 tsp
Cumin seeds- 3/4 tsp
Fenugreek seeds- 1/2 tsp
Red chillies- 3 to 4
Curry leaves- few
Grated fresh coconut- 1/2 cup
Cooking oil- 3 tsp

Seasoning ingredients

Cooking oil- 1 tsp
Mustard seeds- 1/2 tsp
Curry leaves- few
Instructions
Preparation

Thoroughly rinse and wash the radish, scraping any mud that is sticking on to it. You can peel off the radish too if you prefer. Then chop them in to circular slices of medium thickness and keep it aside.
Similarly peel off the onion and chop lengthwise in to thin slices.

Method

Heat a cooking pan or vessel and then add radish slices, onion slices, curry leaves followed by water to the level of vegetables. Let it cook in medium flame. As water starts boiling, simmer it and cook.
Meanwhile soak tamarind in half cup water for about 10 minutes. Heat a wok adding oil followed by all spices like coriander seeds, split black gram lentil, split chickpea lentil, cumin, fenugreek, red chillies and curry leaves. Roast them together till the lentils turn slightly brown. Transfer the roasted ingredients to a mixer jar and grind them along with coconut to fine paste. Add water as needed for grinding.
Next, extract tamarind juice discarding the residue. Pour this tamarind extract to radish that is cooking, add jaggery and turmeric powder too. Let it cook for few more minutes. Check if the radish slices are soft and cooked well.
At this stage include ground coconut masala from step 2. Combine everything well. Add some more water to bring the curry to the right consistency. Add salt and bring it to boil. Switch off once done.
Finally heat a seasoning pan adding oil, mustard seeds and curry leaves. As the mustard seeds splutter transfer it to radish curry.
Radish curry is ready to relish with steamed rice.

Notes

I prefer chopping radish as circular slices than cubes. If you prefer you can chop in dices too.
Adding onion to this curry reduces it's strong odor significantly. So do not skip it.
Make sure the flame is medium while roasting the spices and do not leave it unattended which may cause the spices to burn and taste bitter.
Before including ground coconut masala make sure the radish slices have cooked well. Vegetables will not get cooked in coconut masala.
https://udupi-recipes.com/2015/06/radish-curry-recipe.html
All the content in this website are © Copyrighted to – Udupi-Recipes