At times, you may just need to find a way to get some sweet dessert in your life (like me!!) even when there is no occasion or festival that can lead you to your food magic. After all we all foodie people should have no reason for devouring best of best, favorite of favorite food at any time of the year. Because we call ourselves foodies and we deserve it.
On such a day when my cravings for something sweet, something delicious and some thing veggie (like this sweet potato kheer) have taken the lead, I had no choice left than to turn towards a veggie-based-payasa. I already had a fresh stock of vegetables stored in the fridge and it is this bottle gourd, a best body coolant and summer friendly veggie which transformed in to an awesome dessert=> bottle gourd payasam.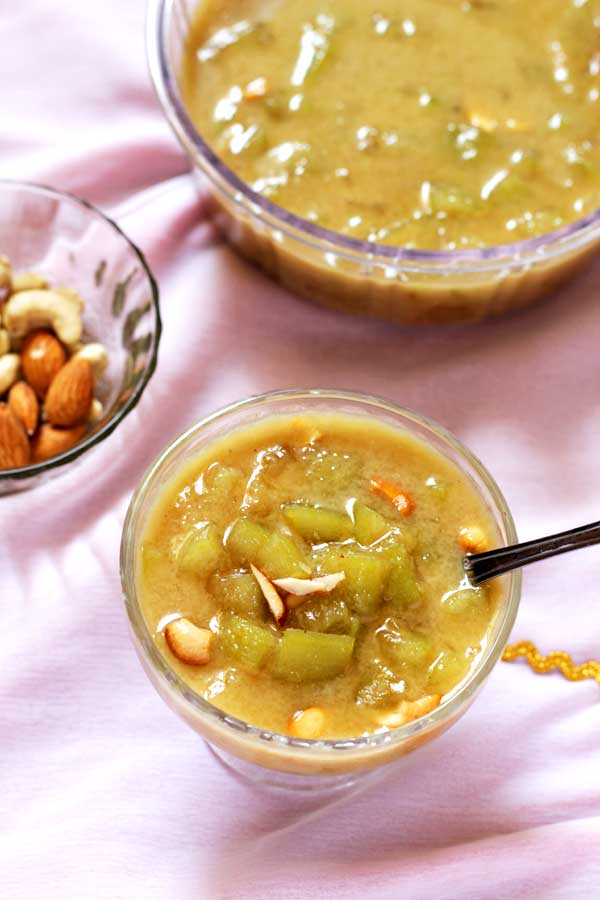 Luscious, soft bottle gourd cubes cooked in jaggery syrup plus coconut milk with lots of dry fruits topping, bottle gourd payasam cannot be better explained than the word 'YUMM' and only 'YUMM'. More importantly the dessert tasted even better as left over the next day. The inclusion of rava or sooji in to the payasam has turned it thick, perfect spooning consistency which I always prefer. Oh..I want a bowlful of payasa right now..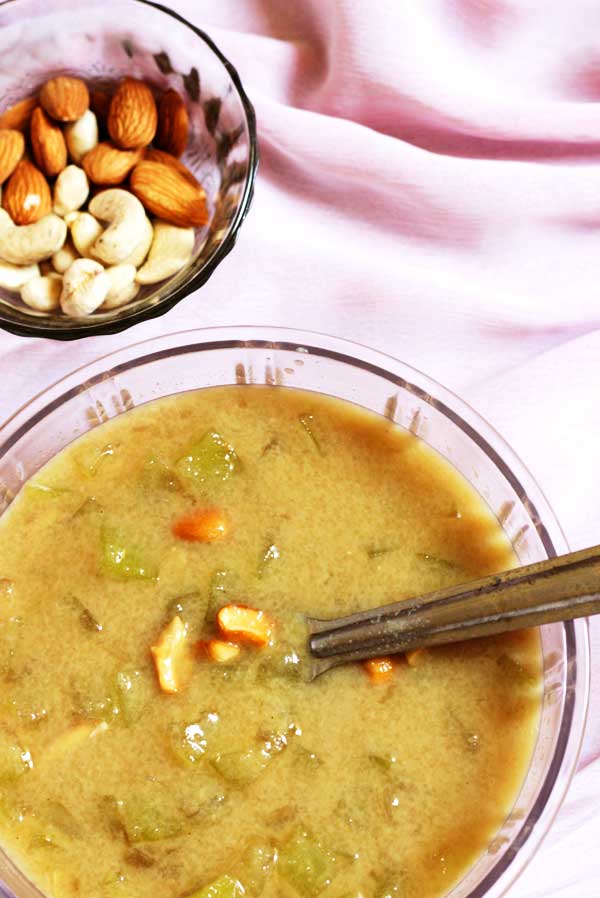 Bottle Gourd Payasa Recipe
Ingredients
Bottle gourd - half piece or 2 cups chopped pieces
Jaggery- 3/4 cup
Coconut- half piece or 1 cup grated
Medium rava / sooji- 3 tsp
Dry fruits (Cashew + raisins+ almond)- handful
Ghee- 2 tsp
Cardamom- 3 to 4
Instructions
Preparation

Peel off the bottle gourd, scoop out the seeds and chop it in to small cubes.
Take fresh coconut along with 1/2 cup of water and cardamom in a mixer jar and grind it to fine paste. Strain this paste using a fine strainer and squeeze the coconut mixture so that milk is strained completely.It gives you 3/4 cup to 1 cup of thick coconut milk.
Again put back the squeezed coconut in to mixer jar with a cup of water and grind again for few minutes. Strain it back using same strainer that gives you a cup of thin coconut milk(second extract). Keep both extracts separate.

Method

Take the bottle gourd cubes in a cooking pan and add enough water up to the level of vegetable and cook in medium flame. When water starts boiling, simmer it and continue cooking till the pieces become soft.
Next heat a separate vessel adding jaggery and 1/2 of water, let the jaggery dissolve and become little thick. (No need of any consistency check.) Once done transfer the jaggery syrup to the cooked bottle gourd cubes and continue cooking for a while.(You can strain the syrup if it has any impurities)
Next include second extract coconut milk and subsequently medium rava to the payasa. Combine everything well. Finally add first extract coconut milk and as it starts boiling switch off flame.
Heat a seasoning pan with ghee and dry fruit pieces. As the dry fruits get roasted transfer them to the payasa.
Very healthy and yummy bottle gourd payasa is ready. Serve hot as dessert and enjoy.

Notes

Tender bottle gourd is recommended to make this payasa.
Fresh coconut always yields thick and good quality milk which will in turn enrich the taste of payasa.
Before adding jaggery syrup to the payasa, make sure the bottle gourd pieces have well cooked.
Medium rava is used to make the payasa thick. While adding it to the payasa, ensure it doesn't form any lumps.
https://udupi-recipes.com/2015/06/bottle-gourd-payasam-recipe.html
All the content in this website are © Copyrighted to – Udupi-Recipes