These protein rich almonds have wrapped me in today. Because almond milk powder is what whipped up in my kitchen and the luxuriously creamy, nutty and sweet taste of almond milk is still lingering in my mouth. Though I am not a big lover of beverages, badam milk doesn't let me from being loved. And the healthy ingredients that makes badam milk powder immensely entice me towards it.
Let me tell you how I happened to arrive at badam milk powder. It happened like this.  Back in India when I was holidaying, I went to shop some unique groceries that is authentic to Udupi. This kind of shopping I do every year to pick up somethings from my favorite, reliable shops so that I am not deprived from those here in UAE. And that list includes distinct pickles, fryums and powders. So this year when all this was happening, a packet of ready made badam powder in a shop fall at my sight. I didn't buy it but I looked for the recipe. I wanted to know what all ingredients that go in to this powder apart from ALMONDS. To my surprise I could easily get the exact recipe.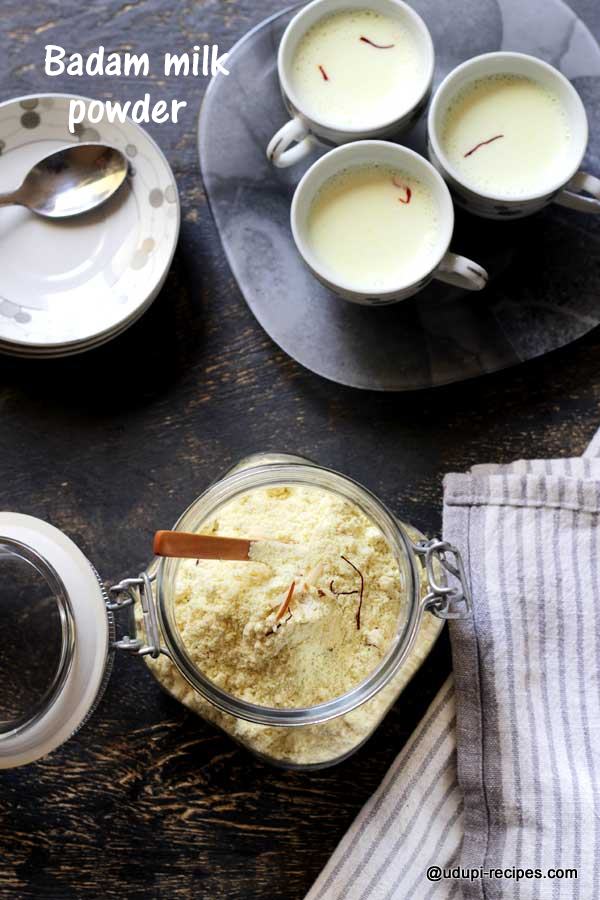 So today with all my enthusiasm I prepared a jar full of badam milk powder. And it was absolutely perfect in texture which resulted in unbelievably amazing nutty drink. The milk powder and arrowroot powder made the beverage creamy and tasty. The flavor of cardamom powder, color from saffron and turmeric is too appetizing.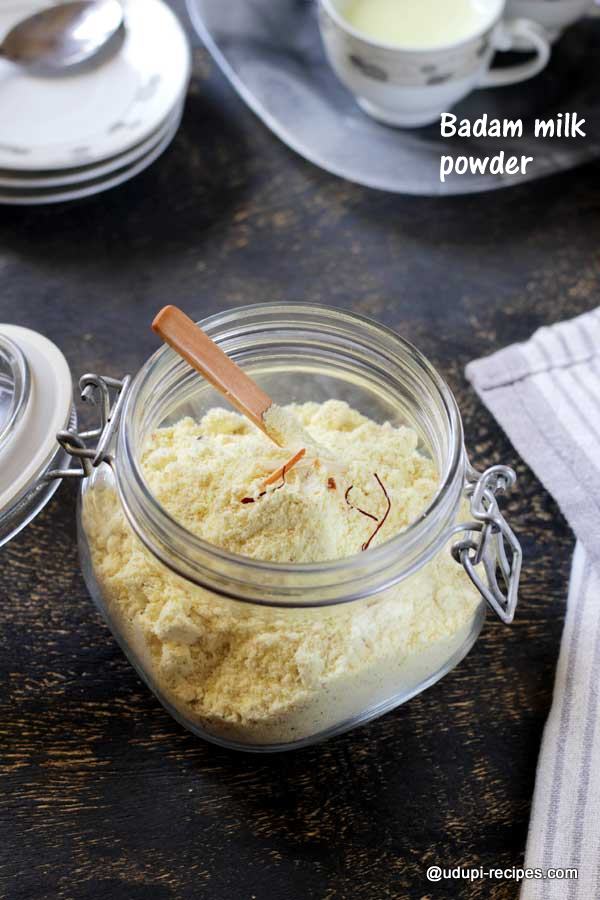 It's creamy goodness, heaven sent. Trust me.
Homemade Badam Milk Powder | Almond Milk Powder
Ingredients
Almonds (Badam)- 1/4 cup
Arrowroot powder- 1/3 cup
Milk powder- 1/2 cup
Cardamom powder- 1.5 tsp
Saffron strands- 1/2 tsp
Turmeric powder- 1 tbsp
Powdered sugar- 1/4 cup
Instructions
Method

Take almonds in a pan. In medium flame keep stirring for few minutes. Let the almonds warm up and become crisp. This step of roasting eases powdering.
Add these almonds in a mixer and powder it finely. In wide bowl add powdered almonds, milk powder, arrowroot powder and powdered sugar. Give a nice mix.
Next include turmeric powder, cardamom powder and saffron strands. Mix and store it in air tight container.
To prepare milk, add a tablespoon of this powder to warm milk, mix well and relish.
Stock a jar full of healthy homemade badam milk powder and relish the beverage.

Notes

Milk powder and arrowroot powder help to give good, thick consistency to milk.
If you con't have arrowroot powder, you can skip. But I recommend adding it.
You can increase the quantity of almonds also.
I have prepared the powder with medium sweetness, you can increase the quantity of sugar if you wish.
https://udupi-recipes.com/2018/09/badam-milk-powder-almond-milk-powder.html
All the content in this website are © Copyrighted to – Udupi-Recipes