The potential list of Ganesh chaturthi recipes hasn't come to an end. It's still ON and I have one more addition that is rava modak to the list. These cute textured sweet things interest more and more of cooking in me. Which is why, I made a batch of rava modak today where rava / sooji is used to wrap the sweet stuffing.
I have seen people who dislike rice and love other alternatives like millets or rava or jowar.  And as a food blogger  it's fair on me to try alternatives of RICE in most recipes, so that any cereal lover can enjoy food. And the same rule applied to modak as well. I used semolina / rava to wrap the sweet  coconut-jaggery stuffing.  Trust me, semolina works pretty well. It  holds good shape, doesn't turn chewy even after a day and texture is just perfect. Love this rava modak.
Rava needs approximately double the quantity of water to cook. I have used 1/2 cup of rava and a cup of water to cook it. As you cook, rava would come together as thick dough which is perfect for this recipe. While widening the rava ball with bare hands, it may stick sometimes. So it's better to grease some oil or water to you palms before proceeding. Let this rava modak (check peanut modak too) be a delicious offering to Lord Ganesha at your home and let him bless you with good health and happiness. Wish you happy Ganesha Chaturthi.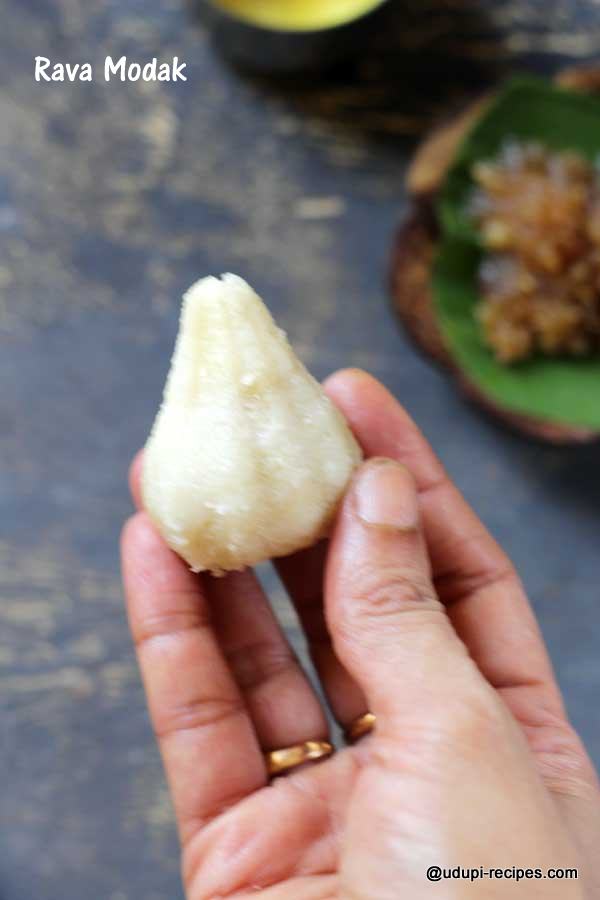 Ingredients
Rava- 1/2 cup
Water- 1 cup
Salt- 1/2 tsp
Ghee- 2 tsp

For stuffing

Grated Coconut- 1/2 cup
Jaggery- 1/2 cup
Water- 1/4 cup
Cardamom powder- 1/2 tsp
Instructions
Method

Take jaggrey in pan, add water approximately equal to 1/4 cup. Crush it well so that jaggery dissolves.
Next heat pan in medium flame. When jaggery dissolves completely strain it to remove the impurities.
Heat up the strained jaggery syrup till it nicely bubbles up.
Next include grated coconut to the syrup. Mix well. Add cardamom powder also.
Continue cooking the coconut till it comes together and becomes thick. Stuffing is ready for modak now.
Dry roast rava in a pan for about 3 minutes. Transfer it to a plate. Next in the same pan 1 cup add water and salt.
Bring water to rolling boil, then carefully include roasted rava. And mix well such that no lumps are formed.
Within few minutes rava cooks well and comes together as dough. Switch off flame. Next add ghee, when it is still warm knead well.
Grease some oil to your palms. Make lemon sized rava balls and using your fingers press it such that it widens as 1.5" diameter disc. Add a teaspoon of coconut-jaggery stuffing at the middle.
Bring the edge over the stuffing and seal it. Keep this in modak mould and press so that it's even and attractive.
Modak mould helps to get attractive texture leaving impression on the surface. Remove carefully and arrange in a steamer plate. Repeat the process with rest o the dough and steam cook in idli steamer for 10 minutes. Offer it to Lord Ganesha as naivedyam.

Notes

Rava needs double quantity of water to get cooked. I have used rava and water in the ratio of 1:2.
Do not switch off when dough is still loose. It should be thick as you need to widen with your fingers.
Do not add too much water to jaggery as it can make the stuffing watery.
When you don't have mould, you can directly steam cook the hand made modaks.
https://udupi-recipes.com/2018/09/rava-modak-modakam-ganesh-chaturthi-recipes.html
All the content in this website are © Copyrighted to – Udupi-Recipes