These soft, scrumptious savory stuffed snacks are so very Good. Good in the sense so divine. Which means they are meant to be a festival stuff. I am a kind of savory stuff lover which you all know obviously because ahmmm, you all follow me. And I know you would be looking around some specific sweets and savories that is to be prepared on Ganesh chaturthi. I was kind of hesitating to make sweet again because
there is already much sugary, jaggery condiments lying around the kitchen jars. So probably this "corn khara kadubu" has it's turn to be presented here now at this moment. Believe me, my teen, young daughter loved it so much  that half of it has been gulped over by her.
Khara kadubu is suppose to be a Karnataka style dumpling and it is made with varieties of stuffing. Mostly the legumes and lentils with some spices are used up. Since I am a lover of sweet corn, I thought to use the same as stuffing. And it's a total winner recipe because batch of snack have been emptied just  within a day.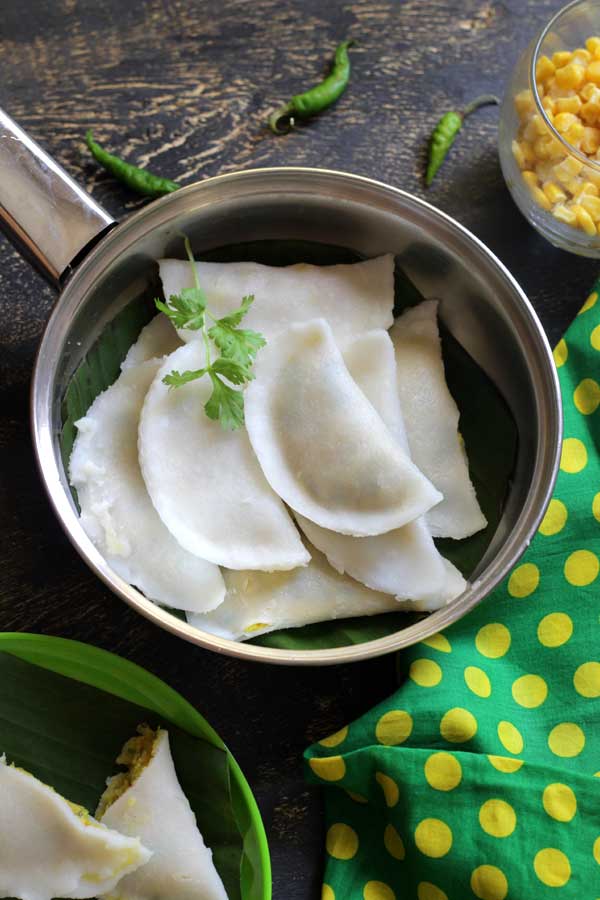 The outer layer that holds the stuffing is prepared using rice flour which is cooked to perfection in appropriate amount of water. Like, I have used 1 cup water for 1/2 cup of rice flour. When this dough is rolled to circle, it doesn't crack and it holds the stuffing. The stuffing prepared by coarsely grinding the boiled corn with spices fills in nicely without oozing our. And amazingly tasty "corn khara kadubu" is what you have for Lord Ganesha's offering.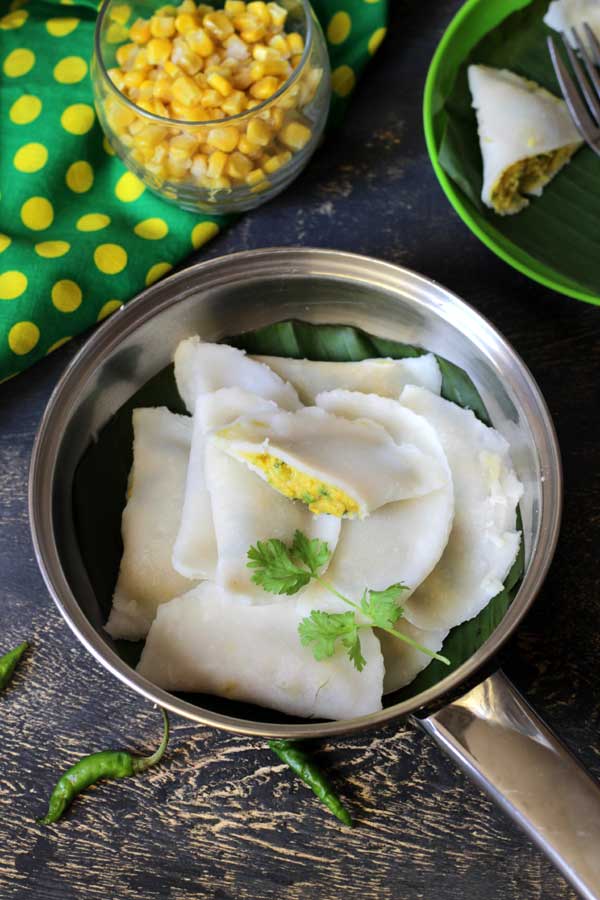 Corn Khara Kadubu | Ganesh Chaturthi
Ingredients
Rice flour- 1/2 cup + 2 tbsp for dusting
Water- 1 cup
Salt- 3/4 tsp

For stuffing

Sweet corn- 1 cup
Cumin seeds- 1/2 tsp
Green chillies- 1 no.
Salt- 1/2 tsp
Curry leaves- Few
Coriander leaves- Handful
Instructions
Preparation

Chop coriander and curry leaves finely and keep aside.

Method

Take sweet corn in a pan along with a cup of water. Let it boil for a minute. Switch off the flame. Strain the boiled corn to drain off all moisture.
Next, in a mixer coarsely grind boiled corn, salt, green chillies and cumin seeds together. Do not add any water. Transfer it over a boil and mix with chopped greens.
Next add 1 cup of water, salt to a pan and bring this to rolling boil. Include rice powder and mix well.
While stirring, ensure that no lumps are formed and switch off. When it is warm to handle, knead crackless dough. Divide it in to 8 equal portions and roll as ball.
Take a rice ball and roll it in to 3" disc using rolling pin. Dust some flour while rolling. Add two teaspoons of corn stuffing, fold and seal the edge. Continue this process with all the rice balls.
Steam cook thus prepared dumplings for about 15 minutes.
Khara kadubu with savory corn filling is ready to offer to Lord Ganesha.

Notes

After cooking the corn, it is necessary to strain. Otherwise the stuffing turns watery.
You can include the spices of your choice to the stuffing to adapt the same to your taste.
Keep the rice flour balls covered in damp cloth till you finish making these kadubu. It helps the balls to be moist and soft.
You can trim the edge after folding and sealing the dough over stuffing in half circular manner.
https://udupi-recipes.com/2018/09/corn-khara-kadubu-ganesh-chaturthi.html
All the content in this website are © Copyrighted to – Udupi-Recipes