Little sweetish deep fried snack is what in store today @Udupi-Recipes blog. It's been very long since when my food-mind is planning for this recipe. I guess, I had stocked puffed paddy twice to make these beauties may be last year but somehow the plan didn't materialize. The said ingredient has been cleared off in something else. This time I had made up my mind so strongly and had my schedule of blog cooking printed. So everyday I look at it, the buzz of remainder alarm heard. Which is why today I am showing up with "Sukrunde" an authentic sweet thing from the land of Udupi.
If you are a person who never heard about this snack or who not even remotely connected to Udupi, then looking at the picture you might have guessed it as a savory snack. Like bonda. Isn't it? But it isn't a spicy, savory snack that you are imagining in your mind.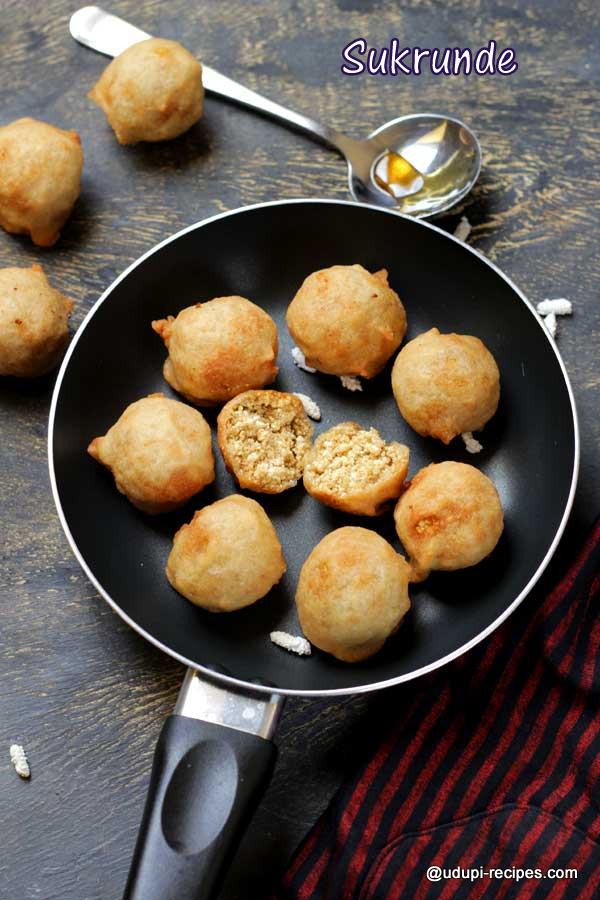 Let me make you clear on this. It's a sweet thing. Just imagine, puffed paddy laddu covered with a crispy thick exterior. It is sukrunde. The puffed paddy balls are dipped in thick batter and deep fried with the coating. So sweet balls are wrapped in crispy batter layer. As you bite this goodness, you have bonus of crispy  skin plus crunchy sweetness.
If you or your kids happen to have sweet teeth, then this sukrunde is for for you. You can make the puffed paddy laddus in advance and deep frying can be done right before eating. The texture, taste and crispiness is felt and achieved when it is warm. So plan for it right now!
Sukrunde Recipe | Puffed Paddy Sukrunde
Ingredients
Puffed paddy- 2.5 cups
Jaggery- 1 cup
Cardamom powder- 1/2 tsp
All purpose flour (maida)- 1/2 cup
Rice flour- 1/2 cup
Salt- 1/4 tsp
Water- as needed
Cooking oil- Enough to deep fry
Instructions
Preparation

Take puffed paddy in a mixer and powder it coarsely. Transfer it to a bowl.

Method

Heat a heavy bottom pan adding jaggery and some water(1/8 cup is sufficient). Let it dissolve.
Jaggery dissolves completely and starts to boil. When jaggery syrup thickens, check the consistency. When you put a drop of jaggery syrup in some water, you should be able to gather it. That is the right consistency.
Pour this jaggery syrup over powdered paddy in the bowl. Add cardamom powder and mix well.
Make lemon sized ball out of this mixture and keep aside. Next make batter for outer crust.
Take maida, rice flour and salt together in a bowl. Adding required water make little thick batter.
Heat enough cooking oil in a heavy bottom wok. Next, dip paddy balls in this batter such that a layer of batter covers it, slowly drop in to oil.
Deep fry a batch in medium flame till they turn slightly brown. Once done, remove from oil and drain over kitchen tissue.
Delicious sukrunde is ready to serve as a snack or dessert.

Notes

The jaggery syrup should be of soft ball consistency. If it is less, you may find difficulty in shaping ball.
The batter should be of dosa batter consistency. Otherwise the batter doesn't coat over paddy ball.
Check the oil temperature by dropping little batter in it. If it raises to the top, that is the right consistency.
https://udupi-recipes.com/2018/08/sukrunde-recipe-puffed-paddy-sukrunde.html
All the content in this website are © Copyrighted to – Udupi-Recipes