Chinese potato or sambrani gadde is back here after a month. Back in June when I happen to post sambrani gadde curry, people loved it. Those who stay away from Udupi or those who reside in foreign countries where this veggie isn't available were just missing it. When the recipe is shared in my FB page, there were comments saying "it's been so long eating this awesomeness". Sambrani gadde or Chinese potato is such a aromatic veggie that it takes people back to their memory lane.  But I am at the center of food happy place because in UAE I get most veggies. And today here comes one more curry using the same veggie i.e sambrani gadde majjige huli. It's yogurt and coconut based curry and very close to my food loving soul.
Fairly simple recipe but trust me, I love it to the core.  Now, when I am in my motherland and with my mother, she cooks all such things that I love. My only job right now is to eat it happily, enjoying the WOW moments of LIFE. Yes, vacationing is a sort of change in pace of life for me. Blog cooking, everyday cooking, cleaning, photography, editing and posting would take a back seat for a month. It's so wonderful right? Sometimes you need to get out of your routine and change things up in order to sort of kick-start the system back in to thrive mode. Isn't it guys?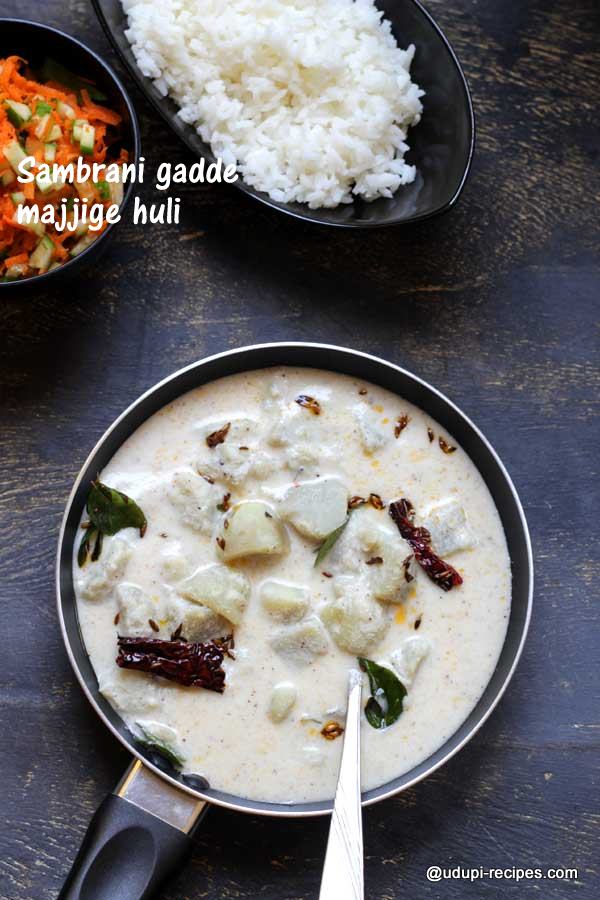 Sambrani gadde majjige huli or Kodakyana has two simple steps. Cooking the veggie, coconut paste preparation and including whisked yogurt. That's it. Pretty simple. But the Chinese potato (sambrani gadde) has flavor bond in it which cooks aromatically filling the house  with smell.
Let me tell you one more thing. In Udupi, this majjige huli is also paired with idli. Those who have tasted would know it.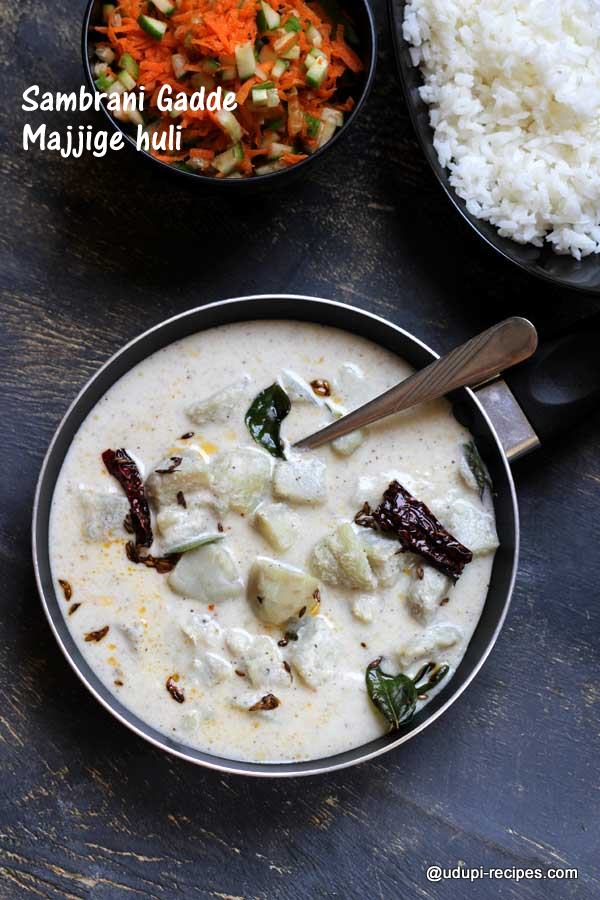 Sambrani Gadde Majjige Huli | Kodakyana
Ingredients
Sambrani Gadde (Chinese potato)- 1/2 kg
Salt- 1.5 tsp
Coconut- 3/4 cup
Whisked yogurt or thick butter-milk- 1/2 cup
Green chillies- 1 or 2 nos.
Raw rice- 1 tsp

To season

Cooking oil- 2 tsp
Cumin seeds- 1/2 tsp
Fenugreek seeds- 1/4 tsp
Broken red chillies- 1 nos.
Curry leaves- Few
Instructions
Method

Rinse the sambrani gadde(chinese potatoes) under enough water and wash thouroughly. Pressure cook it for 3 whistles and switch off.
When the pressure subsides, peel the skin off from these chinese potatoes.
If sambrani gadde is too big in size, cut each one in to two or three pieces. Cook these pieces in a vessel adding some water and curry leaves.
When it is cooking, take coconut, rice and green chillies in a mixer/blender. Grind it together to fine puree adding water as needed. Add this puree to cooked veggie.
Add salt and bring the curry to boil. Finally add whisked yogurt and mix. Do not boil for long after adding yogurt.
Next in a tempering pan, add all the ingredients listed under "To temper", when cumin seeds sizzle pour it over majjige huli.
Very flavorful sambrani gadde majjige huli is ready to serve with steamed rice.

Notes

The veggie may take little more or less time to cook depending on the quality.
This yogurt based curry has mild spice. You can increase green chillies if you wish.
Raw rice helps to thicken the curry. So do not skip it.
Do not boil this curry for long after adding whisked yogurt.
https://udupi-recipes.com/2018/08/sambrani-gadde-majjige-huli-kodakyana.html
All the content in this website are © Copyrighted to – Udupi-Recipes