All chutney lovers out there, here comes an awesome bitter gourd chutney.  Hey, wait there! Don't twist your nose, don't turn back. Trust me, the chutney doesn't even taste bitter that I can assure you. Because the spices and ingredients chosen are so very perfect that it results in flawless chutney. There are so many people around who love bitter gourd, enjoy eating it thoroughly. And for those of you, this bitter gourd chutney is a bonus recipe. (Hope you remember bitter gourd raita )
Whatever you cook with bitter gourd, you initially need to reduce the intense bitterness through some steps. There may be more than one way to do it. What I usually follow is marinating bitter gourd pieces with salt and turmeric powder.  When those chunks of veggie marinate and rest for 20 minutes, rinsing with enough water will flush it's bitterness too. This is what I follow and I recommend. But you wonderful women would definitely have more than one procedure to suppress the bitterness, share if possible.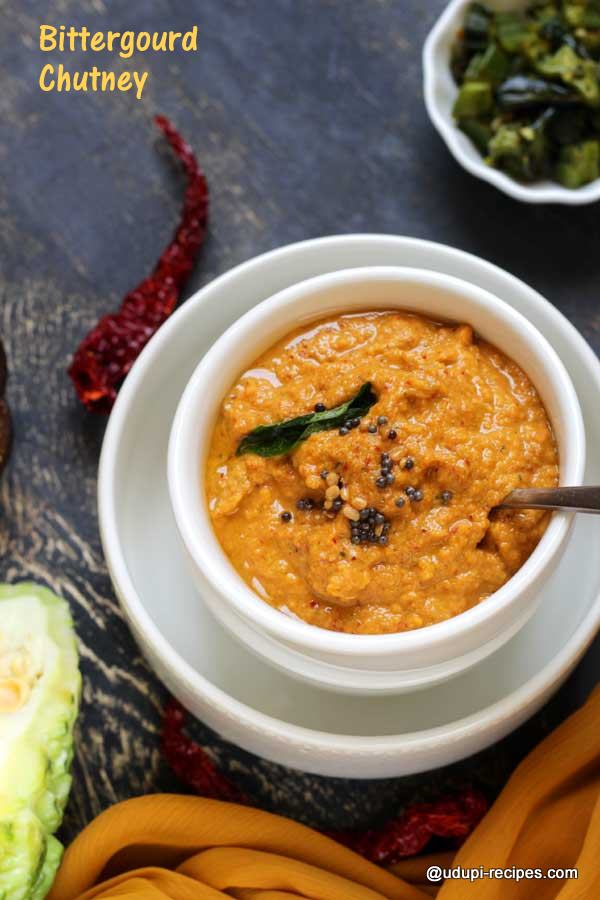 Bitter gourd chutney has a list of kitchen spices  like sesame, lentils and coconut that are roasted. And even the bitter gourd chunks have to be roasted well for mincing. Finally it's the jaggery and tamarind that balances the bitterness. A spoonful of chutney with hot steamed rice topped with coconut oil or ghee is how I enjoyed my lunch today. And now it's your turn.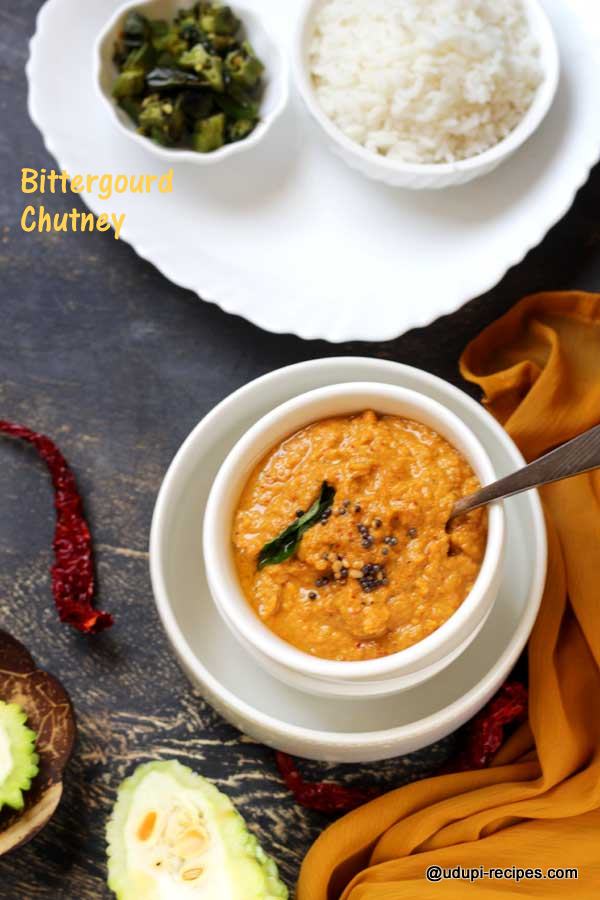 Bitter gourd Chutney Recipe | Haagala Chutney
Ingredients
Chopped bittergourd pieces- 1 Cup
Turmeric powder- 1/2 tsp
Split blackgram lentils- 1.5 tsp
White sesame seeds- 1.5 tsp
Red chillies- 2 nos.
Fresh coconut- 1/2 cup
Tamarind- Marble sized
Jaggery powder- 3 tsp
Salt- 1.5 tsp
Instructions
Preparation

Add turmeric powder and 1/2 tsp salt to the chopped bittergourd pieces. Mix and let it marinate for 20 minutes. This helps in reducing bitterness of the veggie.

Method

Roast the sesame seeds in medium flame with constant stirring followed by split black gram lentils and red chillies. Transfer the roasted ingredients to a plate.
Next roast grated coconut till it turns slightly brown.
Add some water to the marinated bittergourd, squeeze and add it to pan. Roast them as well till it changes color slightly.
Add all the roasted ingredients to a mixer. Include jaggery, salt and tamarind. Grind all the ingredients together to coarse paste adding water as needed.
Delicious bittergourd chutney is ready to serve with rice and dosa.

Notes

Reducing the bitterness through marination and roasting of the veggie is essential. Otherwise chutney turns bitter.
Adjust jaggery and tamarind depending upon the bitterness of bitter gourd.
https://udupi-recipes.com/2018/08/bitter-gourd-chutney-haagala-chutney.html
All the content in this website are © Copyrighted to – Udupi-Recipes