It's monsoon season and this dessert pineapple payasa seems to be perfect for the climate. Right now, I am sitting in the balcony of my mother's home with a bowl of this awesomeness in my hand. I feel it's ultimate pleasure to relish fruity dessert in this monsoon breeze. I loved the gorgeous color, creamy texture and immensely rich taste. This is one of the BEST dessert that I had recently here in India.
My father nurtures a small home garden that has few vegetables, greens and some fruits also. So I am consuming organic fruits and veggies on all the days of my stay in India. Which is really a wow factor for me. Today my mother made a delicious pineapple payasa using a ripe pineapple that's pluck from the plant, fresh and chemical free.
I have some strong opinions about fruit based desserts. Like, the fruit's sweetness should overpower the artificial sweeteners. So that we eat less sugar or jaggery and much of the fruit itself. This recipe is quite simple. Only thing that consumes some of your time is extracting coconut milk from fresh coconut. If you prefer using store bought coconut milk then, this payasa needs just 15 minutes from beginning till end. Doesn't it sound awesome?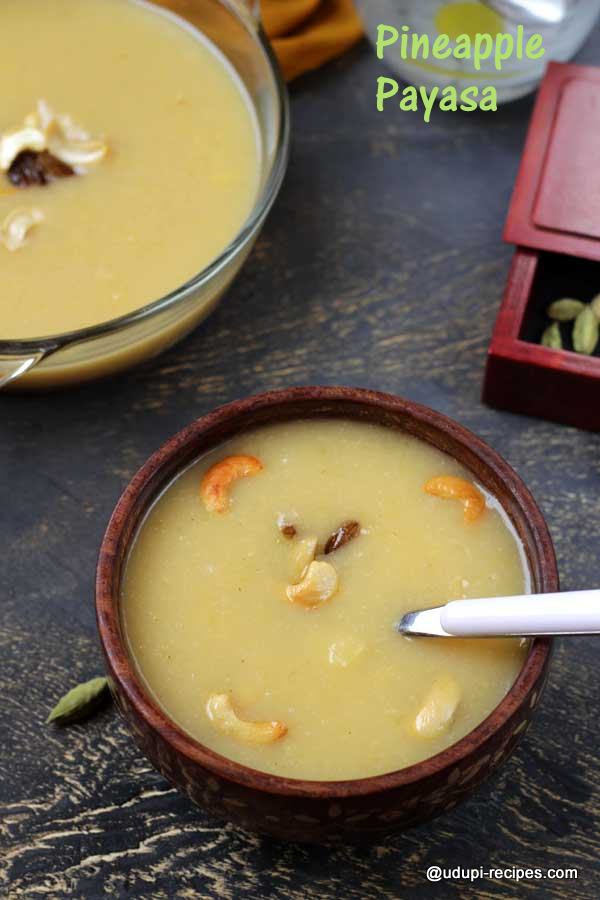 Looking at the above picture, you must be thinking what gives the dessert creamy texture? Let me tell you honestly, it's the rice flour that gives the payasa nice creamy texture. The rice flour when cooked in coconut milk becomes thick like porridge. Pineapple ground to coarse puree is cooked in this porridge like coconut milk along with jaggery. And that's the end of story. You are here=> pineapple payasa=> Adore and love to eat. Let's sit together to relish this awesomeness with all the loved ones around. What say?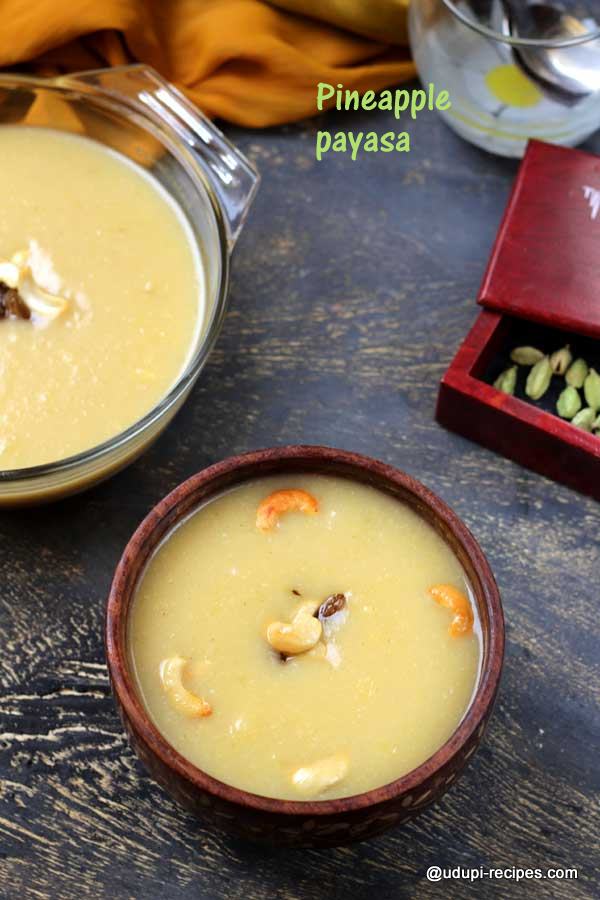 Pineapple Payasa Recipe | Easy dessert
Ingredients
Chopped pineapple pieces- 2 cups
Fresh grated coconut- 1 cup
Powdered jaggery- 1/2 cup
Rice powder- 1/8 cup
Cardamom powder- 1/2 tsp
Cashew + Raisins- Handful
Instructions
Method

Take fresh coconut in a mixer jar, add a cup of water and grind it to fine puree. Pour this over fine strainer, squeeze and obtain thick coconut extract.
Next add squeezed cocconut in to mixer jar along with a cup of water. Grind and strain again to obtain thin coconut milk.
In a small bowl add rice powder and 1/4 cup of water, mix together to make thcik rice powder paste.
Next heat thin coconut milk in a pan, include rice powder to paste to it stirring continuously. When rice powder cooks, cocont milk thickens.
Meanwhile coarsely grind the pineapple pieces without adding any water. Add powdered jaggery to the cooked coconut milk in the pan, let it dissolve completely.
Next pour pineapple puree to the pan, mix well and continue cooking.
Finally when it is boiling pour thick coconut milk, let it boil, switch it off.
Sprinkle some cardamom powder and garnish with ghee roasted cashews plus raisins. Yummy pineapple payasa is ready to serve as dessert.

Notes

Adjust jaggery according to the sweetness of pineapple.
I have prepared coconut milk at home using fresh coconut. You can use store bought one too.
Rice powder is used to bring little thick consistency to payasa, ensure it doesn't form any lumps while adding to payasa.
https://udupi-recipes.com/2018/08/pineapple-payasa-recipe-easy-dessert.html
All the content in this website are © Copyrighted to – Udupi-Recipes