When jackfruit is long gone from trees and disappeared from the market and malls, can you still relish them? Is there any way to preserve some seasonal fruits so that they are available till next season? Of course you can do that in many ways. Some fruits are sun dried and stored as papad (Remember aam papad?), some are made in to jams and some others get there as pickled. So in whichever forms they may be,  bring back the memories when they touch your taste buds. So sit there with a silly smile on your lips thinking about such a bliss of life. One such blissful recipe from my place is brined jackfruit stir fry. It gives another chance to relish the fruit though it's long gone from trees.
I was clearing up my pantry back in the month of June, just before vacationing. And I was amazed to find a small jar of brined jackfruit at the corner tasting all good.  They were almost a year old but nothing seemed rotten.  I was rejoiced and my mouth opened wide with a smile thinking I can devour the fruit for lunch that day. That is how this brined jackfruit stir fry magic happened at my kitchen.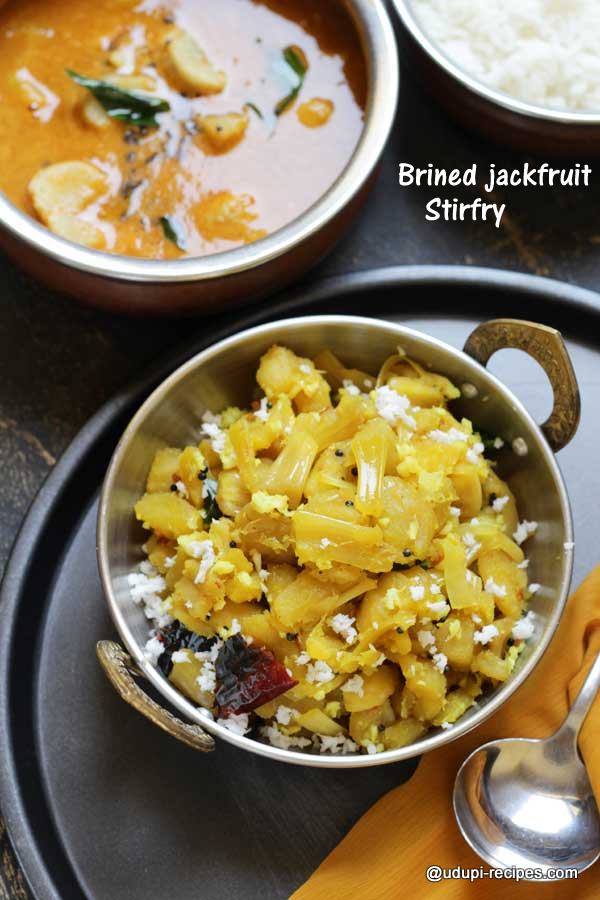 There is nothing big thing in the recipe. It's all just tempering with jaggery and fresh coconut. Not even addition of salt. Because the fruit already has enough of salt right? I am documenting the recipe here, though it is very simple because I want our younger generation to know about such an art of pickling fruits.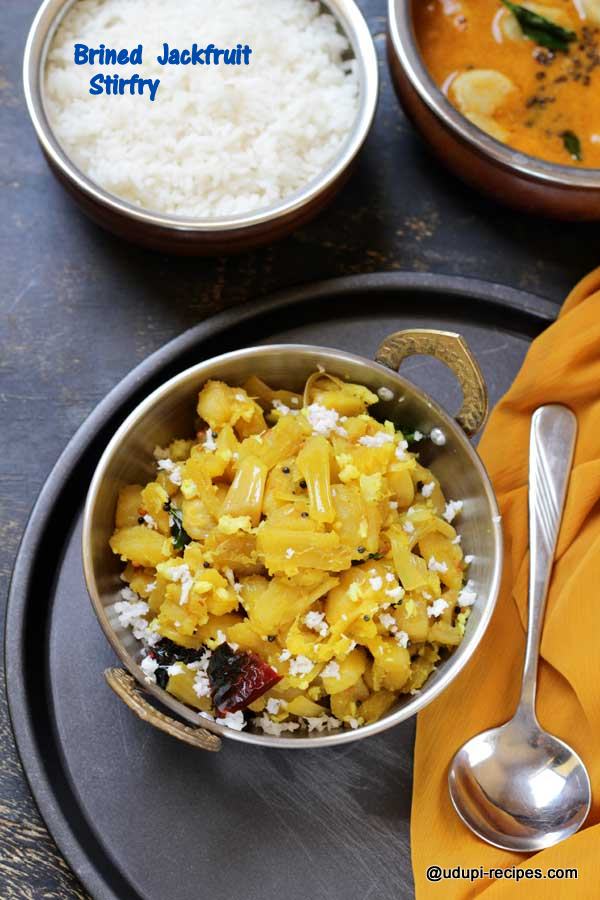 Brined Jackfruit Stir fry Recipe
Ingredients
Brined jackfruit pods- 1 cup
Jaggery- 1.5 tsp
Fresh grated coconut- 2 tbsp
Turmeric powder- 1/2 tsp

To temper

Coconut oil- 1 tbsp
Mustard seeds- 1/2 tsp
Split blackgram lentils- 1/2 tsp
Broken red chillies- 1 no.
Instructions
Method

Keep the brined jackfruit immersed in water for an hour. Rinse with enough water for 3 to 4 times. This procedure helps to remove excess salt. Then chop the pods in to bite sized pieces.
Heat a pan with all the ingredients under "To temper" list and let the mustard seeds sizzle. Include chopped jackfruit pods and jaggery. Saute for few minutes. When the bites cook up, add grated coconut. Mix and switch off.
Brined jackfruit stirfry is ready to serve with rice-rasam.

Notes

Since it's brined jackfruit, additional salt isn't required for the stirfry.
You can add a slit green chilly, if you like spicy stirfry. I haven't added it.
Brined jackfruit cooks up too early and it doesn't require water to cook. The moisture in them is sufficient.
https://udupi-recipes.com/2018/08/brined-jackfruit-stir-fry-recipe-authentic-udupi-recipe.html
All the content in this website are © Copyrighted to – Udupi-Recipes