It's end of August month now and I am back home after vacation. You probably can easily guess this by looking at
the food below. I appreciate you for the right guess!  Yes, I carried some really specific greens and veggies from Udupi which serves me for quick recipes. Like, this colocasia stem lentils curry.  It is an absolute monsoon season curry that needs the tender juicy stem of colocasia. On top of that, the curry tastes awesome when you have few hogplums to include with. But never the less, the curry tastes decently wonderful even with tamarind. Hogplums and colocasia get along with each other in a delicious way which you realize when you whip this up yourself.
While unpacking the bag and baggage takes up most of my time right now, I spend less time in kitchen. The easy and tasty colocasia stem lentils curry which I prepared today was quite time saving. It took just 20-25 minutes in total. The lunch with simple rice, curry plus yogurt tasted beyond any feast.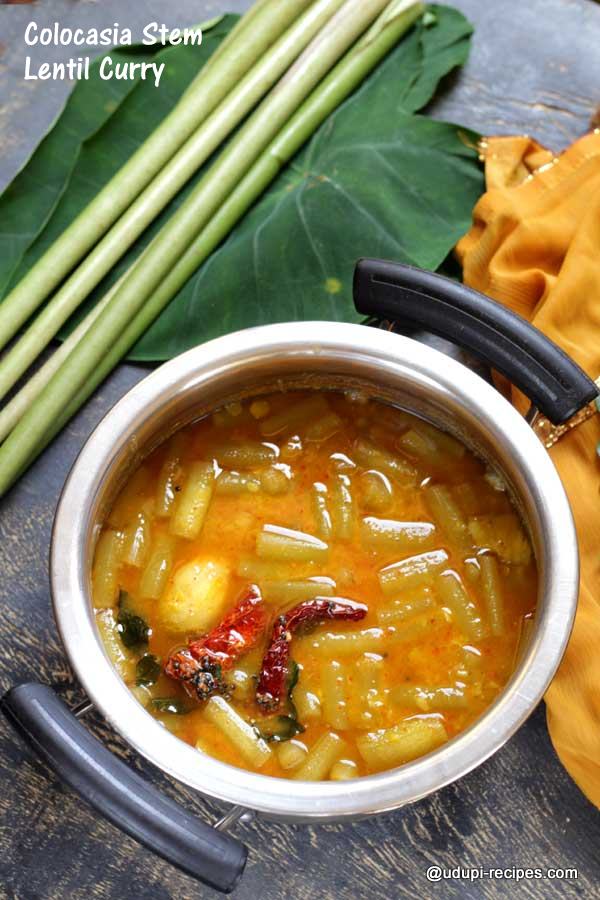 If you are a lover of traditional food that has seasonal veggies and spices blend, then you must try this. But let me warn you, you must choose colocasia variety which doesn't itch. Otherwise you end up having itchy throat and tongue after eating the curry.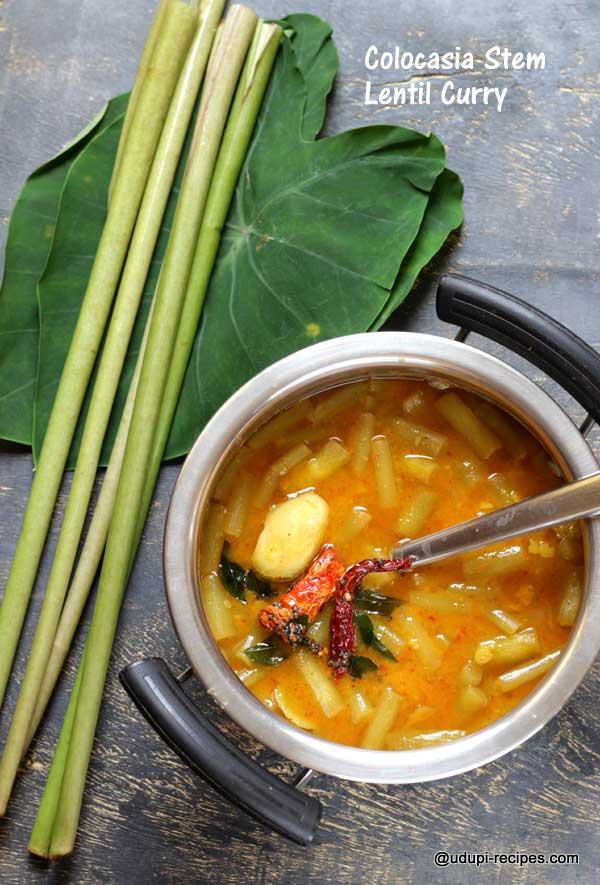 Colocasia Stem Lentils Curry | Traditional Recipe
Ingredients
Colocasia stems- 20-30 nos.(chopped pieces 3 cups)
Hogplum-2 to 3 nos.
Powdered jaggery- 2 tsp
Salt- 2.5 tsp
Pigeon pea lentils(toor dal)- 1/2 cup
Sambar powder- 3 tsp

To temper

Coconut oil- 2 tsp
Mustard seeds- 1 tsp
Split blackgram lentils- 1 tsp
Broken red chillies- 2 nos.
Curry leaves- Few
Asafoetida- 1/4 tsp
Instructions
Preparation

Pressure cook the pigeon pea lentils till soft and mushy.

Method

The colocasia leaves with stem look like this. This is the picture taken at my mother's place in India.
Wash the stems under running water and peel the skin off. Trim the edge of hogpplum and chop it too. You can retain the seed.
Take the chopped stem and hogplum in a cooking pan, add 2 cups of water, powdered jaggery, turmeric powder and salt. Let it cook in medium flame.
Since the stems are tender, they get cooked fast. When it is cooked, add curry powder and continue cooking for few minutes.
Next add cooked lentils and bring to boil. Adjust salt and consistency.
Next heat a tempering pan, adding all the ingredients under "To temper" list, when the mustard seeds splutter pour it over curry. Deliciously tasting colocasia leaves curry is ready to serve with steamed rice.

Notes

Choose the colocasia which is not itching. Some tend to itch the throat and tongue.
I have used hogplum for sourness which gets very well with colocasia stem. If you don't have them, use tamarind.
The stem takes very less time to cook, do not let it turn mushy.
https://udupi-recipes.com/2018/08/colocasia-stem-lentils-curry-traditional-recipe.html
All the content in this website are © Copyrighted to – Udupi-Recipes