Sorghum, a wholesome cereal which I always appreciate in this space is making it's appearance once again. It's in new flatbread form "Jowar thalipeeth".  As twins on this food journey, you know my love towards jowar rotti. It's quite interestingly crazy one. Yes you can call me crazy food lover. The food from North Karnataka has always got special space in my heart. And if I ever get a chance to play around with a cereal other than rice, I never let it go. And it happened with "Jowar" last week in the form of flatbread called thalipeeth. It's incredibly soft, amazingly delicious and healthy with all the greens.
The basic sorghum(jowar) flour is used as the base here and it's loaded with greens like dill leaves. But any greens would be a nice addition to this. Say fenugreek, drumstick or palak. The most important and flavor elevating ingredient in jowar thalipeeth is cucumber. Grated cucumber works like magic here giving nice aroma and keeps the flatbread mellow-y soft. Which is what I like the most in this food.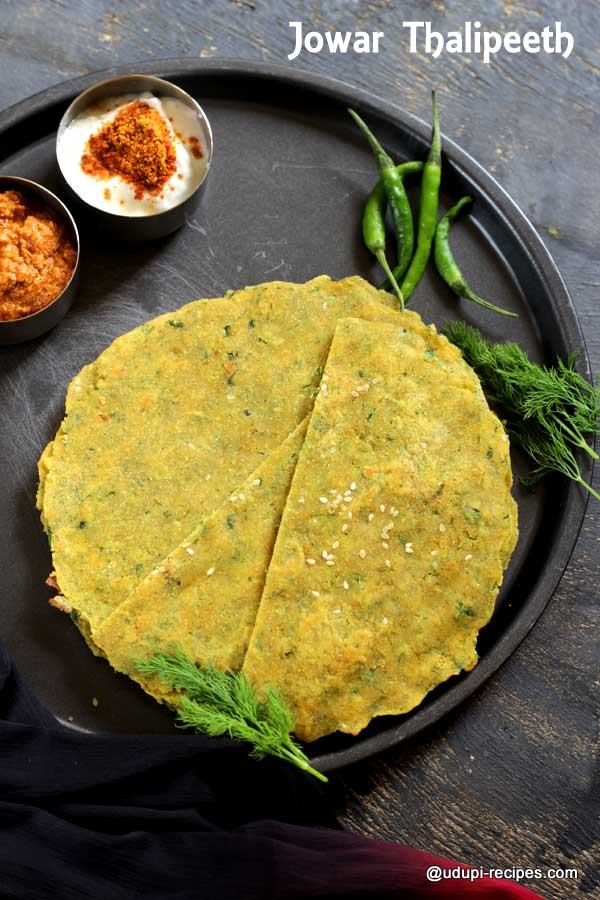 When it comes to serving, the jowar thalipeeth can be served with 'N' no of  sides. Be it a spicy chutney, gravy or stirfry, pairs very well. If not, you can have it with plain yogurt topped with some chutney powder. Which is awesome isn't so?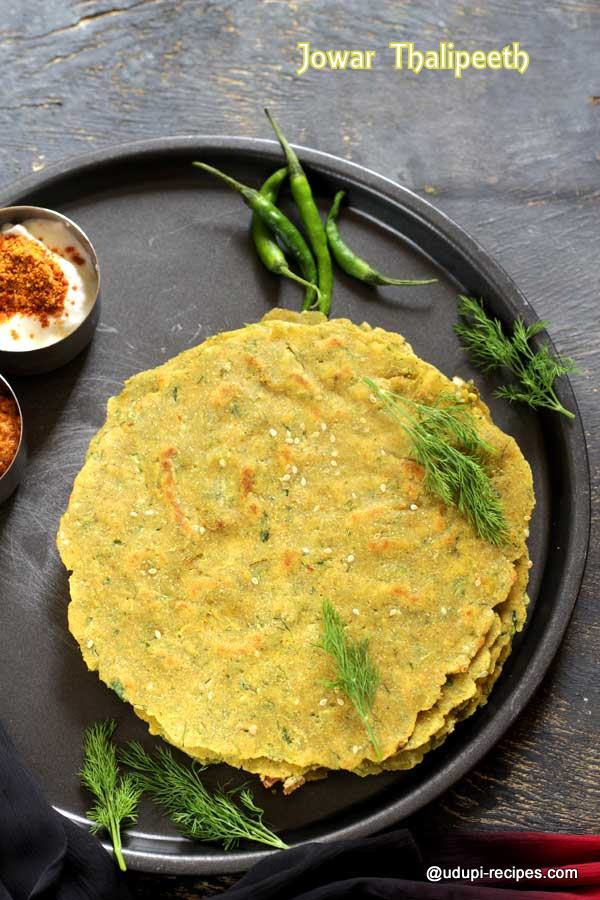 Jowar Thalipeeth | Sorghum Masala Flatbread
Ingredients
Jowar(sorghum) flour- 1 cup
Rice flour- 1/4 cup
Salt- 1 tsp
Cucumber(small sized)- 1 no.
Dill leaves- 1 small bunch
Green chillies- 2 nos.
Sesame seeds- 2 tsp
Coriander leaves- Handful
Turmeric powder- 1/2 tsp
Coriander powder- 1/2 tsp
Cumin seeds- 1/2 tsp
Instructions
Method

Wash and chop the dill leaves, coriander leaves and green chillies finely. Keep it aside. Grate the cucumber using a fine grater and transfer it to a wide bowl. Add all the chopped ingredients to this.
Add turmeric powder, salt, sesame seeds, coriander and cumin powder to the bowl. Give a quick mix. Then add both sorghum and rice flours. Mix well.
Next adding adequate amount of water knead a soft dough. Divid the dough in to equal siz portion and roll in to ball. Keep a ball over damp cloth and pat thin flatbread.
Damp your fingers while patting the thalipeeth so that it doesn't stick over. Next heat a chapati skillet and transfer the flatbread along with cloth, and slowly remove it leaving the thalipeeth behind. Apply oil and cook it covered both the sides.
Very very tasty jowar thalipeeth is ready to serve with a spicy chutney, yogurt topped with chutney powder.

Notes

Cucumber is very essential to thalipeeth as it gives awesome flavor.
You can include any greens of your choice to make it overly healthy.
Damping your fingers while patting eases your job.
https://udupi-recipes.com/2018/01/jowar-thalipeeth-sorghum-masala-flatbread.html
All the content in this website are © Copyrighted to – Udupi-Recipes