When nothing seems fit to be cooked as side dish, then look for some potatoes. Which is what I do. Because this root veggie can fit in all forms of food so very deliciously that no one can say 'No'. The potato food addiction actually starts from us as infants. Isn't so? When the baby teething begins signifying the time to introduce solid food, moms start with easy ones like mashed potato, potato with rice gruel and so on. My little son even today, likes boiled potato so much that everyday I keep a potato for snacking after school. As such, the liking for potato is almost in all ways of our life similar to the way I love this potato capsicum dry curry.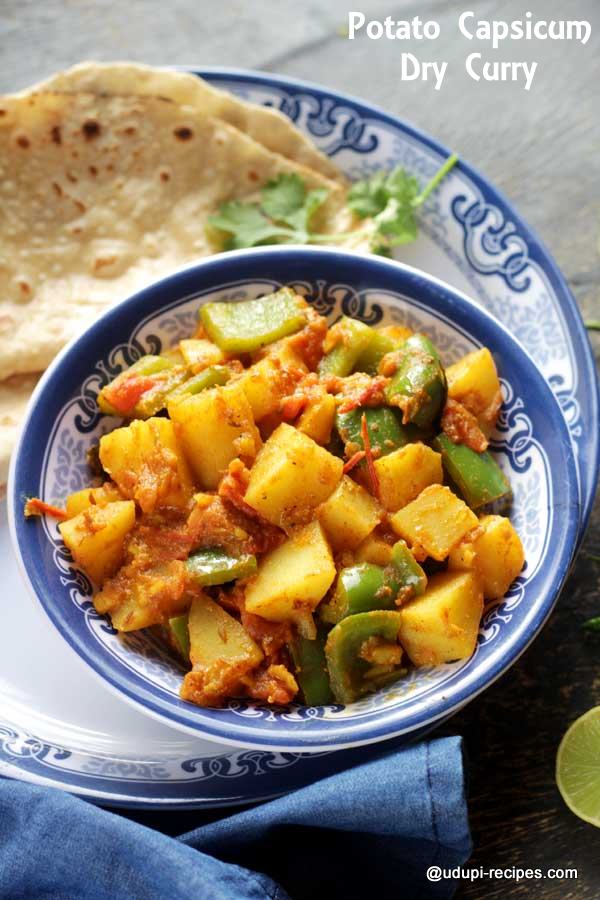 Potato and capsicum always get well with each other.  Capsicum flavors excellently match with that of potato and together they make a lip-smacking side dish. Which you can pair with chapati, poori and even with rice-rasam. I haven't included onion-garlic to whip up this awesomeness. But I leave that option to you readers. You make a choice, if your habit doesn't let you stay away from onion plus garlic, you can always have it in the first place soon after the tempering. I cooked this potato capsicum dry curry in purely tomato chunks that added nice tang taste to the curry.
So when you have a single capsicum lying in your pantry, either you can make capsicum chutney or put in to a side dish with potatoes. Both ways they are in best food of the time.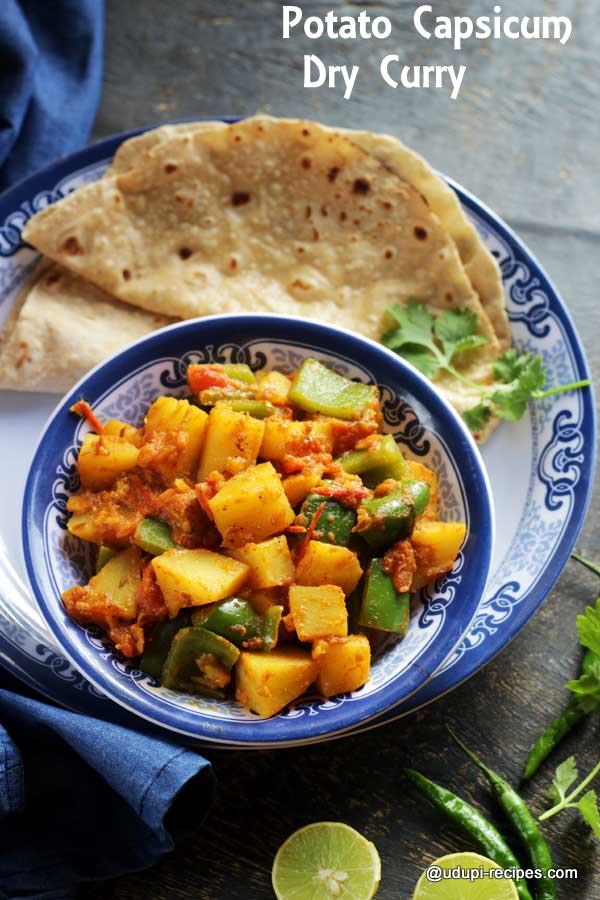 Potato Capsicum Dry Curry | Chapati Side Dish
Ingredients
Potato (medium sized)- 2 nos.
Capsicum (Big)- 1 nos.
Tomato- 2 nos.
Chopped ginger- 1 tsp
Turmeric powder- 1/2 tsp
Salt-1 tsp
Red chilly powder- 1 tsp
Cumin powder- 1 tsp
Coriander powder- 1 tsp
Garam masala- 1 tsp
Cumin- 1 tsp

To temper

Cooking oil- 1 tbsp
Curry leaves- Few
Instructions
Preparation

Peel off the potatoes and chop them in to big cubes, keep them immersed in water to avoid discoloration.
Chop the capsicum and tomatoes in to big chunks, keep aside till use.

Method

Heat a pan adding oil, cumin, curry leaves and chopped ginger. Saute for few seconds till the cumin crackle.
Next add tomato chunks. Stir and let it cook till tomatoes turn mushy. Meanwhile in a small bowl mix water with red chilly powder, coriander powder and cumin powder.
Add this spice powder mix to the pan and continue cooking. Next add the potato cubes, turmeric and salt. Keep it covered and cook till potatoes are half done.
Finally include the capsicum and garam masal powder. Let it cook till the potatoes are soft.
Easy and delicious potato capsicum dry curry is ready to serve with poori and chapati.

Notes

Add the capsicum, only when potatoes are half done. Because capsicum takes less time to cook.
The tomatoes give nice tangy-ness to the curry, if you like, you can include amchur powder too.
https://udupi-recipes.com/2018/01/potato-capsicum-dry-curry-chapati-side-dish.html
All the content in this website are © Copyrighted to – Udupi-Recipes