Gorgeous chana dal chutney!!
Cooking seems to be very simple and easy if chana dal chutney happens to be your first cooking debut. And your quest and enthusiasm doubles up if your debut recipe wins everyone's hearts. Isn't it? It probably happened with me when I was taking baby steps in kitchen world. Since the beginning had such a triumph, my passion towards cooking increased manifold. And it still continues eternally in me, food and deliciousness always entice me. Basically it is the food that can satisfy me than anything else for that matter. I love this dip with all my routine breakfasts like  mallige idli, akki rotti, dosa, shavige, neeru dosa and even with rice.  A bowlful of hot steaming rice with a dollop of coconut oil combined with a big spoon of chana dal chutney is an absolute bliss. Trust me. I mean it.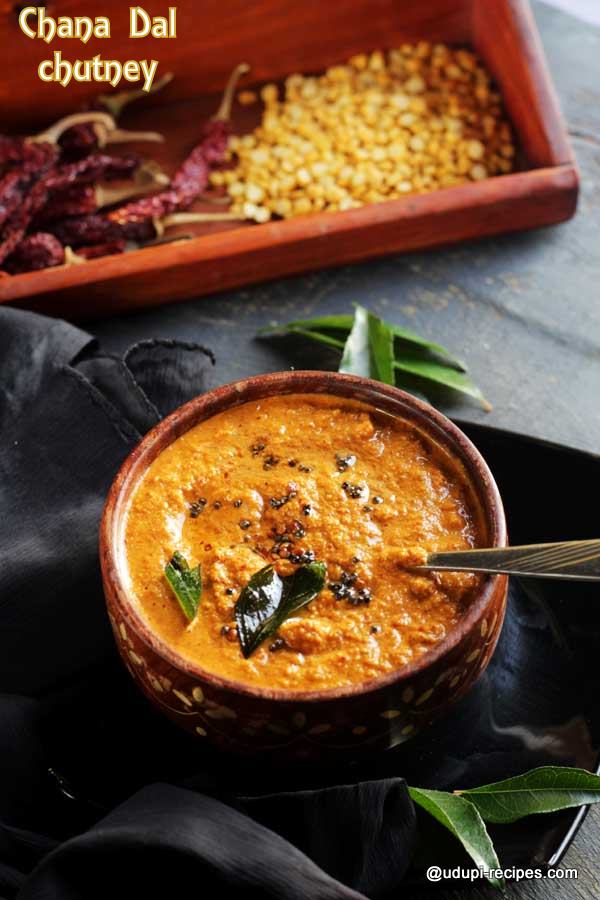 When you say chutney, it's the coconut that you need to look for at the first step. Ok, Ok. I know you can argue with me giving a list of coconut-free chutneys. But in my view, it's the coconut which is a perfect ingredient for a creamy, thick chutney. Coconut based dip is what the restaurants depend upon to make the breakfast  they serve, a delicious affair. I can't stress enough about coconut because I belong to a place where it goes in to most of the recipes.
Chana Dal Chutney | Kadale Bele Chutney
Ingredients
Bengal gram (chana dal)- 1/4 cup
Fresh grated coconut- 1/2 cup
Red chillies- 3 nos.
Tamarind- Marble sized
Salt- 1 tsp
Cooking oil- 1 tsp

To temper

Cooking oil- 1 tsp
Mustard seeds- 1/2 tsp
Curry leaves- Few
Instructions
Method

Heat a pan adding oil and bengal gram. In medium flame roast the lentils with constant stirring. When it's halfway done, include chillies, tamarind and curry leaves to the pan.
Continue sauteing till the lentils turn little brown and chillies puff up. Switch off flame once done. Transfer them in to a mixer jar, add salt, coconut and asafoetida. Grind together to little coarse paste with some water.
Extremely delicious chana dal chuntey is ready to serve with dosa, idli and even rice.

Notes

Do not let the lentils burn which may ruin the taste. Constantly saute till it slighlty changes color.
Adjust the spice as per your tastebuds. You can even use a green chilly to increase spice.
Since coconut is used, the chutney doesn't last longer.
https://udupi-recipes.com/2018/01/chana-dal-chutney-kadale-bele-chutney.html
All the content in this website are © Copyrighted to – Udupi-Recipes