Let me reach you through an authentic Udupi food which fits in both breakfast and meal category. It's neer dosa gasi. Don't go by the name of this recipe, whose name seems like a curry. But it isn't actually.  Let me explain. It starts with the basic breakfast a soft, melt in mouth textured neer dosa that eventually goes in to thick, intensely red colored coconut gravy.  So the basic version of dosa paired with chutney and sambar isn't here. Instead, a bright colored coconut plus spice base takes in the broken neer dosa pieces. These bites of dosa infused with spice flavors taste way too yummy. So in a nutshell, it's a complete meal or breakfast whatever you dream off!!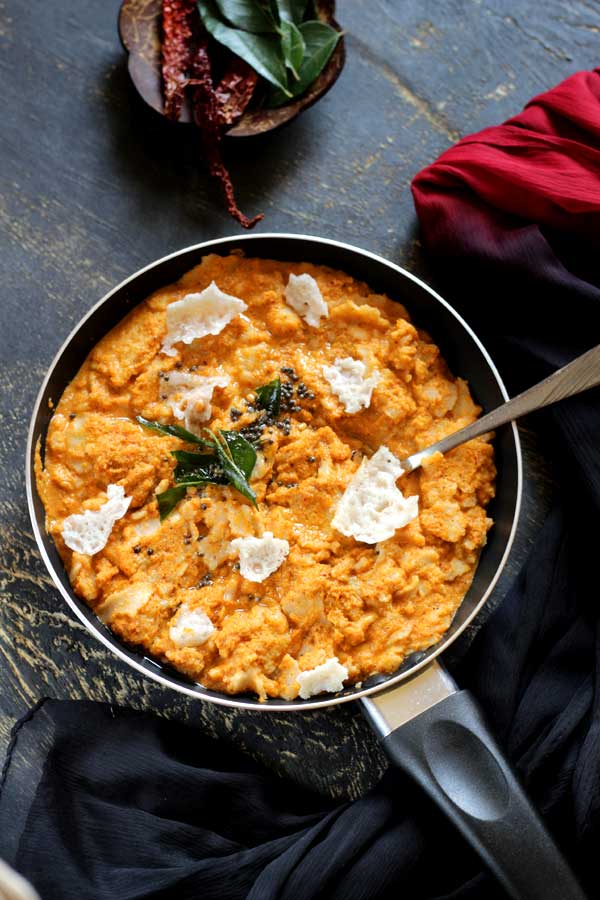 Neer dosa gasi may be for those guys who don't even love eating thin paper like soft dosa dipping in coconut chutney. There are certain people who I know, don't consider this dosa as a breakfast at all. So for those of you who fall in this "don't-like" "hate-neer-dosa" category, this recipe is perfect. Because it tastes amazingly tasty guys. I mean it. This is what I call, well presented food in lovable form. So your kids feel the difference for sure.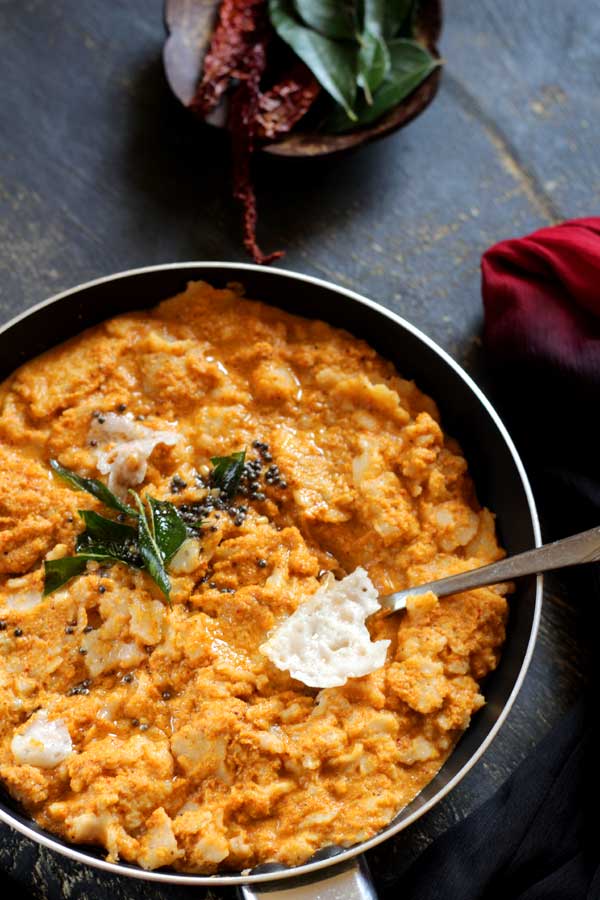 Neer Dosa Gasi | Rice Dosa in Coconut Gravy
Ingredients
Rice- 2 cups
Fenugreek seeds- 1 tsp(optional)
Fresh grated coconut- 1 Cup (pressed)

For gravy

Fresh grated coconut- 1 cup
Red chillies- 2 nos.
Coriander seeds- 3 tsp
Cumin seeds- 1 tsp
Tamarind- Marble sized

To temper

Coconut oil- 2 tsp
Mustard seeds- 1 tsp
Curry leaves- Few
Instructions
Preparation

Rinse rice and fenugreek seeds with enough water and soak for at least 4 hours. You can even soak for overnight.

Method

Drain the water from soaked rice, transfer it to a mixer jar. Add coconut and a cup of water. Grind together to fine puree. Transfer in to big vessel.
Add 2 to 2.5 cups of water to this batter to make it very thin. Include salt and give a mix.
Heat a dosa griddle smearing enough oil. When it gets heated, spill the batter over it such that thin batter coating covers the griddle completely.
Let the dosa cook covered with lid for few seconds. Next carefully loosen the edge using a flat spatula and remove the dosa. Repeat the process with rest of the batter. Light, thin paper like neer dosa is ready.
Next to prepare the coconut gravy, grind coconut, coriander, cumin seeds, tamarind, salt and red chillies together. Include some water to grind fine puree.
Cook the coconut puree in a pan for few seconds. Meanwhile break 4 neer dosa in to pieces and keep ready.
Next add the pieces in to gravy and continue cooking for few seconds and switch off.
Heat a tempering pan adding all the ingredients under "To temper" list, as the mustard seeds sizzle pour over neer dosa gasi. Neer dosa gasi is ready to serve as breakfast or meal.

Notes

Soak the rice for enough time otherwise it doesn't grind to fine batter.
Fenugreek seeds are optional but it helps in obtaining soft dosa. You can skip adding it.
The quantity of water to be added depends upon the quality of rice used for making dosa.
The dosa griddle should be hot enough before making dosa.
I recommend smearing the griddle with gingelly oil. Because this oil doesn't let the dosa to stick to the griddle. And you can easily loosen it to remove.
https://udupi-recipes.com/2018/02/neer-dosa-gasi-rice-dosa-coconut-gravy.html
All the content in this website are © Copyrighted to – Udupi-Recipes