This one is classic, staple food of Udupi – Mangalore. Neer dosa or neer dose is very thin, light pan cake made using rice batter. Be it breakfast or dinner we all love this dosa to the core. You never satisfy eating only 2 or 3 dosa because they aren't filling. You can easily eat more.
Neer dosa needs only 3 ingredients. Rice, coconut and salt. That's it. Rice is soaked for 3 to 4 hours. You can even soak overnight. Then ground with coconut and water to a thin, watery batter. It should be of pouring consistency.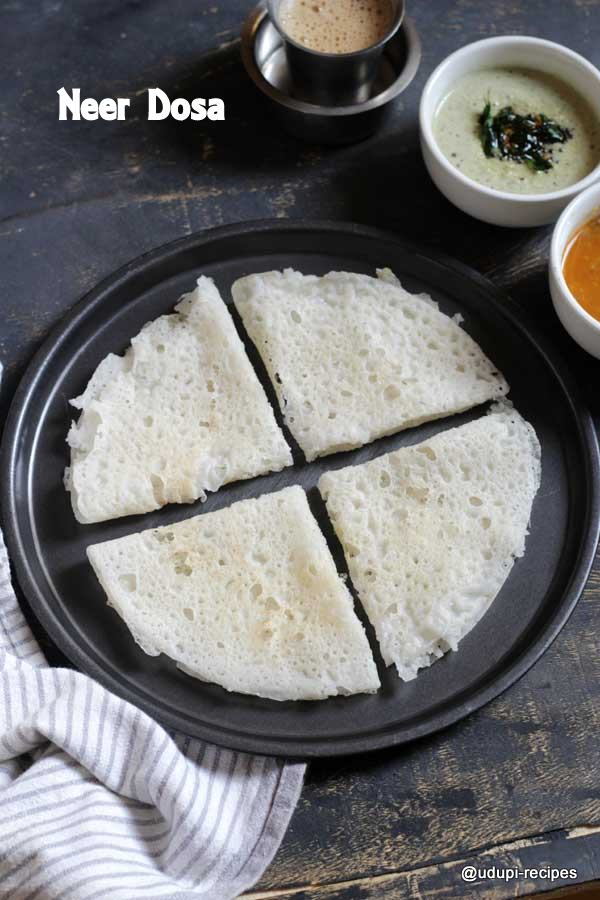 Pouring neer dosa over griddle is also tricky. Because unlike normal dosa, you need to spill it all over the griddle. The flame need to be medium high and neer dosa gets cooked fast. The lacy textured, thin dosa is loosened along the edges and removed. No need to cook the other side. EASY!!
It tastes too delicious with coconut plus jaggery mixture. Coconut chutney, mango rasayana can also be served as side dishes. Plenty of options to relish neer dosa. Just give a try.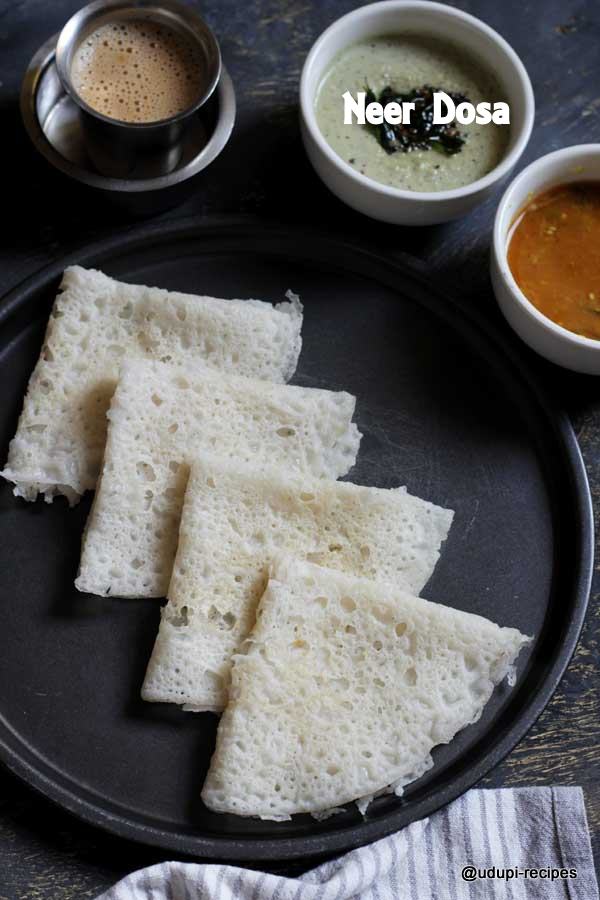 Neer dosa | Neer dose | Neeru dose recipe
Ingredients
Ingredients

Dosa rice - 1 cup
Fresh grated coconut- 1/4 cup
Salt- 1 teaspoon or to taste
Oil - enough to cook
Instructions
Method

Soak a cup of dosa rice for 3 to 4 hours. Rinse and drain all water from soaked rice. Transfer it to a mixer.
Add coconut and half cup of water to it. Grind them together to fine puree.
Transfer to a wide bowl. Adjust consistency by adding water. This batter should be very thin like butter-milk.
Next, heat a dosa griddle and pour batter just like you spill over. Cover entire griddle as thin as possible. Cook for 2 minutes and then loosen the edges to remove. It's not necessary to cook the other side.
Repeat the process with rest of the batter. This dosa can be served with coconut chutney, coconut plus jaggery mix.

Notes

The batter should be ground very smooth.
The consistency should be like butter milk. It doesn't need fermentation. You can make instant dosa.
Use sesame oil to grease the dosa griddle. Sesame oil helps to remove the dosa easily from the griddle.
https://udupi-recipes.com/2012/09/neeru-dosaneer-doseneeru-dose-recipe.html
All the content in this website are © Copyrighted to – Udupi-Recipes