Today Sunday, the weekend which sometimes relaxes the mind and soul but turns to be scary also at times. Because I had been a full time employer for 9 years of my life and I am pretty aware of the joy that a weekend brings and the challenge too. The weekend morning itself begins in slow-steady pace with good night's sleep extending for more than an hour.  We all super moms playing dual role in both office and home, have to take care of Weekend special cooking. Which is the most exhausting feeling for any employed woman according to me. Because friends, I was in your team few years back and I have gone through this phase. Though all the wonderful women out there sacrifice a day's relaxation for the sake of kids food cravings, sometimes it tends to be heavy. So for such days best option is plain rice-rasam and a veggie stirfry.  Though radish isn't my favorite veggie, I love radish stirfry made in Udupi way.
Simple rice-rasam and radish stirfry is my simplest way of cooking lunch when body and mind demands relaxation. Because a day of reduced kitchen hours can induce a week full of energy and cooking interest in me. REST works really like a magic and I wish more such days in your busy schedule dear ladies.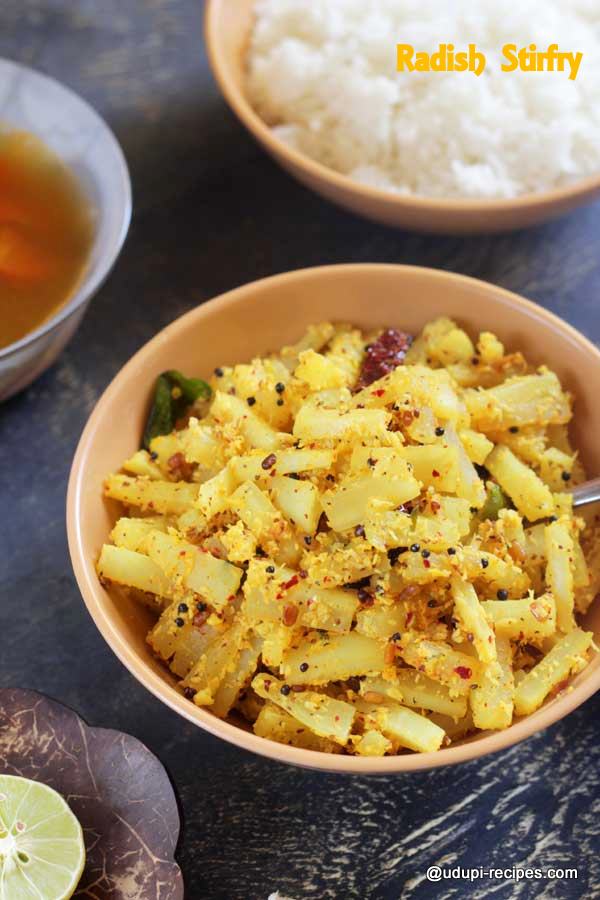 The radish stirfry has basically minimum spices with straight forward recipe. Looking at the title of the post you must have already guessed the ingredient "coconut" in it. Obviously Udupi style stir fry has the coconut that is minced with mustard seeds and red chilly which makes the food all flavorful.
So lets join on lunch table with a plateful of rice-rasam with a radish stirfry to pair and celebrate the weekend as true relaxation day, lazy day or less-productive day!!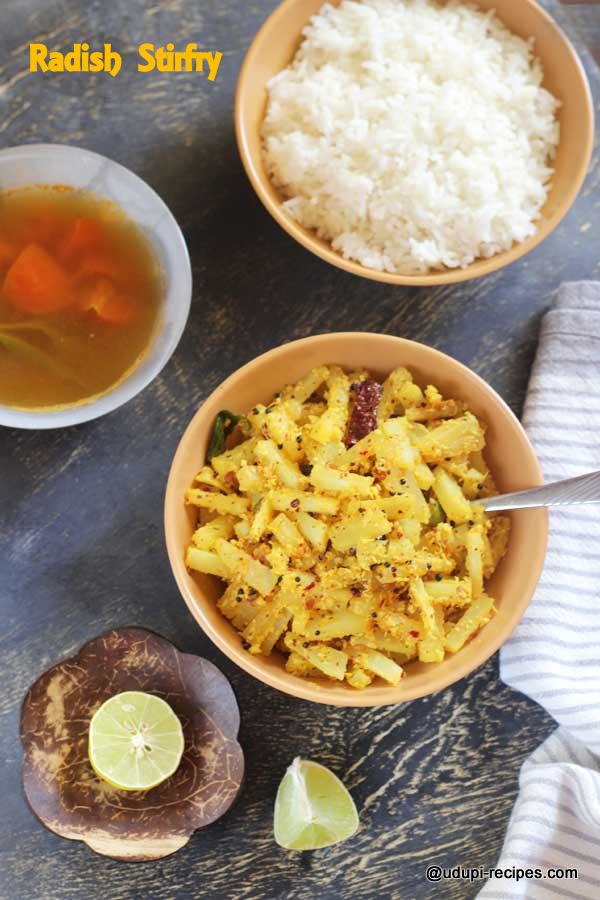 Radish Stirfry | Moolangi Palya in Udupi Style
Ingredients
Tender Radish (medium sized)- 3 nos.
Turmeric powder- 1/4 tsp
Salt- 1 tsp
Jaggery powder- 1 tsp
Fresh grated coconut- 2 tbsp
Mustard seeds- 1/2 tsp
Red chilly- 1 nos.
Tamarind - A small piece

To temper

Cooking oil- 2 tsp
Mustard seeds- 1/2 tsp
Split blackgram lentils- 1/2 tsp
Curry leaves- Few
Instructions
Method

Wash the radish under running water scraping the mud if any. Chop it in to 1" long strips. Keep it ready.
Next heat a cooking pan adding all the ingredients under list "To temper". Let the mustard seeds splutter and sizzle. Then add chopped radish, jaggery, turmeric powder and salt. Saute for while. Add half cup of water and let it cook.
When the radish is cooking, add coconut, mustard seeds, tamarind and red chilly to the mixer jar. Grind them together to coarse paste without adding water. Add this paste to cooked radish and mix thouroughly.
Radish stirfry is ready to serve with rice-rasam.

Notes

Do not add too much water to cook the radish pieces. Because this stirfry needs to be dry.
For more spice, increase the chillies or you can even add green chilly.
https://udupi-recipes.com/2017/12/radish-stirfry-moolangi-palya.html
All the content in this website are © Copyrighted to – Udupi-Recipes