In this holiday season I am up with my new food obsession like my true self of food blogger, that is peas masala dosa. A breakfast which is conventional yet with a fancy masala on side. As the kids are holidaying in this mild-winter weather, I do some overcooking or fancy cooking to keep them snacking all the time. Because food can really impress the kids keeping mom happy for that day. And in that way, peas masala dosa has achieved quite fascinating impression. Which is why the same breakfast appeared twice in a row and nobody could even notice the repetitive food on breakfast table.
So as the crazy December month is ending in just 4 days and I feel grateful to have this scrumptious food of choice for the upcoming NEW YEAR. And I keep my fingers crossed for the new, extremely delicious food magic which is going to happen in my kitchen in 2018.
This easy going recipe has cute green peas (you can use either dry, fresh or frozen). I chose the dry peas which are soaked overnight and that makes them ready to cook. In latter case you can skip the step of soaking because fresh or frozen peas are already soft enough and in the state of ready to cook. I would recommend using pressure cooker to cook the soaked peas which otherwise takes long enough on stove top. Once you finish this part, you barely need 15 minutes to keep the breakfast ready on table.
The 3 main flavors which I loved in peas masala dosa is of fennel seeds, garam masala and coriander powder. Because these three dominate enough in your mouth and makes you crave often for the same. So I hope to see this wonderfulness in your home in the new year 2018 because I know you are like me!!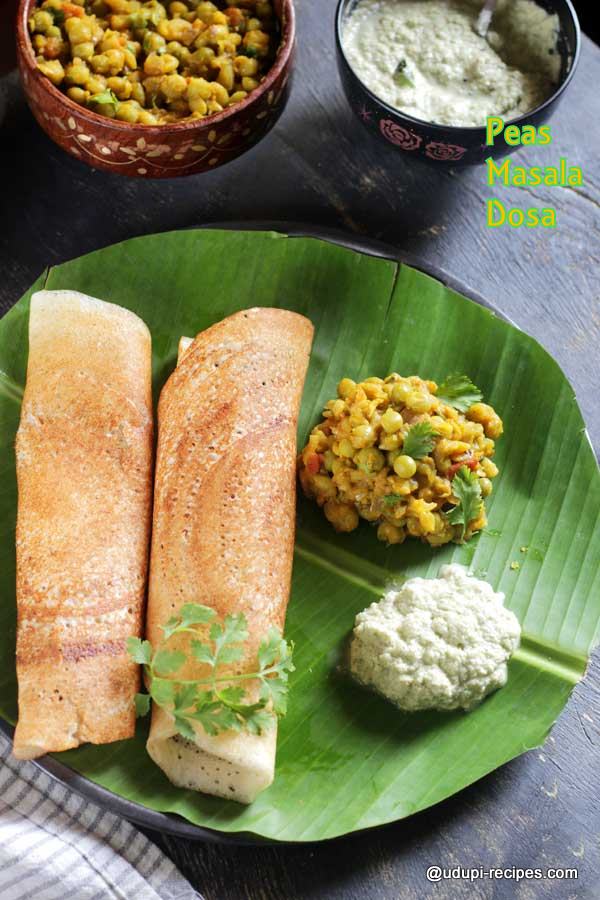 Ingredients
Dosa batter- 8 ladlefull
Dry peas- 1/2 cup
Onion- 1 no.
Tomato- 2 nos.
Chopped ginger- 1 tsp
Salt- 1 tsp
Turmeric powder- 1/2 tsp
Red chilly powder- 1 tsp
Garam masala- 1 tsp
Coriander powder- 1/2 tsp
Coriander leaves- handful

To temper

Cinnamon stick- 1" piece
Fennel seeds- 1/2 tsp
Cumin seeds- 1/2 tsp
Cooking oil- 2 tsp
Instructions
Prepartion

Soak the dry peas for 6 to 8 hours or overnight using enough water.
Peel off the onion and chop it finely. Similarly chop the tomatoes also in to fine cubes. Keep aside till use.

Method

Pressure cook the peas for about 3 whistles in medium flame. And let it cook further in simmer for about 5 minutes. Let the pressure subside.
Heat a cooking pan adding oil, cinnamon, fennel seeds and cumin. Saute for a while till the cumin changes color. Then add onion and ginger.
Continue sauteing until the onions turn translucent. Next add the tomato. Continue cooking further till tomatoes turn soft. Add in turmeric powder, red chilly powder, garam masala, coriander powder and salt. Mix throughly.
When the spices make the tomatoes saucy, add pressure cooked peas. Combine well and cook for few more minutes. Finally garnish with coriander leaves. Peas masala is ready.
In order to make dosa, heat a dosa skillet smearing oil. Pour a ladle full of masala dosa batter at the center, spread it in circular motion like masala dosa. Drizzle some oil and let it cook. After few seconds place peas masala over dosa and serve.
Very delicious peas masala dosa is ready to serve with coconut chutney.

Notes

Let the dry peas soak for good hours so that it cooks perfectly soft. Otherwise peas doesn't get cooked easily.
You can even use fresh peas in which case you don't need to soak or pressure cook. Fresh peas get cooked easily in pan along with tomato.
The fennel seeds used in tempering gives unique flavor, so don't skip it.
Adjust the spices as per your personal preferences.
Do not add extra water, the pressure cooked peas would have enough water content which enough for the masala.
https://udupi-recipes.com/2017/12/peas-masala-dosa-recipe.html
All the content in this website are © Copyrighted to – Udupi-Recipes