Hello friends!! It's the moment to be grateful for all the joy the year 2017 has offered to us. And it's also the time to look back at the failures and lessons learnt so far in this year. The year that passed might have put you down with sorrows and worries, but it's time for us to be hopeful. Because life has to move on like a river indulging each happiness and sadness that comes our way. Hence I take this moment to thank you all readers who kept my food blog going with your increased engagement. The regular comments,  feedback  and queries keep me live and helps to proceed with new food creations. So thank you and Wish you HAPPY NEW YEAR 2018 through this wonderful snack chana dal vada.
Delicious can be simple and easy. Chana dal vada using dill leaves is just an example. But I cannot call it as an instant snack just because it needs bit of planning. Planning to soak the lentils ahead of few hours is quite essential.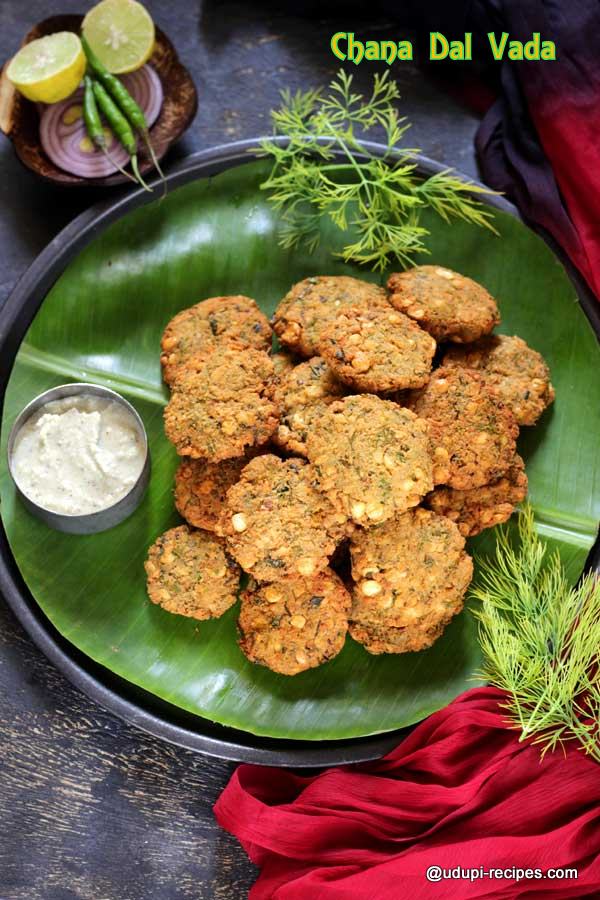 Two things to keep in note: a) Soaking for some good hours and b) Draining off the moisture. If the lentils aren't drained, if it happens to be slightly watery then no wonder you end up with soggy vada. So keep a check on this note. As you take care of this stuff, the chana dal vada is just a cakewalk. Ample amount of dill, curry and coriander leaves keep the snack green-y and delicious. And the hot green chillies are prominent which gives it kick of spicy-ness for this Winter. You can find similar version of this snack posted earlier in the name of chattambade.
So with this pretty crispy snack I will say Good bye to 2017, thanking from the bottom of my heart for all the lovely moments in my life. May the new year bring you all happiness and joy.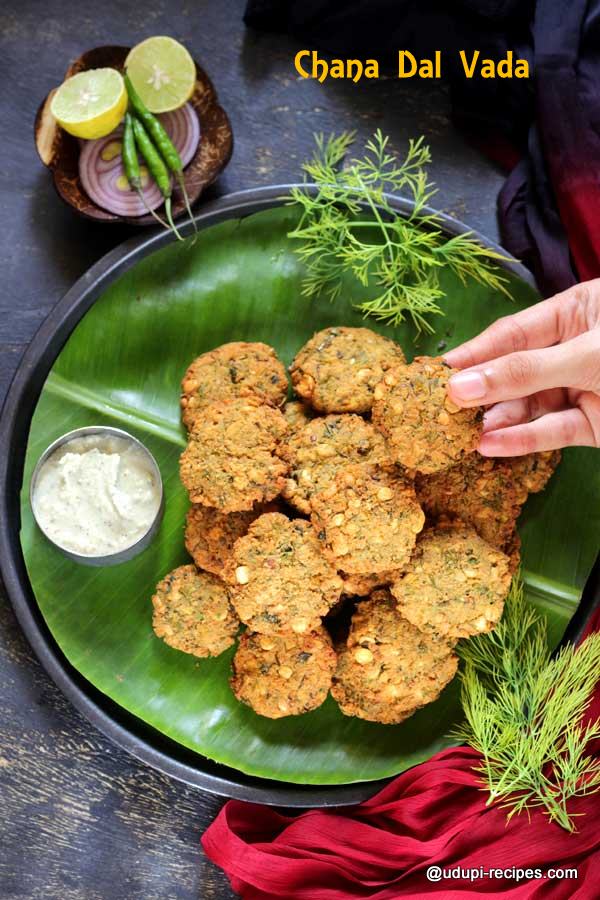 Chana Dal Vada using Dill Leaves
Ingredients
Chana dal(chickpea lentils)- 1 cup
Dill leaves- 1 bunch
Green chillies- 3 nos.
Salt- 1 tsp
Curry leaves- Handful
Coriander leaves- Handful
Cooking oil- Enough to deep fry
Instructions
Preparation

Soak the lentils with enough water at least for 3 hours. Chop all the greens very finely including green chillies.

Method

After soaking the lentils, it would have turned really soft. Drain off the water completely and using mixer grinder grind it to coarse paste.
In a wide bowl transfer the ground lentils. Throw in chopped dill leaves, coriander leaves, curry leaves, green chillies and salt. Mix everything very well.
Take lemon sized mixture in hand and shape it like a ball, then flatten using your fingers. Keep a batch of vadas ready.
Heat oil in a heavy bottom wok and when it's hot enough, drop 3 to 4 vada in it. Fry them till the color changes to little brown. Once done, using a slotted ladle remove them from oil.
Very delicious chana dal vada is ready to serve along with cup of hot tea.

Notes

Soak the lentils not less than 3 hours otherwise it will not grind perfectly.
Drain the water completely from the lentils, you can even spread them over cotton cloth to remove the extra moisture.
More moisture makes the vada turn soggy soon. So ensure it is drained and dry.
The vada tastes good when it is bit spicy. So use enough green chillies.
To check the oil temperature, drop a pinch of lentil mixture in to oil. If it raises to the top immediately, the oil temperature is perfect.
https://udupi-recipes.com/2017/12/chana-dal-vada-using-dill-leaves.html
All the content in this website are © Copyrighted to – Udupi-Recipes