Let me welcome the New Year with a sweet thing which is extremely soft inside but seems crispy from outside. It's sweet pumpkin gargi, which looks like a doughnut but actually is a traditional recipe of North Karnataka. Extremely good, absolutely delicious and just melts in mouth. Yum is the only word that can define this super sweet pumpkin gargi. You can relate this sweet thing with typical Kajjaya, a well known dessert of Diwali. The texture and looks are similar but recipe is super easy and foolproof. Hence unlike Kajjaya, the chances of messing yourself with gargi recipe is far remote.
I was super excited to make the good use of sweet pumpkin which was way larger than usual and occupied the entire shelf of my refrigerator. Though I bought only half portion of a mammoth pumpkin, it was extremely big for my small family.  And I was very sure that I cannot clear the veggie off making curry or chutney in a row. So back in my mind I was going through all the super yummy pumpkin recipes  of the world and landed up choosing a sweet that is easy but equally delicious.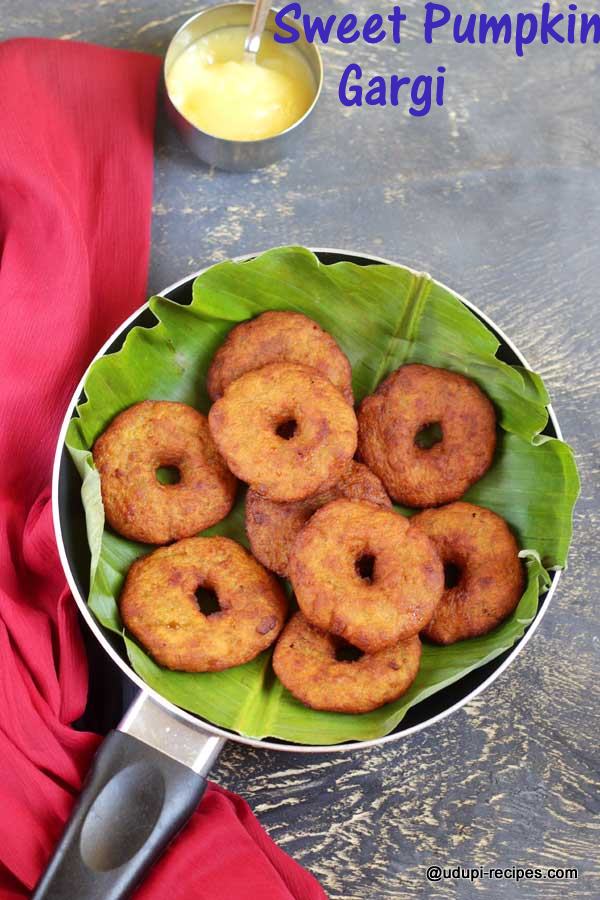 Pumpkin in itself has most of the sweetness which is why I used less jaggery than necessary. But gargi tasted perfectly sweet to my mouth and loved the texture offered by grated pumpkin. You can even chop the veggie in to chunks in order to cook with jaggery. But in that case, you may have to literally mash it up. If you would like to grate the pumpkin like me, the texture inside the gargi would surely surprise you.
If you have some extra pumpkin and you are keen to turn it in to a snack, then gargi can be the best option. Kids would definitely enjoy it as after-school snack.
Check the Video here: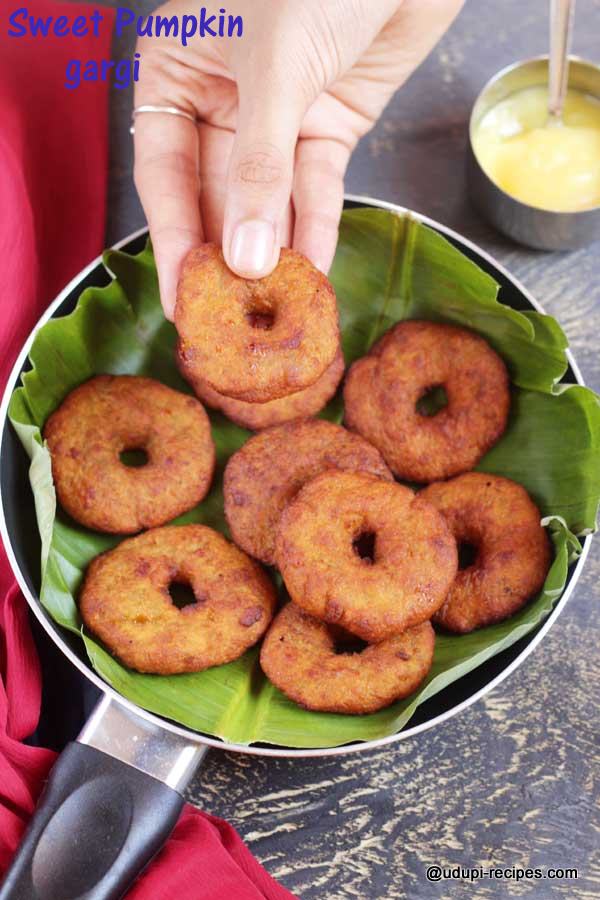 Sweet Pumpkin Gargi | Kumbalakayi Kajjaya
Ingredients
Sweet pumpkin- Small piece
Powdered jaggery- 1/2 cup
Wheat flour- 3/4 cup
Cardamom powder- 1/2 tsp
Cooking oil- Enough to deep fry
Instructions
Preparation

Peel off the sweet pumpkin and scoop out the seeds. Grate the thick kernel using a fine grater. Measure 1.25 cups of grated pumpkin and keep it aside.
Heat a pan adding grated pumpkin and powdered jaggery. As you cook it in medium flame, the jaggery melts and mixture turns thin.
Continue cooking till the pumpkin cooks completely in jaggery and comes together as thick mass. Reduce flame to low now.
Next include wheat flour and mix well. This mixture forms a dumpling that is thick yet soft. You can increase or decrease amount of wheat flour as needed.
Take a spoonful of this mixture, shape it in to a lemon sized ball and flatten it.
Make small hole at the center and keep a batch of such gargi ready. Heat a heavy bottom wok with enough oil.
When the oil heats up, carefully drop gargi in it. In medium flame fry them till they turn golden brown. Once done, remove from oil and drain the excess oil over kitchen tissue.
Very soft and mildly sweet pumpkin gargi is ready to serve as dessert.

Notes

Do not add water to cook pumpkin. Melted jaggery is enough to cook it.
Do not add wheat flour when pumkin is still thin and watery. Let it cook completely and turn like a thick mass.
Adjust the quantity of wheat flour to get the dumpling of right consistency.
While frying the gargi, the flame should be medium otherwise gargi doesn't get cooked inside.
https://udupi-recipes.com/2018/01/sweet-pumpkin-gargi-kumbalakayi-kajjaya.html
All the content in this website are © Copyrighted to – Udupi-Recipes