It's just me and this simple barnyard millet set dosa. Breakfast or dinner: we're talking about millet goodness that meets the completely fluffy and porous set dosa. These thick pancakes are absolutely health meets taste kind of food. Because you never know what they made up of just by tasting it. The look and taste is just same as the conventional set dosa made from RICE. But in reality these have millets which said to be better cereals than RICE and so I am discovering more and more recipes out of them. On top of that, I have many readers who actually look for diabetic friendly recipes. The other day when I was scanning the keywords through which traffic landed up to my blog, the term caught my eye is "diabetic friendly recipe". I appreciate the Google Search Console for giving us, the bloggers, insight on how people land up to our blog. On the basis of which we can take action. And hence here comes barnyard millet set dosa, a true diabetic friendly recipe.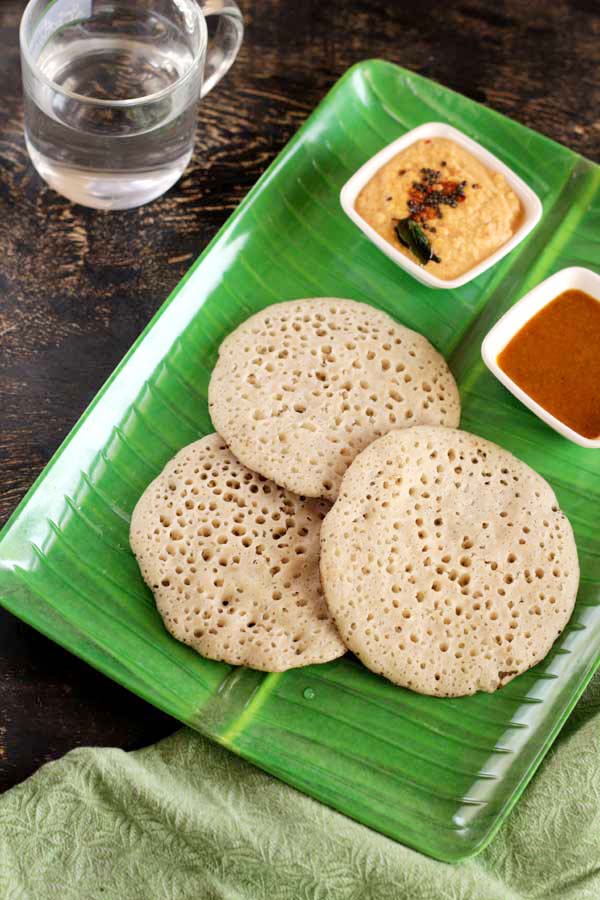 The recipe isn't new to you all my friends!! Because you are extremely talented foodie friends of my web world. So the basic idea here is to replace rice by millets. I have chosen barnyard millet which is also known as "OODALU" in Kannada. The proportion of ingredients is as important as the fermentation period here. Well fermented batter can only provide the really soft and porous set dosa. The texture on top is holey and spongy where as the bottom gets golden brown to give visual treat to food lovers. You can even check barnyard millet idli to make healthy breakfasts in a row to empty the stock of millets.
Let me also know how creatively you have used your batch of millets!! Happy cooking!!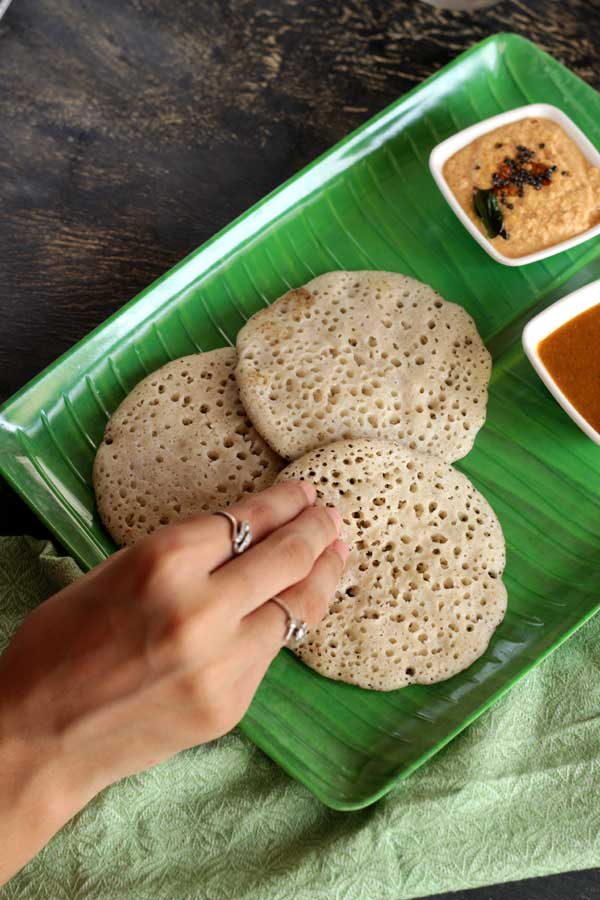 Barnyard Millet Set Dosa | Diabetic Friendly
Ingredients
Barnyard millet- 1 cup
Thin rice flakes- 1/2 cup
Split blackgram lentils- 1/4 cup
Fenugreek seeds- 1 tsp
Salt- 1 tsp
Cooking oil- 3 tbsp
Instructions
Preparation

Rinse the millet with enough water twice and then soak it for at least 4 hours. Similarly rinse the blackgram lentils and fenugreek seeds, soak them also for 4 hours.
Just before grinding, soak the rice flakes in enough water for about 10-15 minutes.

Method

After soaking, the millet would be turned soft. Take it in mixer jar and grind to fine puree adding water as needed. Transfer the batter to a wide bowl.
Next in the same mixer jar add soaked lentils, fenugreek seeds and rice flakes. Grind them together along with required water. Transfer this batter as well to the same bowl. Mix thoroughly and let it ferment for about 8-10 hours.
Next morning after good hours of fermentation, the batter would have raised. Adding salt mix it well. Heat a dosa skillet smearing oil, as it gets heated pour a ladle full of batter at the center.
Do not spread the batter, drizzle some oil over it and cook coveing with lid. You can find the set dosa with nice porous texture on top. Carefully remove from the skillet and continue with rest of the batter.
Soft and healthy barnyard millet set dosa is ready to serve with coconut chutney and sambar of your choice.

Notes

The batter should be of dosa batter consistency.
Good hours of fermentation is important for soft set dosa. In warm area it may take 8-10 hours to get ferment and in colder regions few more hours are required.
It's not necessary to cook the other side of set dosa.
https://udupi-recipes.com/2017/12/barnyard-millet-set-dosa-diabetic-friendly.html
All the content in this website are © Copyrighted to – Udupi-Recipes