The onset of Winter in UAE has reinforced the cool, windy, picnic friendly weather. Followed by such cozy weather it's the drizzling rain which often accompany making the life more pleasant. Right now it's the same pleasant life situation here. It's been raining here in small bursts of drizzles since two days and the remote mountains are visible more clear than ever. So today weather influenced food, a deep fried snack is showing up here. Guess what? Stuffed onion ring. The crunchy onion with spicy, flavorful stuffing wrapped in the coating of gram flour tastes way more delicious along with tea in a windy weather.
The concept of stuffed onion rings is quite new to me. It was the simple onion pakoda for which my cravings roar during cloudy weather. But yesterday I thought to be bit fancy in my snack cravings. So a recipe which I read long back in a news paper came to my rescue. The stuffing is truly best part of this snack which you can tweak in accordance with your own taste buds. Like add in little this and that. The spices like garam masala, coriander powder and some mint leaves would be best taste enhancers.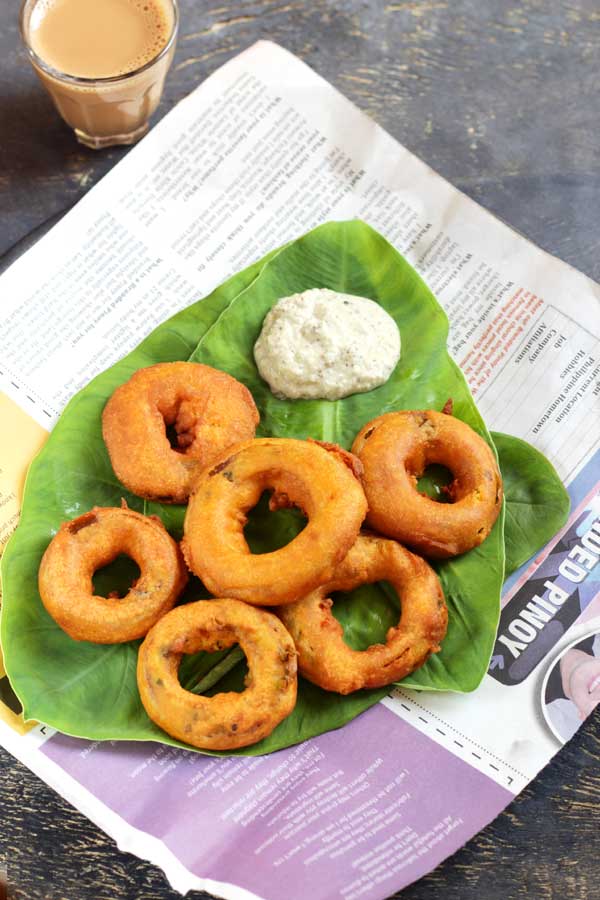 When such a spicy plus flavorful stuffing fits in between the onion rings, the snack gets a visually appealing texture. Be wise to choose the onion ring pairs such that smaller one pass through big. You need to stuff between two concentric onion rings which would be deep fried later with gram flour coating. Stuffed onion ring was quite a hit in the drizzling rainy evening and my mind is in look for another such snack for the upcoming winter days.
What are your favorite deep fried snacks for any winter or rainy days? How do yo enjoy it with your family? Let me know.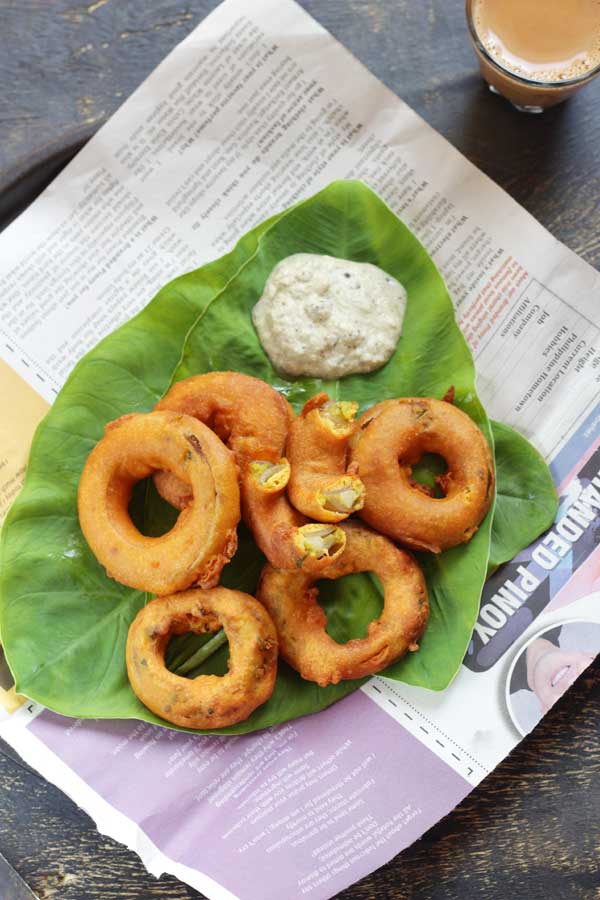 Stuffed Onion Ring | Stuffed Onion Pakoda
Ingredients
Onions big - 2 to 3 nos.
Cooking oil- enough to deep fry

For stuffing

Potato- 2 nos.
Salt- 1 tsp
Turmeric powder- 1/2 tsp
Chopped ginger- 1 tsp
Chopped green chillies- 1 tsp
Curry leaves- few
Chopped coriander leaves- handful
Cooking oil- 1 tsp
Cumin seeds- 1/2 tsp

For batter

Gram flour- 1/2 cup
Rice flour- 1/4 cup
Salt- 1/2 tsp
Red chilly powder- 1 tsp
Turmeric powder- 1/4 tsp
Water- As needed
Instructions
Preparation

Pressure cook the potatoes till soft, peel them off and mash it well as lump-free dough.

Method

In a tempering pan, add oil, cumin, chopped ginger followed by green chillies. Saute them together for few seconds. Transfer this to mashed potato. Add salt, turmeric powder, chopped coriander and curry leaves too. Mix well and keep it aside.
When the stuffing is ready, prepare the batter. In a wide bowl take gram flour, rice flour, salt, turmeric powder and red chilly powder. Give a quick mix. Adding water incrementally, prepare medium thick batter.
Next peel off the onions and cut each one in to 3 thick roundels. Separate the rings. Take a pair of a big and small onion ring.
Keep the small onion ring inside the big one and fill the prepared stuffing between rings. Get a batch stuffed onion rings like this.
Next heat enough oil in a heavy bottom wok / kadai. Carefully dip the stuffed onion ring in to gram flour batter such that batter coats the ring. Drop it in to hot oil.
In medium flame deep fry these rings until golden brown. Once done, carefully remove from oil and drain over kitchen tissue. Repeat the process with all the onion rings.
Spicy stuffed onion rings are ready to serve with a cup of coffee/tea.

Notes

Choose the onions that are big and round. Do not cut them in to too thin roundels. In that case stuffing would be difficult.
Pair the onion rings such that small ring fits inside the big one. So that you can easily stuff.
You can make variations in the stuffing by adding garam masala and mint leaves etc.
Keep the gram flour batter medium thick so that it coats well over stuffed ring. Otherwise it just flow off from rings.
https://udupi-recipes.com/2017/12/stuffed-onion-ring-stuffed-onion-pakoda.html
All the content in this website are © Copyrighted to – Udupi-Recipes