Puffed rice, any time, all time snack. This was the case which happened to be so very common in my childhood. It's a versatile snack for all occasions in Northern part of Karnataka. So during my schooling days I must have tasted spicy puffed rice at all my friend's homes. Because this crispy, time pass snack is always, permanently stocked in every body's house there. It's a kind of routine to reserve it ongoing basis either to serve any unexpected guests, or to kids who by law demand snacks more than often or to whomsoever feels like snack-hungry. In all the cases spicy puffed rice proves to be versatile enough.
There are hundred of ways to serve this spicy puffed rice or kara pori and jazzy flavors just blow you up. In it's simplest form plateful of puffed rice is topped with lots of raw onion. Onions some times double up the spice of puffed rice. So those spice lovers always welcome it this way.  My personal preference is combo of puffed rice plus nylon sev. The perfect winter-snack, travel-snack that fits in my picnic bag often. In a way to raise the nutrition value of spicy puffed rice, sometimes I top it with cabbage, grated carrot and cucumber bites. It feels like I am eating wholesome, nutri-rich food of the day. Traditionally, in North Karnataka it is also paired with mirchi bajji.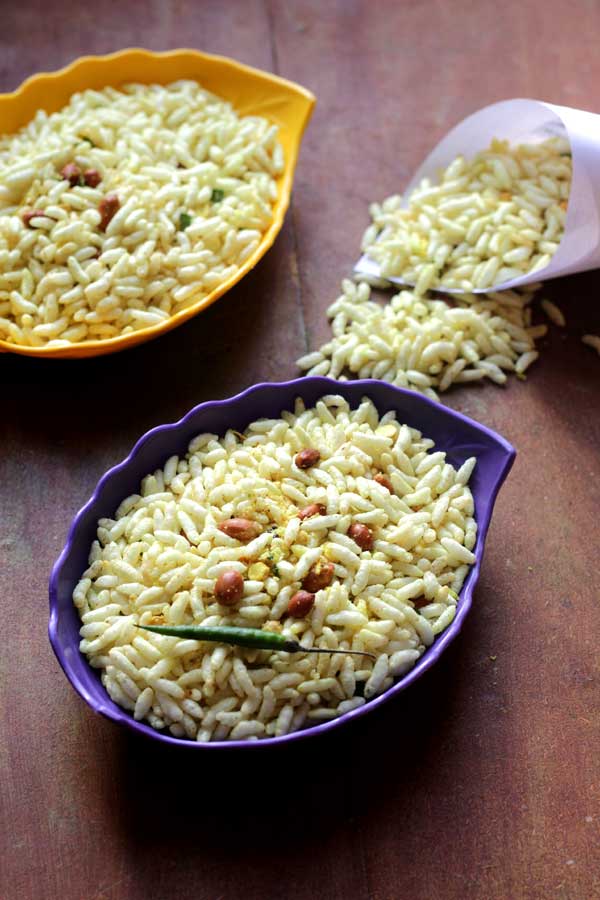 The recipe I have given here is true, authentic version of North Karnataka style puffed rice. The spice kick is through green chillies but alternatively you can use red chilly powder. The peanuts, roasted gram would just increase the crunch factor. You can add on cashews too.  Next time when you plan for a picnic, don't forget to carry a bag full of this yumminess. You'll love it for sure.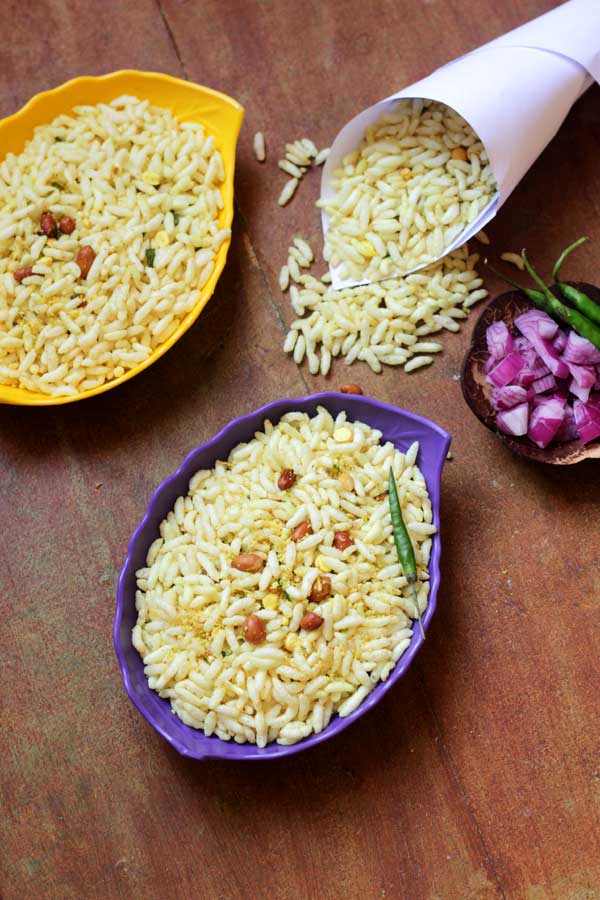 Spicy puffed rice | Kara pori | Churmuri Oggarane
Ingredients
Puffed rice (mandakki)- 4.5 cups
Peanuts- 1 tbsp + 1/4 cup
Roasted gram- 1 tbsp + 1/4 cup
Green chillies- 2 nos.
Garlic cloves- 2 nos.
Turmeric powder- 1/2 tsp
Salt- 1.5 tsp
Sugar- 1 tsp
Curry leaves- Few
Oil- 2 tbsp
Instructions
Method

Heat a pan/wok with a tbsp of peanuts, dry roast them till they shed their skin. Let them cool down, then add to a mixer. Include roasted gram too and powder them together.
Transfer the powder to a container. Add green chillies along with garlic cloves to the same mixer jar and grind to coarse paste without any water.
Next heat a big pan or kadai with oil, curry leaves and peanuts. Saute till the peanuts are fried. Add salt followed by turmeric powder and mix.
Next add roasted gram to the pan, saute for a second and include chilly-garlic paste. Mix it and switch off the flame.
Now include puffed rice, sugar, powdered peanut and gram. Mix it thouroughly.
Easy snack spicy puffed rice is ready to serve with hot tea/coffee.

Notes

If you don't like garlic, you can skip it. But garlic gives very good authentic flavor.
Instead of green chillies, you can choose to add red chilly powder too.
Peanut plus roasted gram powder gives enhanced taste. So I recommend adding it.
After adding roasted gram to the tempering, do not saute for long. The gram gets easily burnt ruining the taste.
https://udupi-recipes.com/2017/12/spicy-puffed-rice-kara-pori.html
All the content in this website are © Copyrighted to – Udupi-Recipes